The Most Dangerous Games: pole vaulting likeliest to lead to death, injury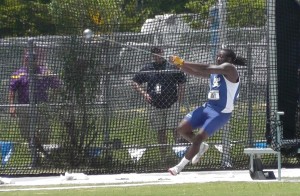 Pole vaulters run at full speed, stab a 15-foot pole into the ground and thrust their entire body weight 13 feet into the air over another pole.
Because of this, athletes, officials and track coaches involved with the 2012 NCAA East Regional Championships in track and field agree that pole vaulting is the most dangerous game among the field events.
Pole vaulting can be very dangerous, said Christina King, a UNF pole vaulter who competed in the regional championships held May 24-26 at UNF's Hodges Stadium. It takes good coaching, body awareness and confidence, King said.
King said she has broken her nose from the crossbar and sprained her ankle twice.
King sprained her right ankle last week pole vaulting in preparation for the 2012 NCAA Championships.
"The sport is inherently dangerous because you run at full speed, almost 100-meter sprint with a 15- to 17-foot fiber glass pole in your hand, then you're bending it, trying to get upside down to clear a bar in the air," said Chris Hord, a UNF assistant pole vault coach.
Hord said a lot could go wrong when pole vaulting, such as coming up short, the pole breaking or hands slipping.
"You're falling from the highest when you pole vault, so it's easier to get hurt, unlike the other field events where you don't go anywhere," said Caleigh Boyington, a UNF pole vaulter.
Hord said he has known more deaths in pole vault than any other sport. There were three deaths alone in 2003, he said, but teaching the proper from and technique can mitigate the issues.
Still pole vaulting at the age of 60, Ken Taylor, a UNF track and field assistant coach, said pole vaulting would have to be the most dangerous sport because when athletes pole vault, they may miss the pit.
David Shepherd, a UNF pole vaulter who also competed in the 2012 NCAA East Regional, missed the mat in the Florida Relay and landed on a girl, he said.
Shepherd said he used to wear a helmet while pole vaulting.
There are more deaths in track and field caused by pole vaulting than any other sport, Taylor said.
"A lot of coaches don't think about safety first," he said. "We have never had an athlete seriously hurt at UNF because we teach the right technique."
Since 1980, 20 athletes have died pole vaulting, while 38 have suffered skull fractures and 44 have sustained serious injuries, the Daily Pennsylvanian reports.
And while pole vaulting may be the most dangerous, the javelin throw and hammer have the potential for serious injuries, as well.
The javelin throw, which requires running at full speed and chucking an 8-foot spear into the air, is also very hazardous.
Rodney Smith, a 2012 NCAA East Regional Championships official said the javelin and hammer are most dangerous to spectators and require undivided attention.
Smith said he hasn't seen anyone injured, yet, but he has seen a lot of athletes and spectators come close by not paying close attention to what they are doing.
In the hammer throw, the athlete is projecting a heavy metal ball attached to a chain in the air to see who can throw the farthest. The women's ball is usually 8 pounds, and the men's is 16 pounds. A large black net is encased around the athlete, which offers protection to officials and the crowd.
Paramedic D.J. West said there have been no injuries as of early afternoon May 26 for the 2012 NCAA East Regional Championships, but the most dangerous threat would likely be someone passing out from a heat stroke.