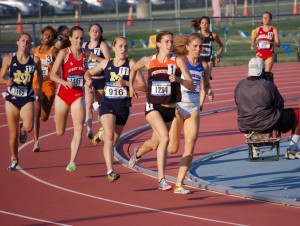 A hazy May twilight descended upon the final races of the Division I NCAA East Preliminary Round Saturday, May 26, as the packed crowd filling Hodges Stadium surrounded the fleet-footed competitors with wave after wave of palpable energy.
UNF's Brianna Frazier finished out the weekend with the 200-meter dash. Though, at 23.84, Frazier didn't make a qualifying score for nationals, she will still be headed that way after taking eighth place in Friday's 400-meter.
Frazier said she wasn't pleased with her performance, but with muscle issues and plenty on her plate, longevity is key.
"I'm not saying [competing Friday] hindered my performance," Frazier said. "At this point, I'm just trying to make it through the week."
As the evening progressed through relays, hurdles and dashes, one mammoth task stood above the rest. The 5k or 5,000-meter run, which equals a little more than 3 miles, is a test of an athlete's endurance and stamina.
The only semifinals of the night, competitors in the 5k race took to the track at 7 p.m.
Paul Chelimo, a University of North Caroline at Greensboro, placed first in the men's 5k. Chelimo said much of his post-win excitement stems from a validation of the work he and his fellow athletes have put in to this point.
"We all work incredibly hard," Chelimo said. "When you're running, and you start to realize your body is capable of more than you could do before, you realize everything you've been doing was worth it."
Chelimo, whose school also placed in Thursday's 10k, said it's an especially rewarding experience for a school that doesn't have a running track to call its own.
"It doesn't matter if you have the track or not," Chelimo said. "We don't expect something for nothing. It's all about focus and discipline."
Kayleigh Tyerman, a Florida State University junior, placed second in the women's 5K. She, like Chemilo, stressed the importance of preparation in a long run and said the crucial element is mental.
"I'm just out there doing my best not to think," Tyerman said. "It's not like you can zone out when you're on the track. The real trick is to think about running the race and absolutely nothing else."
Frazier, Chemilo and Tyerman, will be headed to Drake Stadium in Des Moines, Iowa, for the National Division I Track and Field competition June 6-9.