Upset for UNF pole vaulter starts final NCAA East Regional day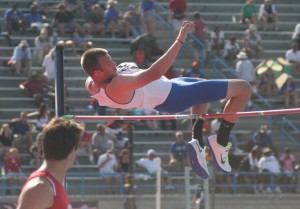 The final day of the NCAA East Regional Track and Field Championship kicked off with an upset for one UNF pole vault athlete Saturday morning.
David Shepherd, a UNF sophomore, cleared 5.02 meters but did not qualify for the national championship.
"I think he vaulted well, but he didn't meet his personal best, but it's the first time he's been to regional championship," said Ken Taylor, a UNF coach. "There's a lot of pressure, a lot of vaulters, and I think he handled himself well."
While some pole vaulters were suspended in mid-air, triple jumpers were leaping down the runway, propelling forward to reach the furthest distances. Michelle Jenije, a Florida State University senior, placed second overall in triple jump and had a season best of 13.59 meters.
Jenije said she jumping well made her happy and pumped up her adrenaline.
Dwight Barbiasz, a University of Florida junior, placed sixth in high jump and will be competing at the national championship in Des Moines, Iowa, June 6.
Barbiasz said the long competition made the event tough, so he's ready for nationals because of there will be fewer athletes competing. He said he's trying to place in the top two or three, like he did at the indoor meet.