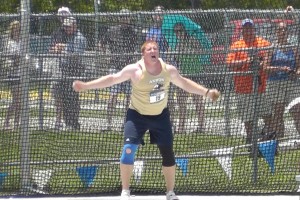 The second day of the NCAA's Division 1 East Preliminary Round began Friday, May 25, at UNF's Hodges Stadium, with college fans from all over the country coming to support their athletes.
An onslaught of physically demanding events, like the pole vault and the hammer throw, topped the the morning agenda.
Nicole Smith, a junior from the University of South Florida, was one of 1,900 athletes visiting the campus for the event. She was one of 48 athletes participating in the pole vault – one of four track and field's jumping events.
"I did pretty good," Smith said. "Not my best, but I still came out here and had fun."
The 12 qualifying athletes in each event will advance to the Division 1 Championships in Des Moines, Iowa. They will join the top twelve finishers in each event from the preliminary round – currently being conducted in Austin, Texas.
Smith was not among the top 12 qualifiers to progress, having placed 26th with a height of 3.80 meters.
Sandy Morris, a sophomore from North Carolina, walked away in first with a vault height of 4.10 meters.
Ryan McCullough, a senior in the men's hammer throw event, traveled to Jacksonville with seven other qualifiers from Central Michigan. UNF's campus impressed the athletes, who said they enjoyed their time competing.
"I really like the stadium," McCullough said. "I would guess you guys could host nationals here some time."
McCullough, who qualified 10th in the men's hammer throw preliminaries, described the rigorous training that athletes like him must go through to prepare for this event.
"It's extremely technical," McCullough said. "You have to have a lot of core strength – thousands and thousands of reps."
The 16-pound ball requires a lot of explosive aggression and a little showmanship, as some athletes displayed.
The meet continues Friday night with track events and concludes Saturday, May 26.