Twenty One Pilots Q&A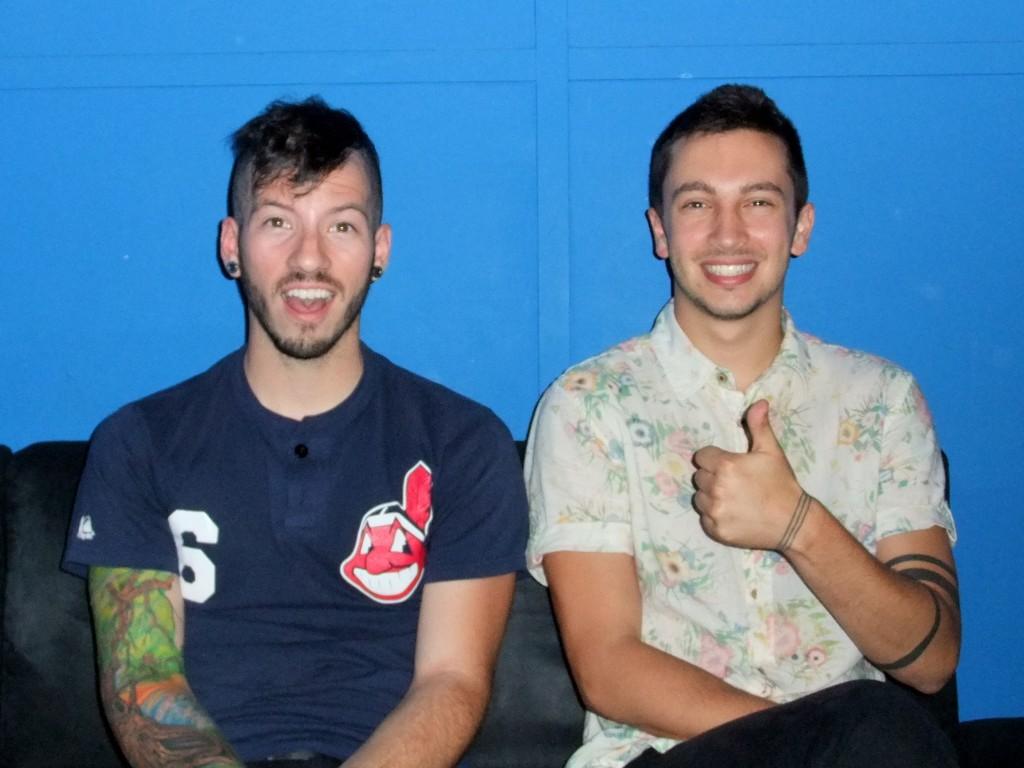 By Dargan Thompson, Features Editor
Starting out as an independent local band in Columbus, Ohio, Twenty One Pilots soon gained a formidable fan base in the region. Following a few sold out hometown shows, the duo gained the attention of record labels, and signed with Fueled by Ramen in March. The duo, consisting of Tyler Joseph and Josh Dun, opened for Cobra Starship at UNF earlier this year, and are returning August 25 to play the Osprey Tailgate Classic.
The Spinnaker sat down with the pair before their August 8 show at Freebird Live.
Spinnaker: I've heard that you guys kind of defy genres, so how would you characterize your music?
Josh Dun: A lot of people ask us that and we haven't really totally known what to say. The guy who travels with us and does video would say pop-rock piano-rap.
Tyler Joseph: But that sounds awful.
JD: But there was a guy in Columbus who was writing about us and he categorized us – I think he made something up called schizoid pop, and we really like that a lot cuz it's just kind of schizoid, you know, it's sort of confused and not totally sure what we are, I guess, so that's what we've been calling ourselves: schizoid pop.
S: What are some of your musical influences?
JD: Uh, the Dixie Chicks. (Both laugh) No, I don't know. There's so many. One thing Tyler said one time that I really liked is he said 'I'm intrigued by what intrigues the masses' so it's like there is this sensibility of pop, you know, like Justin Beiber or something, that's just like, what is it about his music or him that everybody is so drawn to? And that's intriguing to both of us. So I just named Justin Beiber, so now people probably will think that that's our influence. (laughs)
S: So what do you think it is about you guys that draws people?
TJ: I would say probably, we're writing songs that we wish other people were writing. We write songs that we truly enjoy to play and to listen to. And then, we're just honest in the music and we talk about things that are a little more important than how much money we make and how many girls we get, and stupid stuff like that that's on the radio these days. So, I hope that's why people are drawn to us.
JD: And I think also, I guess just from what people have told me, and just from seeing other bands that kind of go on stage, and sort of just stand there and play, we just kind of think that that's not really enough, especially in our culture today where everybody gets so distracted with their phones and internet and tamagotchis (laughs). I think people need more than somebody just standing there on stage. So we, kind of, every night try and have a competition to see who can have the most energy, and I think that that translates pretty well. If we can be as energetic as we can, then that gives the people permission to be energetic as well.
S: Tyler, you started by just writing songs in your basement, so did you ever expect that it would get to this point, where you're on tour and people are coming to see you?
TJ: No, I mean, I think that a part of the reason why we have this kind of sound that we do is because when we're creating we didn't know that there was any rules to song writing or genres or having to stick to a specific sound. I think that there's kind of two sides of me where part of me couldn't even imagine playing a song in front of someone, because I'm just so worried about whether or not they're gonna like it. But then there's the other side of me that thinks, like, we're the best ever. So it's constantly those two sides battling one another, which creates for good content in a song.
S: What kind of stuff do you write about? 
TJ: Um, this is going to sound really, like, emotional, but it's just a lot about struggle. You know, there's two types of people in the world … which is a really dramatic way to start explaining it …
JD: That could go anywhere. There's those who like neil diamond … (both laugh)
TJ: There's macs and there's PCs. No, there's those who want to feel like they're not alone in going through what they're going through, and I hope that people get that if that's what they need through our music. And then there's other people who need to hear that their struggle is their own, and it's only theirs, and it's theirs to conquer. Because sometimes when someone comes alongside and says 'oh yeah, I know what you're going through. I know someone who went through the same thing,' sometimes you don't want to hear that. Sometimes you want to take ownership of what it is you're going through. So a lot of the songs are just kind of things that I'm going through personally, and also that I see other people going through. And then put to, maybe a happier beat, so they don't even realize the lyrics they're singing to or the melody they're humming to is actually a very deep idea.
S: You guys came to UNF in the spring with Cobra Starship. How did it happen that you're coming again?
TJ: What we like to do is we want to be an opening act in a market we've never been to, and then hopefully, through our shorter set make some fans that are interested in what we're doing and look us up and then we like to hit those markets again. So the show just came about, our booking agent got us a show and yeah, we'll try Florida, we love playing in front of new people, and then we have an opportunity to go back and we can't wait to play.
S: I read that you guys were just on tour in Japan and Korea. How was that?
TJ: Amazing.
JD: Yeah, it was, we just did a couple of festivals. We did one in Japan and one in Korea and that was our first time overseas as a band. So we were just unsure of everything really because they're these festivals that neither of us have heard of, but at the same time they're huge festivals. So we went over, and it was amazing. Asian culture is very accepting in every way. So they were ready to have fun and enjoy a show of a band that they've never heard of. So we get up there to play and we play our first song and instantly they're jumping and going nuts. It was a really cool feeling being all the way across the world in different countries that don't even speak your language and four thousand of us together are jumping and going crazy. It's really a wild feeling. It's hard to describe.
S: What are some of your best show experiences? Is there one that stands out?
JD: There's nothing that compares to hometown shows, for me. You're playing in front of your closest friends and your family. It's really nerve-wracking for some reason. I guess it's maybe the expectation level that everybody has. There's a lot of support and you know the people there are happy to see you and they love you and care about you. And then on the opposite side of things, I remember there was a show, I still don't remember where that was. We played at a bar. There was maybe like six people in there. And it was weird, too because the stage was very small, so I was sort of in the front of the stage and Tyler was kind of behind me.
TJ: And the six people were just at the bar, drinking with their backs to us.
JD: There's maybe two people watching. And the whole time, both of us, like I said we compete to have the most energy, so we're both just getting into it just as we would at a hometown show or a show where maybe there is thousands of people. And there's something really special about that and I think it's just like we're here because we love to do this and we believe in what it is that we're doing and so I think those are just as significant.
TJ: Yeah Josh did a backflip off of a bar table in the middle of this bar and no one watched, and he almost killed himself!
S: I expect to see that again tonight.
JD: I totally would.
TJ: Do you want to?
(They start talking logistics)
JD: We'll get back to you.