Club Fest to the rescue!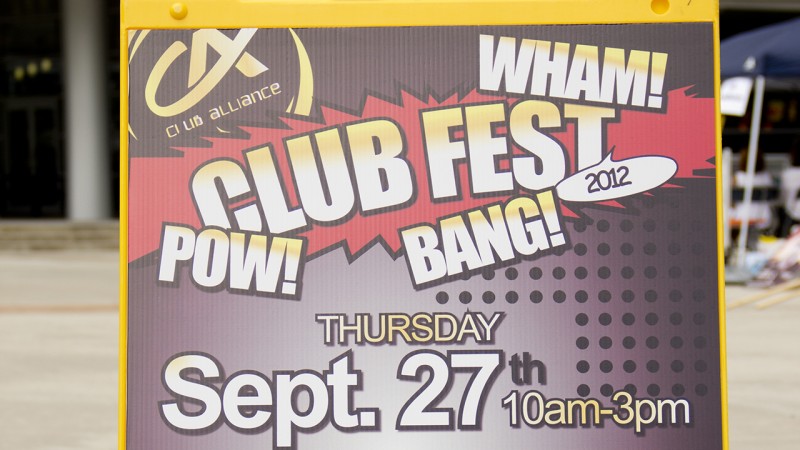 More than 100 UNF clubs will be blasting off at this year's superhero-themed Club Fest for a chance to win club of the year and possibly accrue some new members.
The Club Alliance will be holding its annual Club Fest on Thursday, September 27 from 10 a.m. – 3 p.m. in the Osprey Plaza.
"We just want to get as many people out there and have as much fun as possible," said James Fallica, president of Biomedical Pre-Professionals Club.
Each club will earn points for participating in three categories: Club Fest, Costume Contest, and Can Drive.
Individuals and groups will dress up as their favorite superhero to earn their club points. Sign-ups for the costume contest will be from 10a.m. – 12 p.m. at the Club Alliance Table, and the contest will be at 12:45 p.m. on the stage within the Osprey Plaza.
"We are very excited to get everybody costumes and increase our chances of exposure," said Brain Bowl Club President Gurgen Petrosyan.
Paige Lehman, the director of Club Alliance, said clubs can also earn points by donating canned goods as they sign in. Points will be assigned to each item based on the item's necessity. The Club Alliance and Volunteer Center will join forces for Club Fest to help out the Lend a Wing Pantry with the donations. The winning club will be recognized and receive an award from the Volunteer Center.
Lehmen said this year's Club Fest will be bigger and better than ever before. The Club Alliance is bringing in Mike Mayes Catering, an ice cream truck, Gladiator jousting, a Do-It-Yourself tie dyed Club Fest T-shirt, and plenty of prizes and giveaways. But the most tempting of all may be the chance to dunk student government representatives.
Some clubs are planning to have games at their individual tables as well.
Petrosyan said Brain Bowl Club will have a trivia-type game at its table.
"We will have a buzzer system with candy awarded to those who answer reader's questions correctly," he said. "This will help Brain Bowl Club to get new members and facilitate a fun environment for UNF Ospreys."
Here are brief descriptions of just a few of the clubs participating in Club Fest:
Brony Pony Theatre Club
The Brony Pony Theatre Club is a club for students who like the show "My Little Pony". The show was redone in 2010, which prompted the creation of the club. Brony Pony Theatre Club members are known as "Bronies."
"We are looking to build up a community at UNF and hoping to build up a community as a whole," said Joseph Hoeppner, Brony Pony Theatre Club president.
Club Tennis
Club Tennis is similar to the Table Tennis Club. The club meets Tuesdays and Thursdays from 5 p.m. to 8 p.m., and there are generally five to ten people. Club Tennis president Jonathan Fischer said the club is very co-ed and interested in the desegregation of genders in sports by getting more girls involved in the club.
Biomedical Pre-Professionals Club
This philanthropic club is for anybody interested in a career in the medical field. The club involves some lab work and working together with other clubs. Its members are involved in multiple community service events such as Relay for Life and Making Strides.
Brain Bowl Club
The Brain Bowl Club is an academic competition for Florida Community College teams. Teams are tested on humanities, mathematics, natural science, and social sciences. A moderator reads the questions aloud to the teams and teams use a buzzer system for a chance to answer a question and are allotted points.
Bass Fishing Club
The Bass Fishing Club gets together several times a week to enjoy fishing and each others company while catching a few bass, said Brock Reeves, the club's president. Reeves said practicing together every week allows them to share pointers with each other and become better fishers.
email Kasandra Ortiz at [email protected]