Students soar over Lake Oneida in first zip night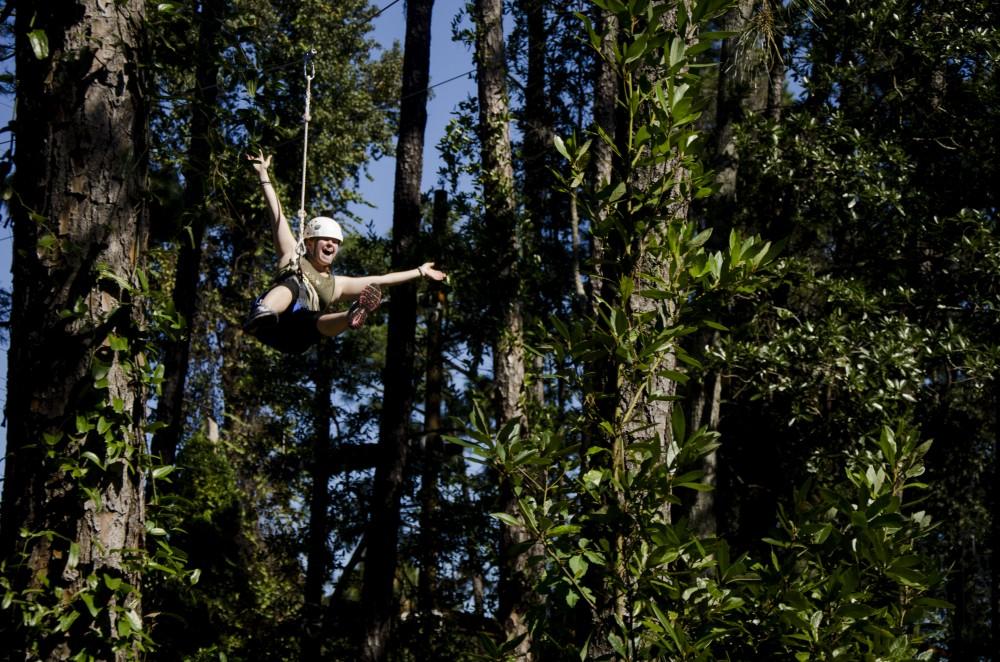 For years, UNF students have only been able to imitate the Osprey by Swooping, but now, once a month, Eco-Adventures gives students the opportunity to fly.
UNF Eco-Adventures' Osprey Challenge Course is a team-building ropes course funded by Student Government that features both high elements up in the trees and low elements down on the forest floor.
The featured attraction, the gravity zip, spans nearly 400 feet and is one of the only zips in Florida to go over water.
UNF's first zip night, scheduled for mid September, was cancelled due to rain, and the night scheduled for earlier this month was moved because an early sundown would lead to less time on the lines.
Tomas Marentes, lead facilitator for the Osprey Challenge Course, hopes for the event to grow and become a showcase for the course.
"Right now we're completely booked for new groups, so this event is a great opportunity for students to enjoy the course without booking a reservation," he said.
The gravity zip experience involves signing off on a waiver, strapping on a helmet and gear then ascending a cargo net onto a platform. The zip line's path is cleared of any obstructions — people who may be walking on the trail or canoeing under — then off you soar.
There is, of course, a tedious system of ensuring would-be-zippers' security to a mounted steel cable at all times once on the platform, though the double-checking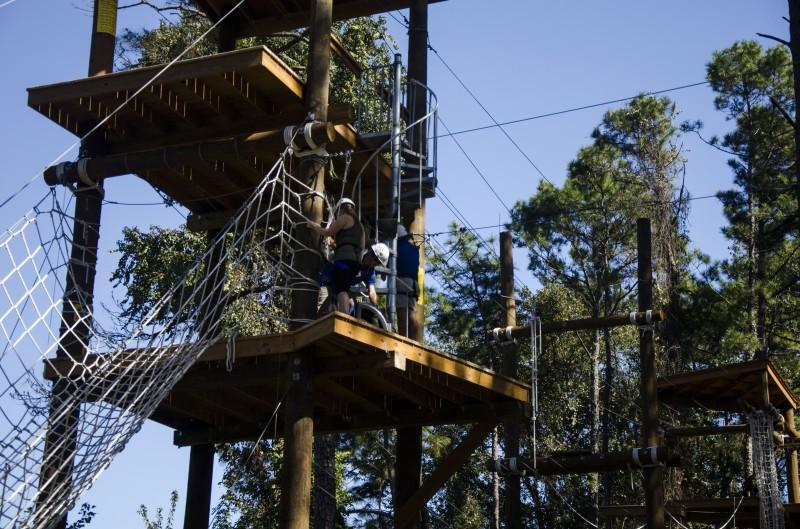 actually comes off as reassuring before jumping off the high platform.
Danielle Chakhtoura, a UNF psychology junior, came out to experience the zip line among other students and co-workers.
"I work for Eco-Adventures, and I have rode both zip lines," she said. "I guess I'm back because they are so much fun.
If you are afraid of heights, the zip line offers a tremendous way to approach the challenge. Some of the staff were even timid at first, said Garret Davis, a facilitator at the Osprey Challenge Course.
"Some of us were scared at first, a little shaky, but when we have done as much training as we have up there, we got over it pretty quick," Davis said.
Zip night occurs every third Thursday of the month.
The next scheduled event is Nov. 15 from 6:30pm-9:30 p.m. and is open to all students with a valid Osprey 1Card and close-toed shoes.
Email Jason Howard at reporter[email protected]unfspinnaker.com