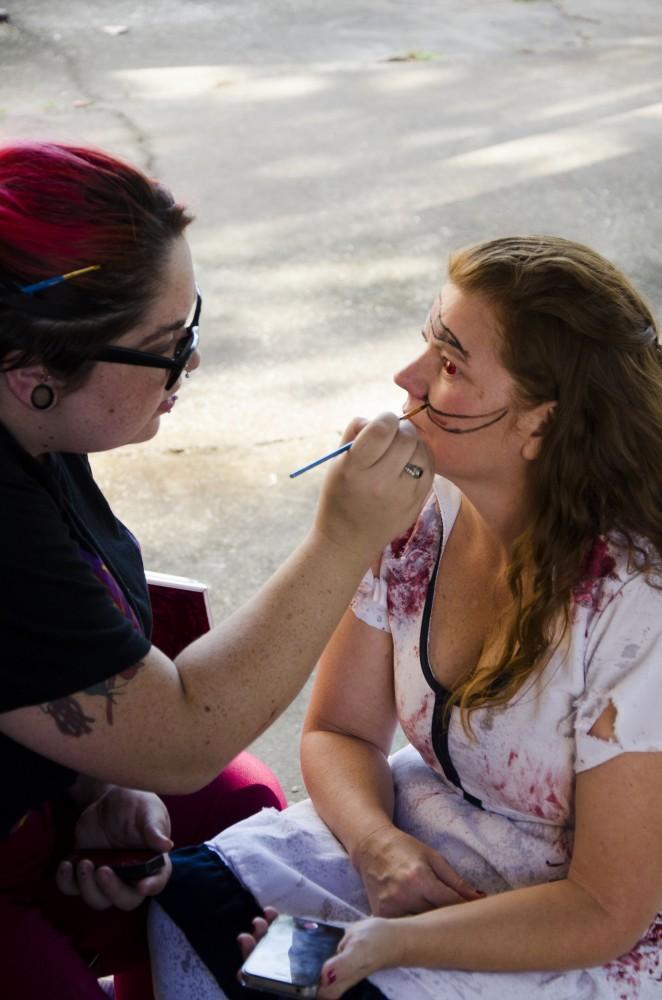 You probably know what it's like to execute a good scare — the planning, waiting and sense of satisfaction you get from seeing your friends' shocked faces as you jump out at them when they least expect it.
The real scare experts, however, spend every weekend during "haunt season" gearing-up, making-up, and warming-up their vocal chords for a frightening display of interactive theatre where you, the guest, are brought into a visceral, sensual nightmare.
Brad Shier and Jay Woodley, special effects makeup artists at Night Terrors, work in a trance to smear blood and brush hollowed eyes onto actors' faces before the night's scaring begins.
"It's a real creative outlet," Shier said. "Every face is a different canvas, so I get to try different things all the time."
While most Night Terrors actors wait patiently in line for their treatment, UNF english junior Stephanie Brendle  applies her own makeup.
"I try to give myself a new face every day," she said. "That way it's the same character, but it's kind of like a human being — they have multiple levels, multiple facets … And I like that. I think the more you do it, the more you create your character, and the more it becomes real."
Brendle, a veteran of parking lot haunted houses during her childhood, is a first time scare actor at Night Terrors. She said she enjoys the suspense before a scare and the looks on guests' faces.
Working in a haunted house is not as easy as it may seem. It is an improvisational acting job that can certainly test an actor's skills.
"This is a play," she said, "It's a play that restarts night after night. If you want to talk about mass productions, [this is it]," she said.
Ben Sager, who plays a bloody clown for Haunt Nights at Adventure Landing, tends to see the attraction as an interactive horror film. It's one thing to watch a scary movie, he said, but being in a haunted house is like being in a horror movie for the people who come through.
"It pretty much gives them that opportunity to play the victim," he said.
Improvising helps keep things from getting stale. Sager said the actors always try to experiment, because what scares the first person who comes through might not scare the person after them.
For Sager, the month he gets to spend scaring people is a welcome break from his regular job in a credit card call center.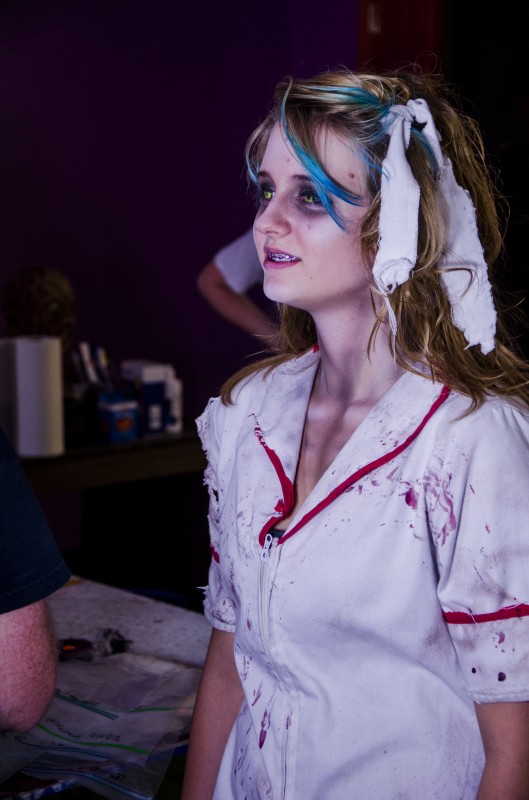 "That's actually very good motivation to come here and really traumatize people," Sager said. "I have to be nice and polite over the phone and sometimes you want to strangle somebody. A lot of times, that's where the character comes from."
Most haunted houses have an audition process for casting positions, but also take volunteers. Night Terrors, for example, accepts volunteers throughout the season as long as the volunteers under 18 to 16 are willing to sign a sexual harassment acknowledgment form and sacrifice some old clothing to be stained with fake blood.
Sherry Guyer, a Mandarin High School sophomore, volunteers for service hours as a contortionist, twisting and pretending to mangle her body for her
favorite scares.
Guyer, like other workers, has found that her acting can bring out the dramatic side of those who come through the haunt.
"There was a lady who came in the other night, and she was really into it, and she started screaming 'the power of Christ compels you!'" she said.
Email Jason Howard at [email protected] 
Click here for our run down on Jacksonville's haunted houses. 
Here's some more from our interviews with haunted house workers: