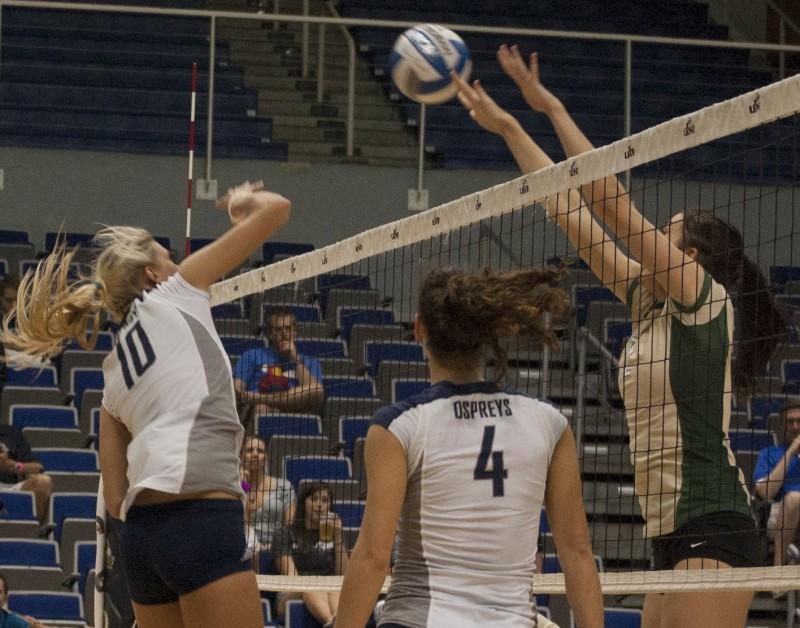 A pumped up crowd wearing t-shirts carrying the words, "Kick the Fins", cheered the UNF volleyball team to a straight set victory over JU Sat. Nov. 4.
UNF (18-11, 9-7 A-sun) won its fourth straight match in the 3-0 victory. The win, the second victory of the season over JU (7-22, 5-11 A-sun), clinched a post season birth for UNF and a likely fourth seed in the A-Sun tournament, which begins in two weeks.
The atmosphere inside UNF Arena had all the accouterments of a college event. Some students in attendance, who decided not to wear the free "Kick the Fins" shirts, opted for another approach. Two full groups of shirtless body painted fans, one of which included members of the UNF baseball team, filled the stands. Cheerleaders, dance team members and a band were also a part of the mix as each team tried to help their school accrue coveted Barrel Points.
The UNF players were able to feed off the energy of the crowd and cruised to an easy first set win.
Senior Paige Pridgeon played a complete game, racking up 18 kills and 11 digs. Pridgeon proved to be the most athletic player on the floor, using a combination of leaping ability and power to easily put away kills over top of the JU blockers.
Fellow Senior Nicole Baran, who spent more time on the gym floor than the Osprey logo, led the team with 14 digs.
"The goal all year was to be playing our best volleyball at the end of the year, and we're doing a really good job of that. I'm happy with the way we are playing, and we have to keep that kind of play up for the next couple of weeks," head coach Steve Loeswick said.
Baran said that the biggest factor in the current four game winning streak has been passing. She said the team's ability to pass accurately has lead to easy opportunities to convert set passes into kills.
UNF was able to neutralize JU's best player, Sammie Strausbaugh, with strong defensive net play. The wall of hands created by Anna Budinska and Carolyn Jenkins turned away three and four JU kill attempts, respectively.
In the second set, Baran tweaked her right hamstring while diving for a dig and was noticeably affected for the remainder of the set. Baran received a wrap during the next timeout, but said it was just a precautionary measure. She expects to play in the next match.
The win added to UNF's lead over JU in Barrel points. UNF currently leads 4.5-1.5.
The team will plays its final two home games this week beginning on Fri. Nov. 9 at 7 pm against ETSU. The final game of the season will take place the following day, Sat. Nov. 10 against USC Upstate at 3 pm.