UNF makes fuel cells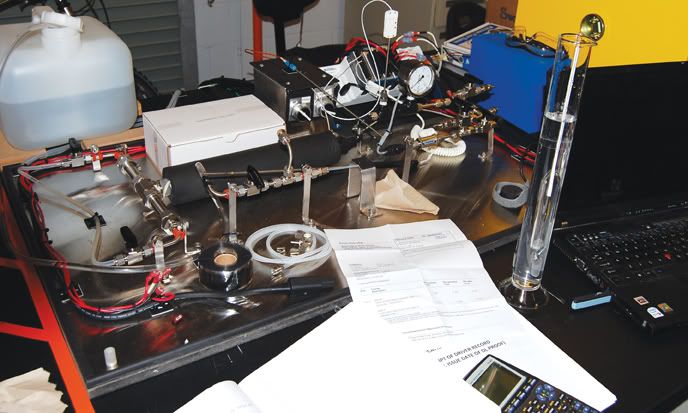 Imagine never having to charge your cell phone or laptop again. Some students at UNF may be making this a future possibility. Mechanical engineering students are developing improved fuel cells for the U.S. Military.
Fuel cells are a set of membranes through which a solution of water and methanol passes. Movement across the membrane creates an electrical charge, and fuel cells' only byproducts are water, carbon dioxide and electricity, according to University of Florida graduate student Jason Harrington. The fuel cells require miniature pumps and gauges to keep air and liquid moving to make sure the mixture of water and methanol is correct.
UF- and California-based membrane-manufacturer Polyfuel is working closely with UNF on this project. The program was contracted by the United States Department of Defense, which will use fuel cell technology to power laptops in the field. Currently, soldiers must carry traditional batteries made with heavy metals into combat. Fuel cells may change that.
Fuel cells have the potential to provide 10 times the battery life, though that is rarely the case, Harrington said. They still greatly outperform lithium batteries and that means less weight on the typical soldier's back. Fuel cells could also eliminate the need to charge mobile devices. When one cartridge is depleted of methanol, the user needs only plug in a new cartridge, Harrington said.
"It's a hybrid arrangement, sort of like a car engine," Harrington said. "The fuel cell needs power to start all the pumps and machinery inside it. The battery provides the power and the fuel cell is the engine that provides most of the power."
UNF's main role is to miniaturize the pumps and gauges in the fuel cell and maximize their efficiency. Graduates and undergraduates are led by associate mechanical engineering professor Jim Fletcher, who is currently out of the country and could not be reached for comment.
Josh Whitley and Jason Carryl, UNF's first ever mechanical engineering graduate students, are working on the unit's ventilation and a methanol concentration sensor respectively. Each has applied skills gained as an undergraduate to build test rigs and rate the efficiency of the components they are responsible for. Carryl, for instance, built a rig that can change the temperature and concentration of the Methanol solution and then measure how quickly test sensors register the change. An improper mixture could lower efficiency or it could cause a lot of damage, so it is something that needs to be accurate, Carryl said.
Similarly, Harrington can test how a fuel cell works under strenuous conditions. He can take one cell and subject it to heat and humidity changes to register how well it performs. "In the future, we may be able to test how vibration affects the unit as well," Harrington said.
The program received $2 million from the Department of Defense last year and $1.3 million this year. The program may run three to four years, but funding is up in the air due to the economy, Harrington said. Funding pays for research and development and a stipend which pays the graduate students' tuition with a small amount of money left over, Carryl said. "The program has funded 20 students over the last year," Harrington said.