North Jetty Rippers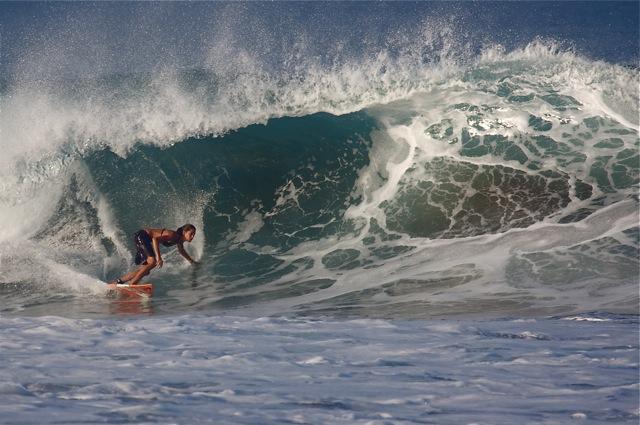 The beach isn't typically thought of as a sporting arena. It's the place where sand castles are made, thongs are occasionally donned, and the ungodly smell of Coppertone saturates the air.
But for the athletes of UNF's surf team, the beach is where they put their surf skills and prowess to the test.
The team has high hopes of not only going to Nationals this year, but also making an impression when they get there.The team is already orchestrating several fundraising parties to preemptively accrue funds if they go to Nationals.
During the 2013 National Scholastic Surfing Association (NSSA) season, UNF has three surfers that have won first place.
UNF freshman surfers Max Mertens and Kayla Durden have both won a contest for shortboarding, and Pat Nichols won in the longboard division. There was a second place finish by sophomore Savannah Bradley.
The team's co-captain Tucker Norton said the UNF surf team is special in that competition always takes a backseat to having fun. The actual surf contests are filled with laughing, eating, heckling and ultimately evening celebrations, which is exactly why so many of the team's members rave about the camaraderie.
Durden said she's happy to be in an environment that allows her to feel relaxed during competition.
"There's just not as much pressure on you when you're at the beach because it's a fun environment, and you're doing what you love to do. You just have more fun at the beach instead of worrying about the contest stuff. You care about winning, but you're also just glad to be surfing," Durden said.
This optimism is something that sets the UNF surf team apart from other athletic organizations, which are more contingent upon the competition itself than the sports' environment.
The team's laxness does have its flaws, though.
"Last yearm we could only get six people to show up to contests," Norton said. "Luckily, this year we have a good crew of young kids who want to go down there and surf, and they're really good surfers."
One of those young talented surfers is Mertens, who won the second contest of the year Oct. 7 at New Smyrna Beach.
"When [Mertens] won the contest, there was like 10 of us on the beach just screaming and flipping out. If we could have had champagne with us, we would have sprayed him down right on the beach," Norton said.
Durden and Bradley are also part of the team's new young talent. The duo have been surfing competitively against one another for almost ten years.
The third NSSA event of the season was Nov. 4 at New Smyrna Beach. It was Durden's first official collegiate contest. She triumphed over Bradley in the final, resulting in a one-two finish for UNF, giving UNF a major points boost in the overall standings.
"With [Bradley], I'm so used to being competitive, so it wasn't so different for me," Durden said. "On any given day, she'll beat me or I'll beat her. But you have to go in with the mindset that you're going to win, or you're not going to win."
Preparing for competitive surfing is challenging because the weather and waves, which the sport depends upon, are ever-changing. Because surfers must always be adapting to the conditions, it's hard to be completely ready for the curveballs the sport can throw.
"It's a blessing and a curse that we're on the beach because we've had a couple of days that were really nice, but more often than not it's raining, 55 degrees, sideways rain in your face and everyone is jammed into one car on top of each other shivering," said Norton.
There's only so much you can do about inclement conditions, but both Bradley and Durden have their own methods in preparing for what they can control.
Bradley said her dad used to simulate heat-like scenarios for her to get acclimated to high-pressure situations. She would also go to the location of an upcoming surf contest beforehand and get used to that specific wave in preparation for the actual contest.
Conversely, Durden prepares by staying in shape with UNF's Crossfit Club. This allows her to build up her endurance and strength, in hopes of having her physical gains translate in the water.
Norton, Durden,and Bradley all hope to see surfing become more of a mainstream sport and more recognized by our culture, and by UNF.
Considering UNF's close proximity to the beach and the large portion of its students residing beachside, surfing is a relevant and popular topic around campus. The team hopes that more people begin to realize that.
"I think we should go as far as making it an NCAA sport one day. Why not? We'd have the East Coast versus West Coast rivalry to compete within," Bradley said.
Durden and Bradley think of a professional surfing career as somewhat unrealistic due to a lack of notoriety for women's surfing. They do wish to pursue careers in the sport, though, by working with surfers and in the industry.
"This way, we can still follow the girls [female pro surfers] around, support them, and get in the water — just not in the competitive spotlight," said Bradley.
Durden and Bradley said they hope the UNF surf team will help kickstart their future surf-lifestyle careers but for now are just enjoying the ride.
1.     Where is your favorite wave?
Kayla- Santana's, Nicaragua
Savannah- Crumpin Alleys, Australia
Tucker- Lennox Head, Australia
Ryan- The Wedge, California
Alex- Chilca, Peru
2.     Would you rather surf a reef bottom or beach-break?
Kayla- Beach-break
Savannah- Reef
Tucker- Shore pound beach-break
Ryan- Reef
Alex- Reef
3.     Where is your favorite place traveled?
Kayla- Nicaragua
Savannah- New Zealand
Tucker- Australia
Ryan- El Salvador
Alex- Puerto Rico
4.     Where would be your ultimate surf trip?
Kayla- Australia
Savannah- Indonesia boat trip
Tucker- Australia
Ryan- Anywhere with good waves and hot local girls.
Alex- Indonesia boat trip
5.     Who is your favorite surfer?
Kayla- Stephanie Gilmore
Savannah- Kelly Slater
Tucker- Dane Reynolds
Ryan- Mike Haan
Alex- John John Florence
6.     What is your favorite surf movie?
Kayla- Blue Crush
Savannah- Mick, Myself, and Eugene
Tucker- 3 Degrees
Ryan- Loose Change
Alex- Modern Collective
7.     What is your favorite pre-surf pump up song?
Kayla- Eminem- Lose Yourself
Savannah- Xavier Rudd- Energy
Tucker- Mike Snow- Animal
Ryan- The Naked and Famous- Punching in a Dream
Alex- Academy Fight Song- No Knife