Octogenarian boxer continues his education at UNF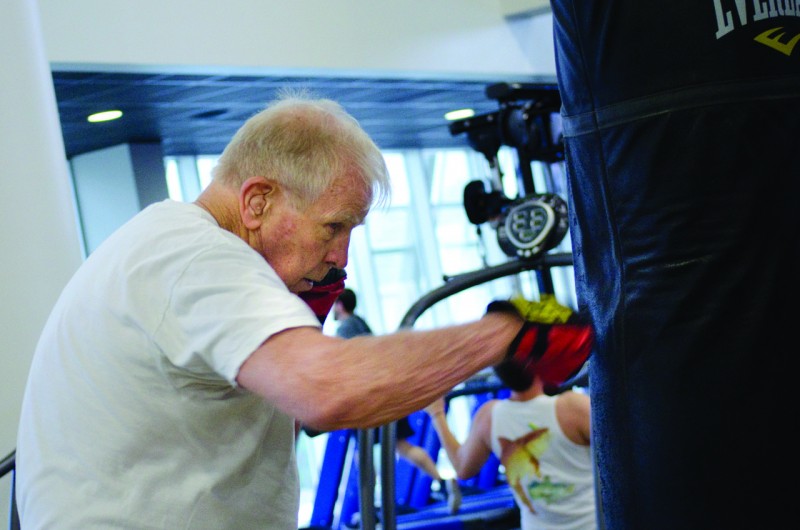 Kenneth Comyns stands up from a chair, strapping on red and black gloves designed to soften the blow of balled fists on impact. Assuming a fighter's stance, he approaches a slowly swinging heavy bag.
Suddenly, on the balls of his feet, he springs, throwing out combos, jabs and strikes to the bag with a timed precision and purpose.
Jab, hook, straight right, cross.
The bag depresses with each impact from his gloved fists, its weight swinging wildly with each strike, rattling the chain holding it above.
Despite all this intensity, this is not a boxer preparing for his next fight, for Comyns' last amateur bout was 59 years ago, back in Ireland. But what he learned from his time boxing has lasted into today as he hits the heavy bag in UNF's Student Wellness Complex in between auditing classes.
Eighty-year-old Comyns places a hearing device back in his ear. The movement from hitting the bag does not allow for a secure fit. His blue eyes, a cool, bright hue, token a happy and talkative demeanor. His Irish accent is prevalent but not overstated.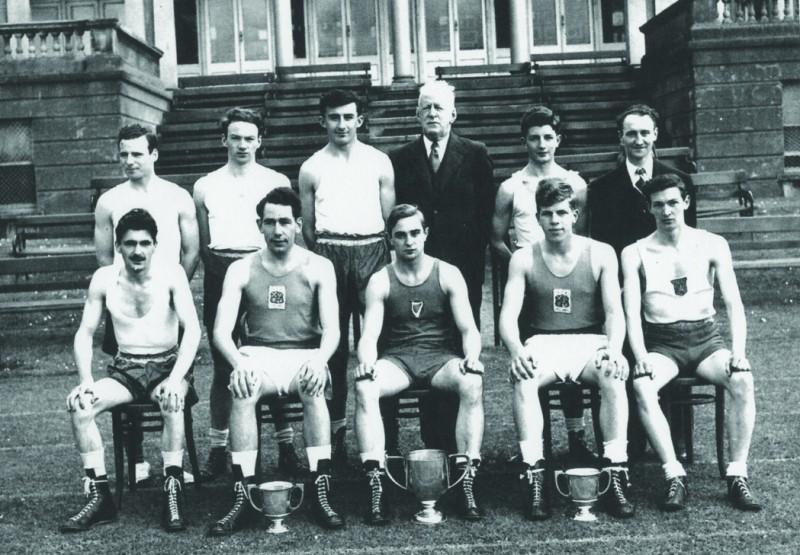 From an accidental knockout to the national team
"I was keen on boxing because my father was a blacksmith," he said. "I took a liking to it, collected boxing pictures…" said Comyns.
Comyns actually got into the sport somewhat accidentally. In 1950, his brother had called him down to the college gym while he was still in high school. Asked to fill in as a substitute on the bill, he fought, and won by knockout.
A 1954 article on Comyns in the Irish edition of the Sunday People Newspaper related the anecdote, and said, "After that there was no holding him back."
Born in Dublin, Ireland, Comyns is an American citizen, and a graduate of Trinity College Dublin, with a bachelor's degree in Civil Engineering.
During his time at Trinity, Comyns fought for the school, and eventually for Ireland on the country's national team.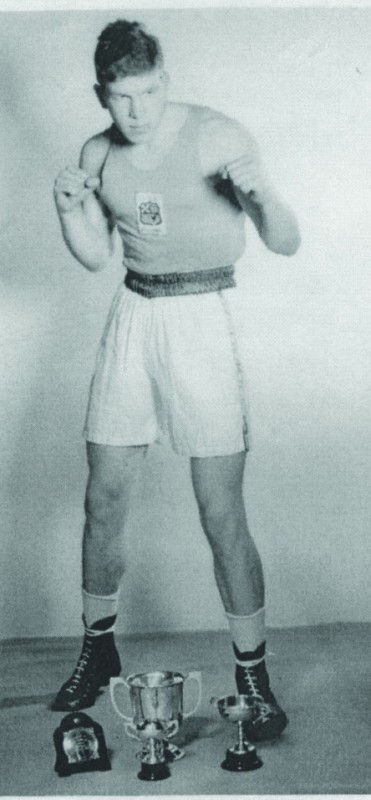 "The biggest thrill was when I was selected to box for Ireland. It was actually the last chance I would ever have because I was already planning out my career," he said.
Comyns would go on to work in Canada following his graduation, but before leaving, he gained a reputation as a rising athlete.
"My best fight was fighting the ABA champion from Northern England, and beat him on point's decision," he said. [pullout quote] "In retrospect, that was the big thrill, but fighting was fighting — didn't make any difference."
Another article from an Irish paper in the spring of 1954 titled "Comyns' Great Recovery" celebrated his dramatic contest in a particular fight:
"Comyns's fight with G.McGoldrick in the heavyweight class was the most tearaway scrap of the night. Comyns was down for a count of eight in the first round, but came back in the final session to drop McGoldrick twice for eight before the referee called it a day."
Even after Comyns left boxing after college, the sport left him with a valuable lesson; no matter how good you think you are there is always someone better, and that you shouldn't try to gain everything physically.
"It was always important to win, and you got a little Mickey Mouse medal, but you got one and they're all the same, and you give the others away," he said.
A 1954 article in the Sunday People Newspaper bemoaned his exit from the sport:
"He has now won three British universities titles in addition to the Irish junior — an honour which seldom falls to a university boxer. It would be a pity if a lad of such promise were to be lost to the game."
Life after boxing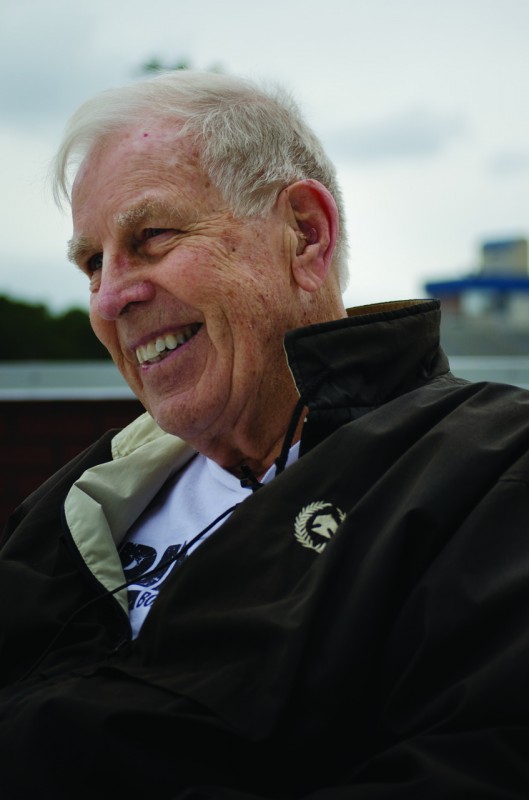 Following college, Comyns has spent his time travelling the world as a civil engineer, a job he said he enjoys, as it requires being able to recognize a solution from complex problems and issues.

In 1982, he founded his own corporation, Comyns International, Inc., a consulting firm in both large and small-scale developments.

Comyns said he has travelled nearly everywhere north of the equator: all over Canada and the U.S and most of Europe. His job took him to parts of Africa, Russia, the Caribbean and the Far-East, including Japan, Singapore and Thailand.

Comyns arrived in Northeast Florida after his wife found a house in Jacksonville Beach. They fell in love with the home immediately and put the money down within a weeks' notice.

Along with his wife, Comyns has been auditing classes at UNF since 2001, taking a broad range of courses he was not able to take when he was getting his degree in Ireland.

[pullout quote] "I like to learn," he said. "I'm interested in everything, though I have low tolerance for people giving me a line of crap."

Comyns goes to the gym three or four times a week, hitting the heavy bag and working up a sweat on various machines.

Jim Bauer, Assistant Director of Recreation, said that he thinks Comyns is inspiring, and hopes to be as active as he is at his age.

When asked why he likes to hit the bag so much, Comyns said, "Because it doesn't punch back."

Email Jason Howard at [email protected]