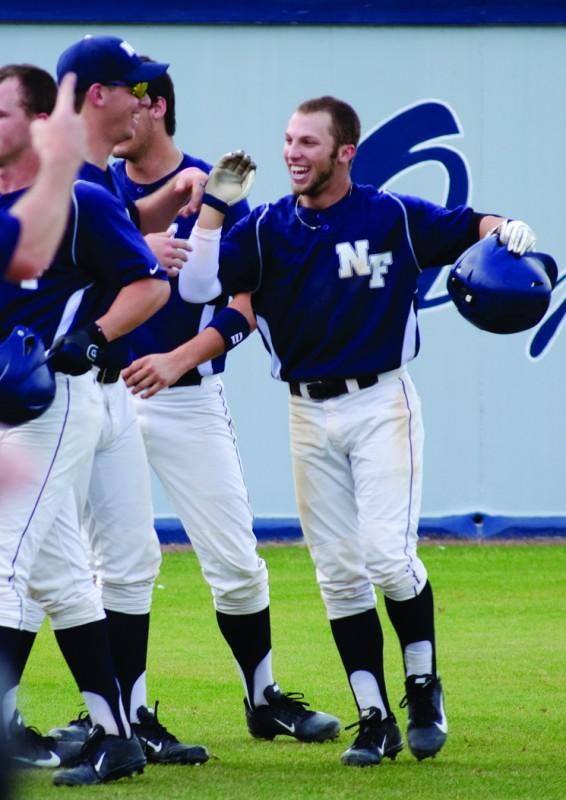 As the spring rolls on and the baseball season continues one thing is clear at UNF, the team will leave you on the edge of your seat.
In another tight game the UNF men's baseball team came away with a 7-6 victory over the University of Florida Gators in extra innings Feb. 26.
All of UNF's games this year have been within four runs. The teams largest win came against West Virginia in the teams home opener.
The difference in the UF game was the early lead gained by UNF. The team took an early 3-0 lead in the third inning, but UF tied the game with three runs of its own in the fourth.
The game went back-and-forth until UF scored two runs in the bottom of the ninth to send the game into extra frames.
In the top of the tenth inning UNF answered UF's ninth by scoring a run. UNF's Corey Bass hit a double to left center field that scored Alex Bacon and gave UNF a 7-6 lead.
The Ospreys were able to hold the Gators scoreless in the bottom of the tenth to come away with the win.
"That's one good thing about baseball, there's no time clock," head coach Smoke Laval said.
"The game was tied, but I really thought that we were really in control of the whole ballgame," Laval said.
The Ospreys have been hit by the injury bug this season that has caused the team to change its starting lineup multiple times throughout the year.
Bass was hurt earlier in the game against UF when he rolled his ankle running the bases. He was able to finish the game, but it is unknown how many games he will play in the teams upcoming series.
Pitcher Tyler Moore is also hurt as the Ospreys continue to look for strong starting pitching from its
rotation.
The team will play in two double headers this weekend. On Friday the team will host Jacksonville State
at 3 pm and Charleston Southern at 6:30. On Sunday the team plays Jacksonville State at 1 pm and
Charleston Southern at 3:30.