Onslaught of three's not enough to get UNF out of first round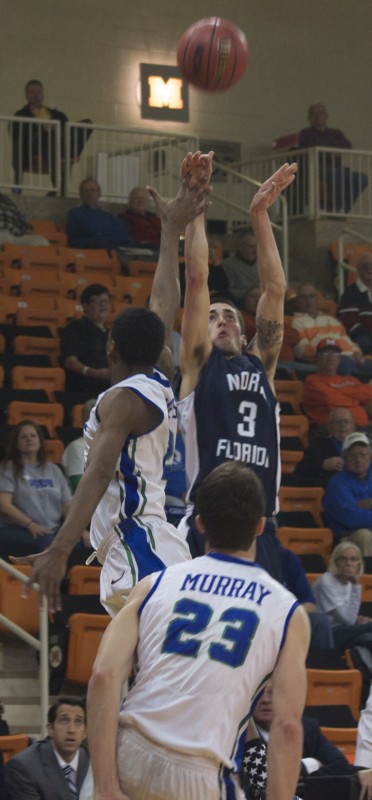 Macon, Ga. — UNF's head coach Matthew Driscoll whistled fervently into the dying minutes of the first round game, attempting to call plays for his players as best as he could, but his acute whistle wasn't enough to stop the Eagles from taking control, and keeping it.
UNF lost its Atlantic Sun Conference Tournament opener to FGCU 73-63, but the score doesn't reflect how close the game actually was.
The game started with UNF coming out full of energy. Senior Parker Smith had eight points to his name in the first seven minutes of the game. He went on to put up 29 points on 8-15 shooting, comprising almost half of UNF's total points.
UNF kept a lead over FGCU for most of the first half, until the end. The teams went into halftime with UNF trailing 27-29.
After halftime, UNF came out of the locker room looking slow, and likewise, they started the second half slow.
Smith ignited his teammates by draining another one of his six total 3's during a fast break off of a UNF block, five minutes into the second half. This was the team's first score of the second period.
UNF started a three-point brigade with Smith, Will Wilson, David Jeune and Beau Beech, all nailing perimeter shots in succession, but UNF couldn't keep FGCU from scoring.
One of the major sources of UNF's defensive troubles was their inability to get defensive rebounds.
"When you give up 28 points on second hand points, it's tough to recover," Driscoll said, after the game. "At some point you have to stop the bleeding, so to speak, and be able to recover from that, and we weren't able to."
Toward the end of the game, UNF began to come back and at one point pulled within three points of FGCU. One of the key moments to spark this comeback was when Smith was fouled during a three point attempt, and went down hard. He came up grabbing his left wrist, which seemed problematic for his upcoming three free throws. Despite the injury, he sunk all three the shots.
But PS3's didn't have enough support from his team offensively. UNF's second leading scorer was junior Travis Wallace with eight points — not exactly a strong supporting role.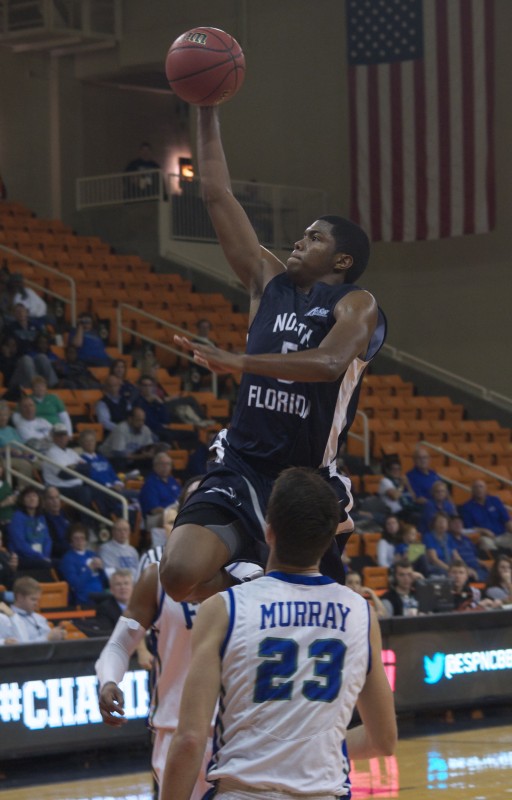 The bench, especially, put up a lackluster performance with Ray Rodriguez scoring zero points, Andy Diaz scoring two points and Bae Bae Daniels scoring four.
Regardless of the lack of scoring, other than Smith, Driscoll still said the biggest problem was the rebounding.
"The game was exactly what we thought it would be," Driscoll said. "The game came down to rebounding…The difference in the second half was the fact that they were able to do that [rebound] and make sure that they were extending that lead."
No matter how many points PS3 scored, it wasn't enough to stop the Eagles from cleaning up the boards. FGCU outrebounded UNF by 42-35, with 20 of those being offensive rebounds.
FGCU's balanced offensive attack, highlighted by three players in double figures, was led by Chase Fieler's 22 points.
UNF finished the season with a overall 13-19 record and 8-10 against A-Sun opponents. The team is losing four seniors after this season and will have to depend on a team filled with mostly underclassmen when it attempts to make deeper run in the tournament next season.