Students take a stand against Human Trafficking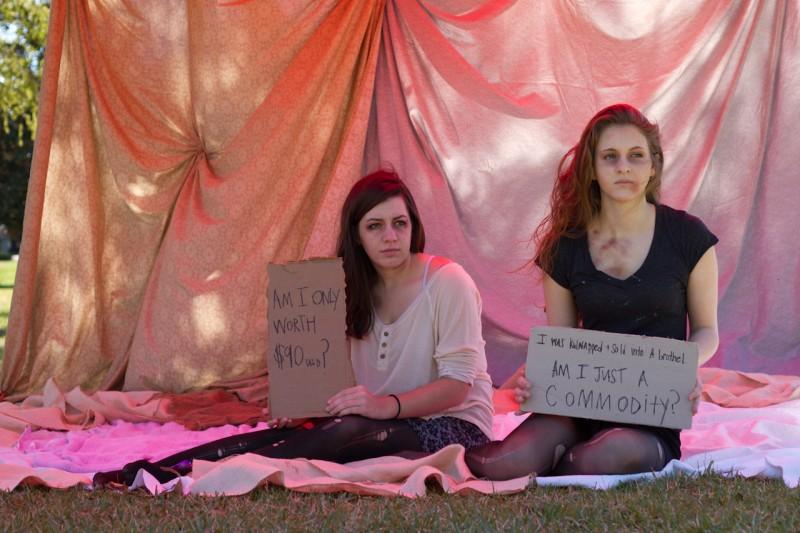 "One slave = $90" read the cardboard sign held by a girl in tattered clothes in the Osprey Plaza.
The girl was an actor, but the statistic is real.
The girl and several fellow student actors stood outside a mock-brothel in the Osprey Plaza March 5, providing a visual aid to educate those who walk by about where many of those forced into human trafficking go.
The mock brothel was just one of the events held by UNF students to represent Stand for Freedom, an initiative to raise funds and awareness to stop modern day slavery. Stand for Freedom was spearheaded by the International Justice Mission, an organization  dedicated to promoting human rights and rescuing victims of human trafficking.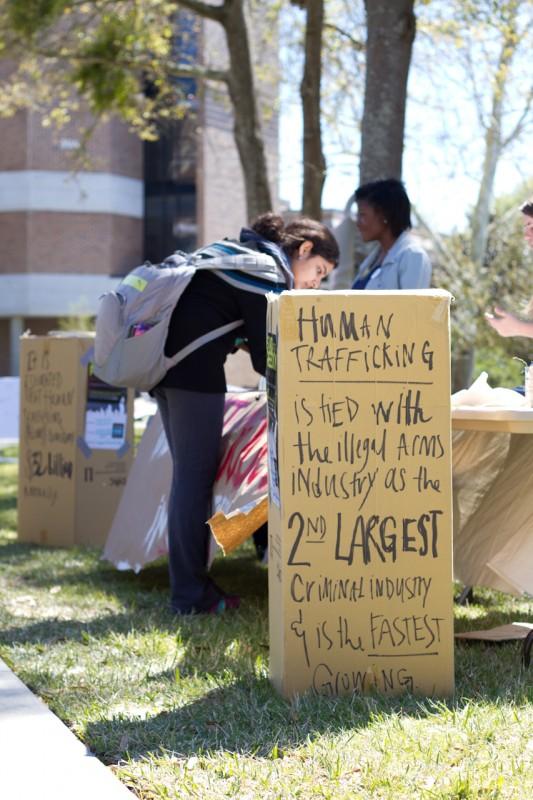 The initiative is taking place at over 500 universities across the nation between March 5 to the 15. It asks students involved to stand for 27 hours as there are currently 27 million individuals enslaved in human trafficking. UNF students split up the hours between those committed to remain standing.
UNF students were inspired to join this project after attending the Passion Conference, a Christian fellowship convention. At the conference, Gary Haugen, president of IJM, gave a pr
esentation on promoting Stand For Freedom to spread the word about human trafficking and what can be done about it.
Following the conference, UNF communication alumni Fabiola Sanchez, UNF education graduate student Lindsey Taylor and UNF political science sophomore Jordan Poole found each other and agreed to bring Stand for Freedom to the UNF Campus. Groups and clubs involved included UNF IJM, Closer to Love, Resolution and They Matter.
Poole said the goal was to raise $2,700 for the 27 million slaves that still exist in the world today.
"It's not really advertised as it seems," Poole said. "So long after abolition there's still slavery. Countries are entrenched in it."
According to Free the Slaves.net, a human trafficking advocacy website, the number of people enslaved is the largest it has ever been in history. The website attributes the large number to a rapid spike in population growth, city growth, and government corruption.
Florida is ranked third in the U.S. for human trafficking, according to a 2011 study by the National Human Trafficking Resource Center.
Taylor said UNF Stand for Freedom aimed to educate students about the problem and what they can do to stop it.
"So many people just don't know that it still exists and that [human trafficking] is as bad as it is," Taylor said.
One of the last events held during UNF's Stand for Freedom event was The Dance upon Injustice, which was held March 7. Admission was one t-shirt, and proceeds went to Rethreaded, a faith-based jacksonville organization that employs former sex-slaves by teaching them how to sew and find dignified, legitimate work.
IJM is working on establishing a club and hoping to make Stand for Freedom an annual event.
Email Jason Howard at [email protected]
More information: Top ten facts about on modern slavery