New Sculpture adds color to Lot 18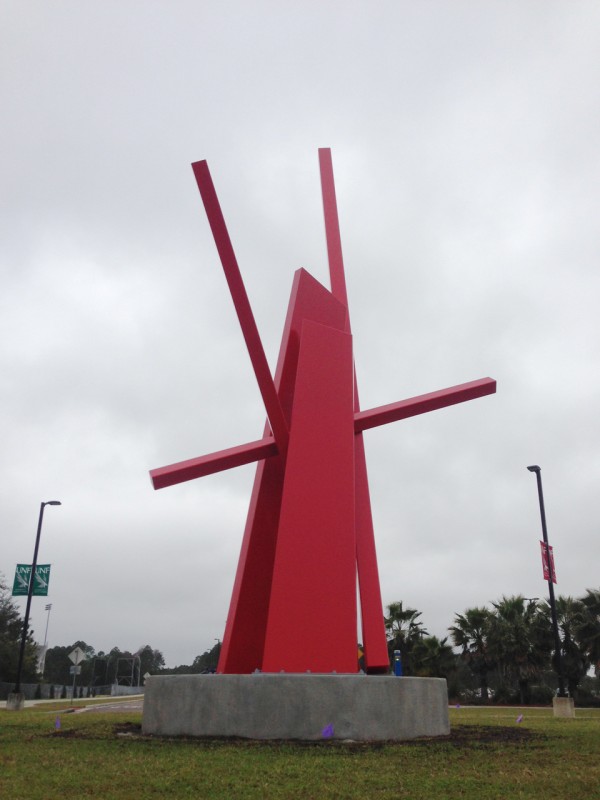 If you park in Lot 18, you can't miss the new addition to campus.
"I think of it like a big exclamation point," said Dr. Debra Murphy, chair of the Department of Art and Design.
The towering red sculpture in the roundabout between Lot 18 and the baseball fields was donated by UNF alumnus Dr. Shyam Paryani and his two friends Walter Scott and Cleve Scarbrough as a gift for UNF's 40th anniversary.
UNF Vice President for Public Relations Sharon Ashton said in an email that the three donors owned the art and wanted to donate it so it could be properly displayed. The estimated value of the piece is $300,000.
The piece is the work of John Henry, a world-renown sculptor who has created many large-scale works that are displayed in cities across the U.S.
Henry's works center on materials and beams, frequently painted bright colors. His bright yellow piece, Alachua, on the campus of the University of Florida, is more commonly known to the students as "french fries."
Murphy said she is excited to have a piece of Henry's art at UNF. She said it is a mark of growth to have big art pieces on campus.
Murphy said the Art on Campus Committee originally considered putting the piece in front of the Student Wellness Complex, but decided the location by Lot 18 would give it more space and also allow a good chunk of the student population to see it.
President Delaney will be officially dedicating the sculpture April 18 at 11:00 a.m. at Lot 18.
Email Dargan Thompson at [email protected]