First round exit in A-sun tourney leads to March Sadness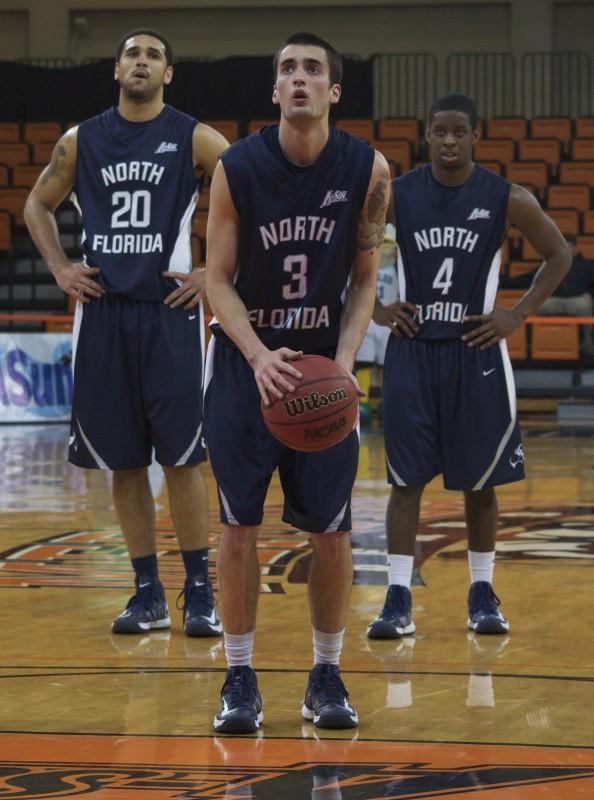 In the 2012-13 preseason, UNF was ranked as one of the top teams in the A-Sun Conference, and was projected to finish fourth, but fell well short of those expectations.
UNF finished with a 13-18 record (8-10 A-Sun) for the regular season — seventh in the A-Sun. This season's performance was a regression from last season's 16-16 (10-8 A-Sun) finish.
With a 7-4 home record, this was UNF's third consecutive season with a winning record at home, but they managed only four wins in 18 games outside of UNF Arena.
The team earned the No. 7 seed in the A-Sun Tournament, and played No. 2 seed Florida Gulf Coast University March 6, in Macon, Ga.
Despite UNF's resolve to keep the March 6 game close, FGCU beat UNF 73-36, and moved on in the tournament to eventually win the A-Sun Conference Title. FGCU won all three of their games against UNF this season.
Parker Smith scored six three pointers and totaled 29 points, making sure his team went down swinging in his final game. Smith helped keep the game close, even pulling within two points in the second half, only to see that margin widen with each UNF mistake.
PS3, who was projected as a preseason All-Atlantic Sun Team finalist, not only earned the honor, but the sharpshooter finished the regular season with an Atlantic Sun record of 110 three pointers made, which was previously held by three different players with 107 threes each.
"He has a special gift," said UNF men's head basketball coach Matthew Driscoll. "For three years, with the people here that got to see him at home and the people in the league that got to witness him, I can't tell you the number of coaches that have said things to me about just how hard it is to work the game plan for him and how hard to work to prepare for him. He's always going to be a tough guy to replace," Driscoll said.
With Driscoll ending his fourth season with UNF, he has a 57-71 career record and a 36-40 conference record.
"You're always disappointed when you don't reach your goal in places that you want to go to, no matter what happens throughout the year," Driscoll said. "If 'ifs,' 'ands' and 'buts,' were candies and nuts, we'd all have a merry Christmas. It's disappointing from that aspect, though, the seniors are the most winningest group in the school's history."
UNF basketball is excited to bring in three recruits next season to make up for its graduating seniors. Guards Dallas Moore and Sean Brennan will join bigman Romelo Banks in UNF's upcoming freshman class.
"We'll do our due diligence and move forward to work in a way that we can continue to do the things [we want to], and basically reach what we all want to reach, which is inevitably the Atlantic Sun Championship."
The program hopes to have more success next season, after making the postseason in each of Driscoll's four seasons with UNF, including a run to the championship game in 2011.  Driscoll said he has high hopes for his 2014 team in the wake of an otherwise lackluster 2013 campaign.