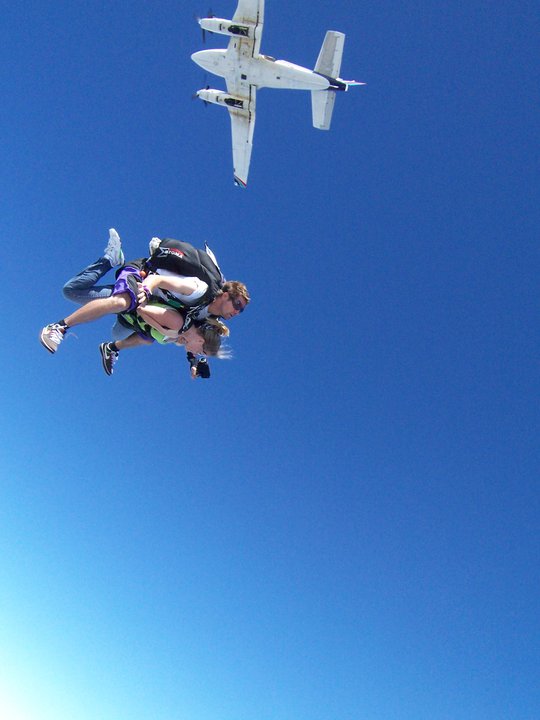 Networking has become one of the biggest buzzwords since phones started vibrating on our table tops.
There are many ways to network; like luncheons and picnics or dinner parties, but these would not do for the Association of Fundraising Professionals and UNF Alumni Association.
They thought bigger. They thought higher. In fact, they also thought faster, because their annual networking event for their First Coast chapter at UNF involves jumping out of a twin-turboprop King Air airplane and falling at about 120 mph. I thought we were just exchanging business cards?
AFP has been holding the event since May 2008, and for the past five years there have been increasing numbers of jumpers signing up to skydive at the end of each spring semester.
The plan is to let the event to continue and grow each year, hopefully developing into a UNF tradition.
Lyndse Costabile, associate director of development and event coordinator, came up with the event as a way to provide networking opportunities for students and alumni in a not-so-typical environment.
AFP is a worldwide organization with 215 chapters, mostly in the United States. The Northeast Florida First Coast chapter is one of the most recognized within the organization, Costabile said.
Falling from 15,000 feet does not sound at first like a prime example of networking, but Costabile said you could be surprised.
The day begins at 8 a.m. with paperwork, training and payment. By 9:30 planes go up and people go down, softly. In the meantime, between suiting up in jumpsuits and deploying parachutes, students and alumni get to speak, converse and socialize.
Stephan Senchuk, a UNF accounting alumnus who graduated in 2010, skydived for the first time at last year's event.
"The rush is nothing like a rollercoaster or anything," he said. Senchuk said he believes there isn't anything else that can replicate the sensation of falling that fast, that long, with that amount of adrenaline released.
Senchuk said he will try to bring more friends with him as he returns this year. He's planning to take the 18,000 foot jump: the longer, colder and higher jump.
According to Costabile , 95 percent of skydivers are first time jumpers. The group that goes doesn't just include UNF Alumni; the chapter invites guests as well, including recent graduates from universities like UF, FSU and USF.
The event will take place on April 27. The cost is $155 for the 15,000 foot jump, which is a deal according to the event flyer, as the regular price is $200. There were 50 people signed up and 40 confirmed as of April 4. There is no maximum for attendance as of yet.
Email Jason Howard at [email protected]
Flying high: The sixth annual skydive event for UNF and AFP will take place Sat., April 27 at the Skydive Space Center in Titusville, Fla
For more information or to R.S.V.P. by April 22, contact Lyndse Costabile at [email protected] or (904)-860-1886