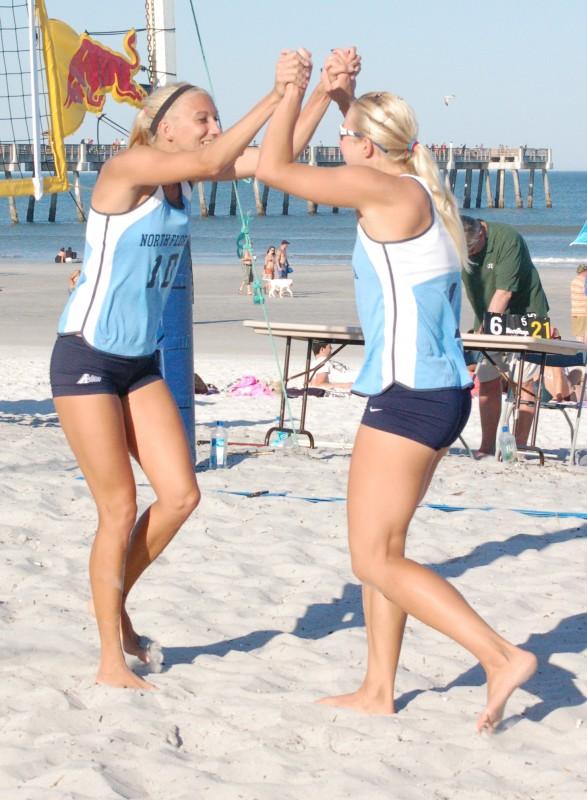 Last year, UNF sand volleyball was the first team in Atlantic Sun history to win a Sand Volleyball Conference Championship .
This year's team has the expectations of living up to last year's performance, but it seems like the only pressure felt is in the sand after a spike.
The team started off its 2013 campaign going 12-3 for its first 15 games (two were exhibition matches against Webber).
"The girls have been working really hard and I'm really pleased with their effort and their trying to get better every day," said head coach Steve Loeswick. "We've had a lot of our matches go our way and we've been good so far, but we're not quite satisfied with ourselves yet."
The A-Sun is the only conference that will have an automatic bid to the American Volleyball Coaches Association's Sand Volleyball National Championship, July 3-5.
"It feels great because every time you win, your mood goes up, and we're just trying to keep our streak," said junior Anna Budinska. "We really want to win the conference for the second consecutive year. We're confident, but we know that it won't be easy because all of the other teams got better, as well."
The A-Sun will be the only conference for the next two seasons to have an automatic bid, due to the waiting period enforced on a conference that wants to make sand volleyball a conference sport.
With the first season under the teams belt, Loeswick said the practices this year have had more of an intense atmosphere.
"We're definitely challenging them more and training harder to try and get that step up," Loeswick said. "Last year we did a lot with basic ball control and trying to figure out what teams worked best together. This year we've been a little bit more consistent with our teams."
This year's top pairing has been Budinska and senior Dagnija Medina. Budinska was sidelined for most of last year's season with a torn ACL, but
Medina played the full season and said that the year of experience has made a difference in her play.
Budinska and Medina are 9-5 overall and 6-0 in the A-Sun, playing in the top spot.
"It's interesting to see how the team has gotten a lot better and also the growth of our team. I couldn't really move in the sand at first and getting to the ball was hard, but now I feel like I've been in it my whole life," Medina said. "Beach is actually an easy game; it's basically bump, pass and put the ball in a spot where no one is. It's all about being smart and not about being strong."
The team's nine match winning streak was snapped April 6 against UAB, but UNF won two out of three.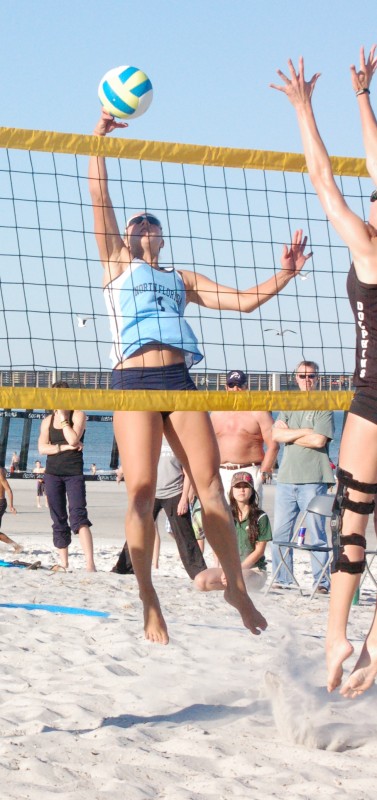 The duo of junior Britt Claessens and sophomore Julie Trembley has been perfect this season, playing in the four and five spots. They carry a 14-0 overall record and are 6-0 in the A-Sun.
The senior pair of Emily Strack and Anna Wagner have started at the three, four and five spots, and carry the second best record on the team — 11-3 overall and 5-1 in A-Sun play.
UNF sits atop the A-Sun with a 6-0 record, two games above JU, and with just five matches remaining.
UNF's next match is against crosstown rival Jacksonville for a doubleheader in the April 10 River City Rumble, and for the Atlantic Sun Conference regular season title.
UNF has earned a share of the championship, but it would claim sole possession of first with one victory over the Dolphins (4-2 A-Sun).
The team will look to defend last year's A-Sun title April 20-21, at the A-Sun Championship.