UNF alum promoted to rare U.S. Army rank
FORT BLISS, Texas – There is now high-profile UNF representation in the United States Army.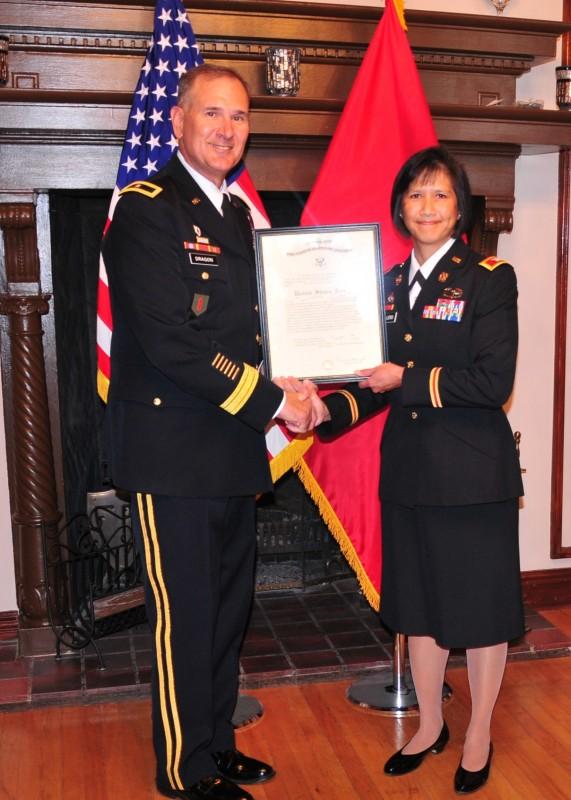 The Army promoted Osprey alumna Leslie Caballero to Colonel in a ceremony at Fort Bliss, Texas on Tuesday, according to a release. As of August 2012, the Army notes less than one percent of active duty service members reached the rank of Colonel, a step below Brigadier (one-star) General. Even fewer colonels are women, considering women comprise about 16 percent of officers and enlisted service members in the Army. Caballero's new rank is nicknamed "Bird" Colonel because of the Eagle insignia on her uniform.
Col. Caballero graduated from Orange Park High School in 1984 with an Army ROTC scholarship, which led her to UNF. She graduated in 1990 with a Bachelor's Degree in Business Management and was termed a Distinguished Military Graduate as a Second Lieutenant in the Army's Ordnance Branch. She earned a Master's Degree from Central Michigan University.
Caballero has 23 years of active duty, according to the Army, including tours of duty in Operation Iraqi Freedom III and the OIF surge and in Afghanistan during the Operation Enduring Freedom Surge. She also served in Germany and twice in Korea. She's garnered several awards, including three Bronze Star Medals, five Meritorious Service Medals, three Army Commendation Medals, the Iraq Campaign Medal, the Global War on Terrorism Medal (Expeditionary and Service), the Korea Defense Service Medal, the NATO Medal and the Combat Action Badge.
Caballero's Mother, Hisako, still lives in Orange Park. Both Caballero's Mother and Brother placed the new rank on her uniform. During the ceremony, per the release, Caballero credited her family for instilling her with work ethic due to their "tough love."