Geese killed on UNF campus; UPD unable to investigate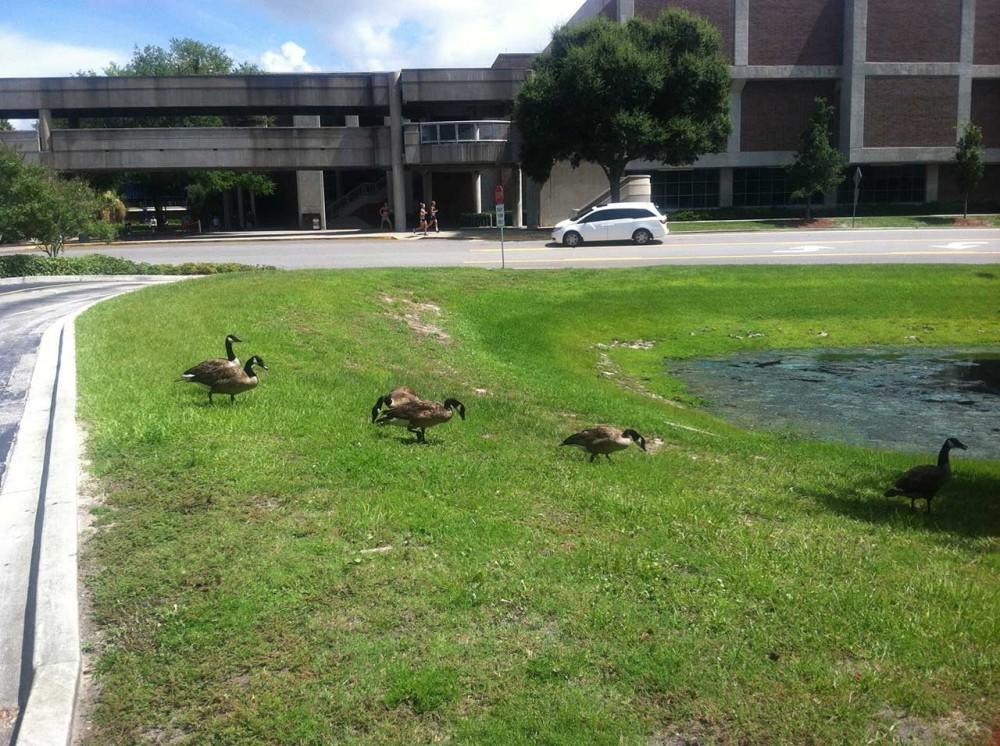 [Editor's note: An earlier version of this story called the geese at UNF "Canadian Geese." The official name for the species living on campus is "the Canada Goose." ]
Some of UNF's most beloved and talked about creatures on campus were reduced by two Tuesday morning. Two geese, which notoriously roam campus as if it's their own, were hit by a car and killed. It happened on UNF Drive near the ropes course and zip line, not far from the University Police Department.
Two witnesses reported seeing the dead geese. One person at the ropes course told the Spinnaker he heard a car's screeching tires but didn't see the accident and didn't know the description of the car. UPD removed the geese from the road.
While roadkill around the city and everywhere else isn't uncommon, the Canada Goose is a federally protected species under the Migratory Bird Treaty Act of 1918. The law was passed to protect hundreds of species of migratory birds, whose numbers had dwindled because of commercial poaching. The Canada Goose was included in the provision, although some online sources consider the birds permanent residents of Florida because they no longer migrate here. It's unclear if the death of the birds, although accidental, still constitutes a violation of the law.
UPD Lieutenant Mike Gwynes told the Spinnaker three to four geese on average are hit and killed by cars on campus per month. He said campus police have jurisdiction to enforce state of Florida laws but not federal laws, thus no charges would be filed. Lt. Gwynes did say they would investigate instances where there is intent to kill the geese but not if the deaths are accidental and come with drivers obeying traffic laws.
Geese on campus are found grazing in the grass, lying on sidewalks and more and are a frequent topic of conversation. The animals are so whimsically beloved, they even have their own Facebook and Twitter pages, humorously professing to be controlled by the geese themselves.