Jon-Michael Vieira scored his first goal for UNF, securing its second straight conference win in overtime Saturday night against Stetson.
UNF (6-5-2, 2-3-1 A-Sun) returned to Hodges Stadium with a victory,  taking down Stetson (3-9-3, 2-4-1 A-Sun) 1-0.
Overtime gave UNF its deserved win just 7 minutes in.
A shot was deflected toward Andres Schnabl who reacted well and made the save, however it fell right to Jon-Michael Vieira's feet.
"It was a build up through the middle and was played wide," Vieira said. "(Drew) Spragg crossed it in, it deflected off the defender and the goalie made a save. It came right to me, perfect and just using technique put it through a player's legs."
Marinatos was glad to see Vieira find the net.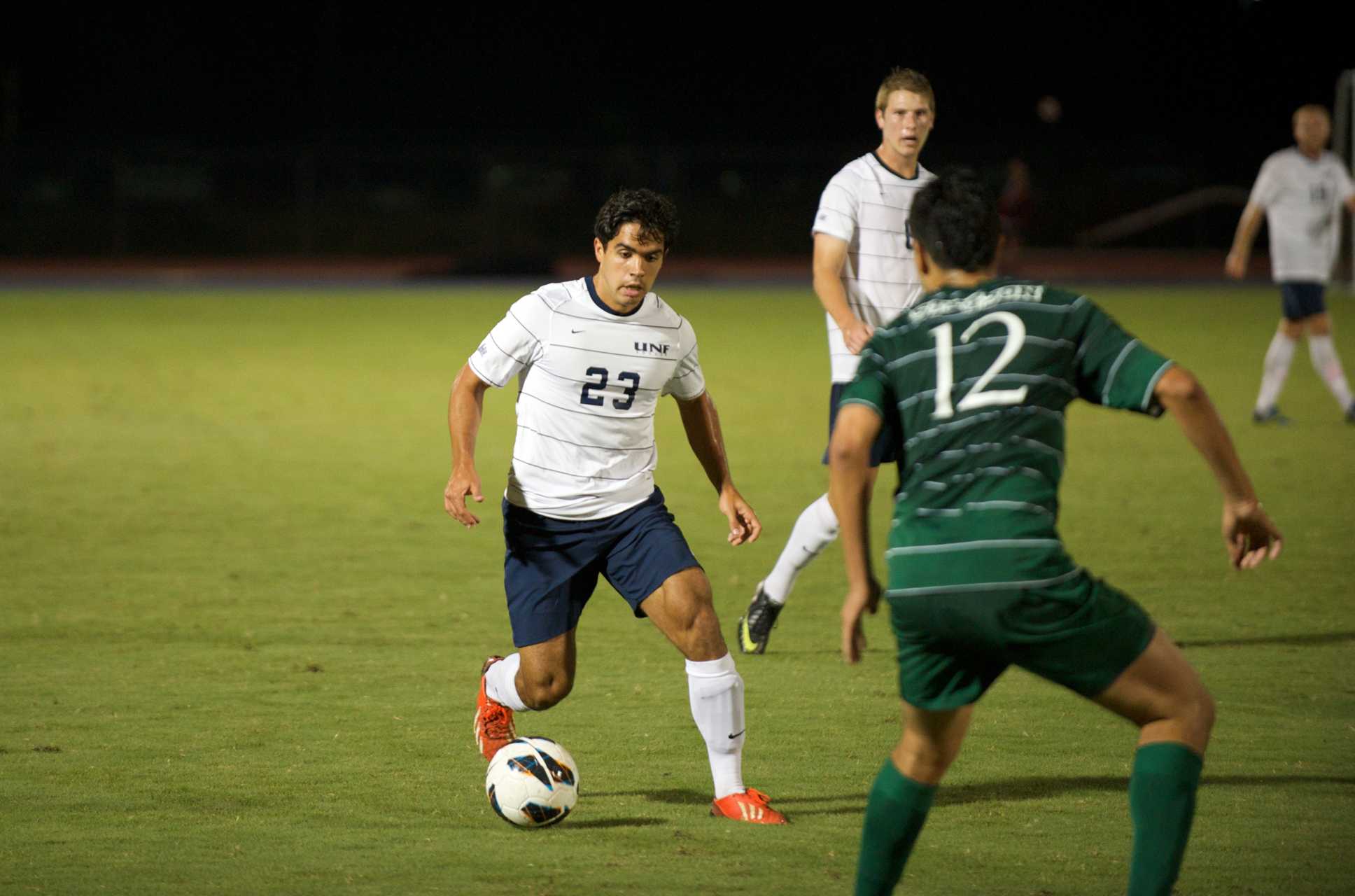 "It's Jon-Michael's first goal, we've been on him about scoring and taking chances," Marinatos said. "He gets his first collegiate goal in overtime and we win it."
UNF began the game strong, building up its attack with patience in the attacking third to put pressure on Stetson.
In the sixth minute, Pedro Carneiro nearly found the net as his strike missed the inside of the near post by inches.
Stetson came out with a defensive set of mind, trying to keep UNF out of their net and attacking on the counter.
Head coach Derek Marinatos said that Stetson came in prepared and knew what they wanted to do with the game.
"They came in with a good game plan and made it tough on us," Marinatos said. "Maybe if we got a goal the game would've opened up."
Stetson sat back defensively for most of the game which forced UNF to attack and left it open to counter attacking play, where the Hatters found their chances.
UNF maintained high pressure throughout the half, taking 7 shots to Stetson's 2.
"I was proud that we didn't give up a goal," Marinatos said. "I thought we out chanced them in the final third, just got unlucky not getting on the end of the cross."
Some of UNF's stronger chances came from set pieces and crosses. Simen Solstad and Jay Bolt whipped in balls from the flanks to find Jean Rivaroli in the box, but Rivaroli could not find the net on his headers.
The Osprey defense held well against Stetson's sporadic attacking play, earning its second straight shutout.
Brad Sienkiewicz said he owes the shutout to his defense.
"I think top to bottom we really did well defensively," Sienkiewicz said. "We held our shape and I really give all the credit to the guys in front of me. They made it a much easier night than it could've been."
While Stetson had its chances, UNF continued to pressure the Hatters and had the run of play in their favor continuing through the second half.
UNF earned 6 corner kicks in the second half alone, 10 in the match, but were unable to capitalize on them.
Subs were a big part in the win as fresh legs kept the pace of the game in UNF's favor.
Marinatos said that the work they do in practice helped keep fresh legs for the extra time needed to win the match.
"In overtime, when we made subs at the end of the game it gave us a boost when they were tired," Marinatos said. "We knew we had been doing the extra work in terms of the sprints at the end of practice. We had legs, it showed."
UNF now has its rivalry game at Jacksonville University (4-10-1, 2-4-0 A-Sun) Wednesday at 7 p.m., a game that has proven difficult for them in the past. The team lost 4-1 to the Dolphins last season.
Sienkiewicz says it's a whole new challenge for the team as both UNF and JU are in the middle of the Atlantic Sun standings.
The top four teams in the A-Sun — Florida Gulf Coast, East Tennessee State, Northern Kentucky and Lipscomb — have a big lead over the three teams tied for fifth including UNF, Stetson and Mercer. JU sits in eighth place.
"JU is a whole new entity, we'll enjoy this evening and get to work Monday with a few days to prepare for them," Sienkiewicz said. "It's a rivalry game, it's a going to be a battle and we're going to prepare as best we can."
UNF will wrap up its regular season at home against FGCU Saturday at 7 p.m.
Email Andrew Nichols at [email protected]