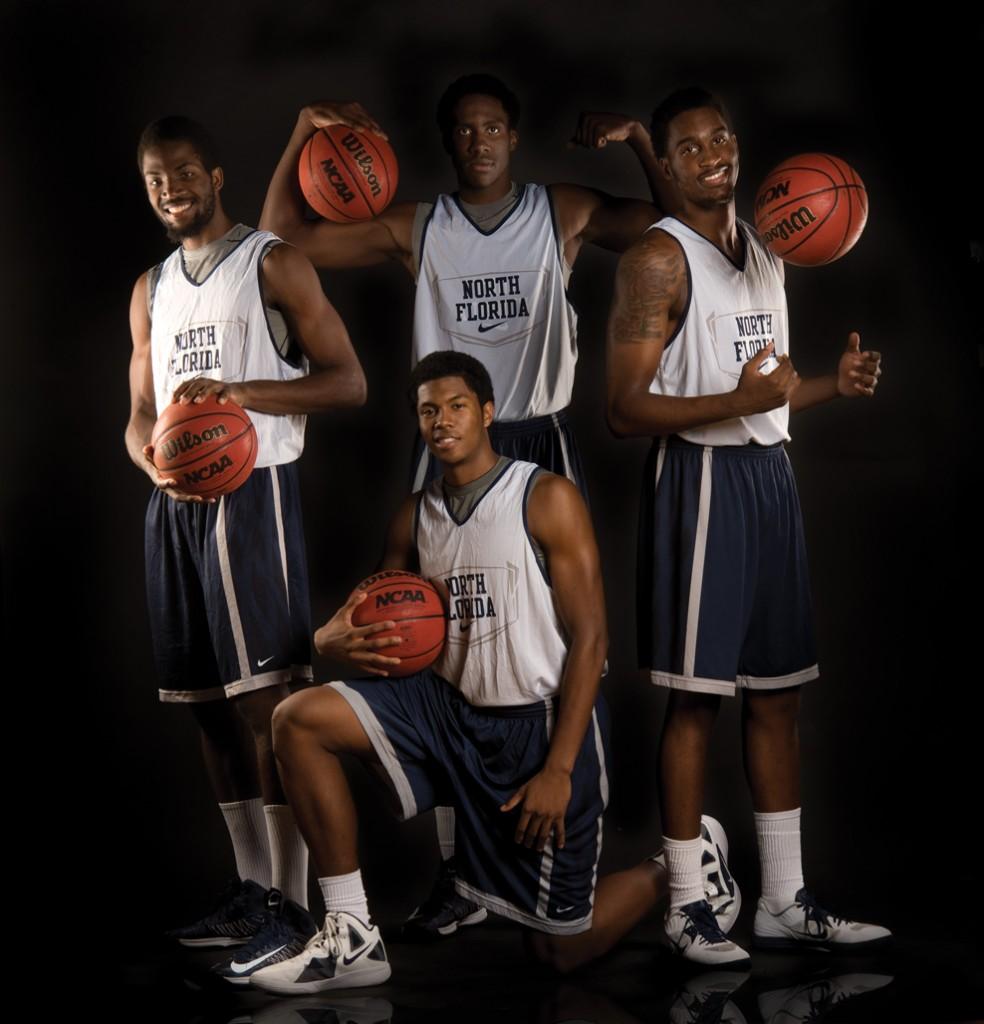 After the FGCU champion team knocked UNF out in the first round of the 2013 Atlantic Sun Tournament, nine players retired their UNF jerseys.
The close of the season left head coach Matthew Driscoll with just five returning players.
Such a large turnover of players is a daunting task to overcome for any program. Nonetheless, Driscoll and his assistant coaches were able to bring in freshman and transfers from across the Southeast, putting together a squad of promising contenders.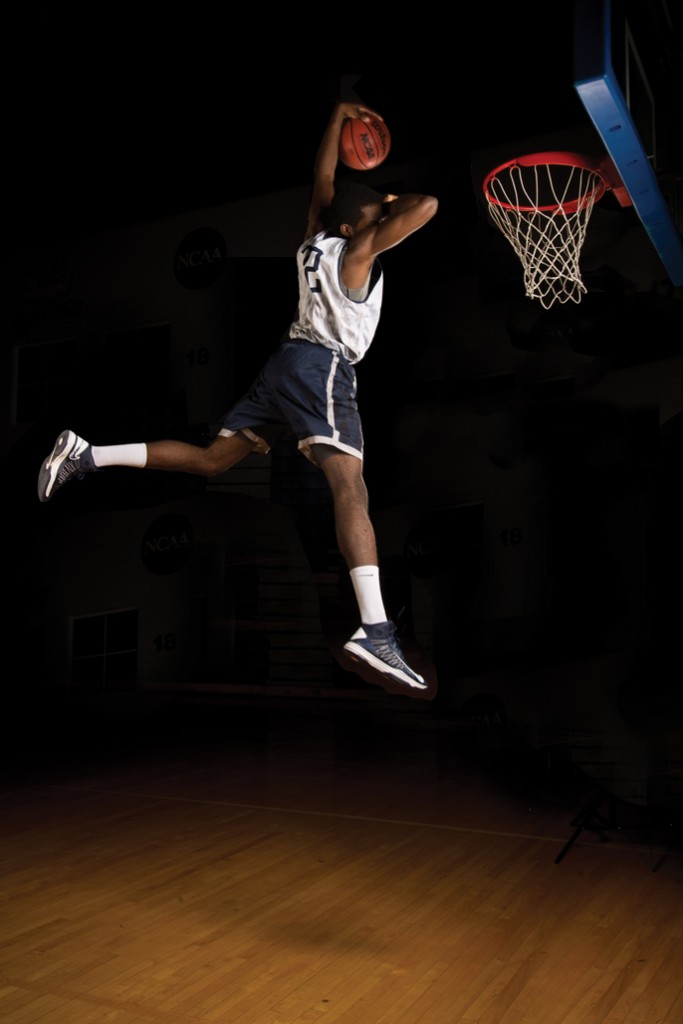 THE VETERANS
There are five returning players this year: seniors Travis Wallace and Charles McRoy, sophomores Beau Beech and Demarcus "Bae Bae" Daniels, and redshirt freshman Aaron Bodager. The four active players have become the leaders of the team, tasked to teach the newcomers the ways of Division-I basketball.
Wallace, chosen as a member of the A-Sun preseason all-conference team, is coming off a breakout season last year where he assumed the role as one of the team's leaders halfway through a tough opening stretch.
Wallace said he wants this to be the year UNF remembers.
"I want to leave a mark when I leave here," Wallace said. "I want to make these guys better. When I leave here, I want everyone to remember who Travis Wallace was."
McRoy came off the bench last year, averaging 19 minutes per game – more than any other non-starter. At six points per game, his scoring average ranked him fourth best on the team.
"Since I've been here, it's been expected of every player to have their own leadership role," McRoy said. "Now it's becoming more vocal, telling these young guys where to go, what to do, so they can flourish."
With no juniors on the team, Beech and Daniels have taken roles as vocal leaders despite only having one year of experience on the court.
Beech is the loudest on the court, constantly yelling out plays to teammates and showing new players where to cut when flaring out from under the basket.
After a slow start, Beech began to show fans what he could do. By the end of last season he was averaging seven points and 3.8 rebounds per game. He became a starter and averaged nearly 24 minutes per game.
For an encore to his freshman effort, Beech said he is focusing on all aspects of his game.
"I want to be mentioned as player of the year, defensive player of the year, all-conference," Beech said. "I want to win, but I want to do it the right way. Not just let me score 15 a night."
Daniels, who is arguably one of the most athletic players in the A-Sun, made highlight blocks and dunks throughout last season. The 6-foot-7 forward seemed like he would jump over the backboard at times as he sprinted down the court.
The quiet beast from Georgia may not say much, but his demeanor on the court shows a player who means business.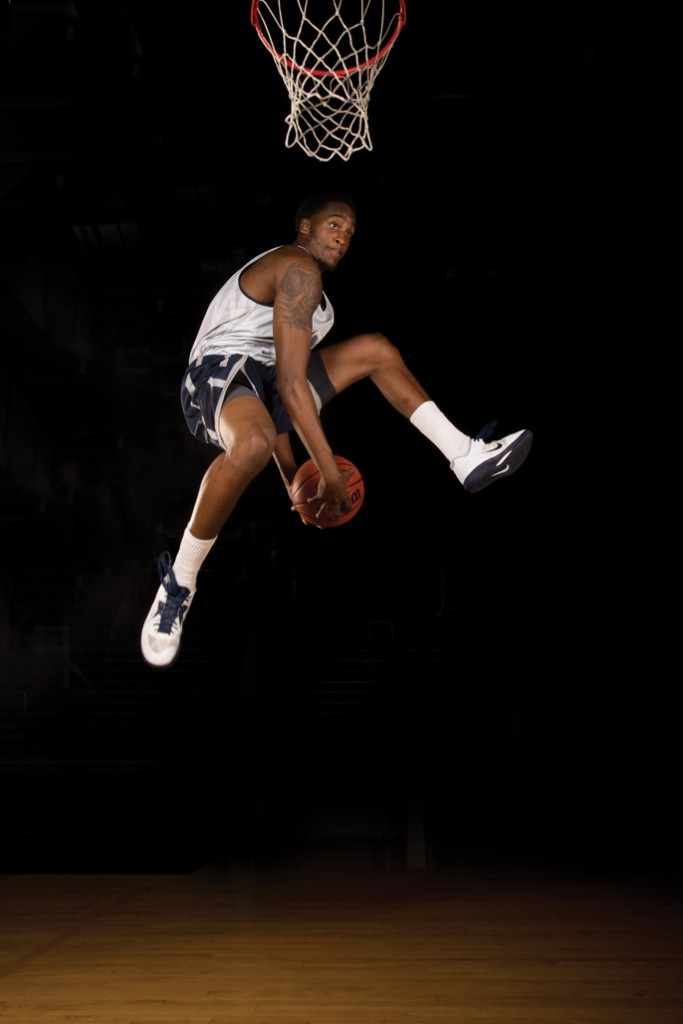 The Newcomers
Driscoll and his coaches brought seven new faces into the program: three transfers and four freshman. The new talent has impressed the returning players.
"They've picked it up really fast," Beech said. "I've been really impressed on how quick we've picked everything up. Romelo's [Banks] a great example. The first week he was learning a hook shot and now he's got two, three moves. We're three weeks away from our first game and these guys have already figured it out."
At 6-foot-11, Banks is the tallest player to ever wear a UNF jersey — and he picked up a basketball for the first time three years ago. In his fourth year of organized play, Banks has become a new player from day one of training camp to now.
Banks finished every dunk in practice ferociously, getting frustrated when he would moon launch one off of the back of the rim. Banks said he finishes strong every time, strictly out of habit.
"When I first discovered I could dunk I've always tried to dunk hard," Banks said.
 If you search for freshman Chris Davenport on YouTube, you will be directed to videos of his junior year mixtapes. The tapes are littered with dunk after high-flying dunk as Davenport shows off his athletics, giving Daniels a run for his money on leaping ability.
 Devin Wilson, a junior from Pensacola State College, has added speed and knowledge to a backcourt consisting of freshman Sean Brennan and Dallas Moore. Although Wilson may not get the star treatment, he knows his prior knowledge is important on a team filled with new talent.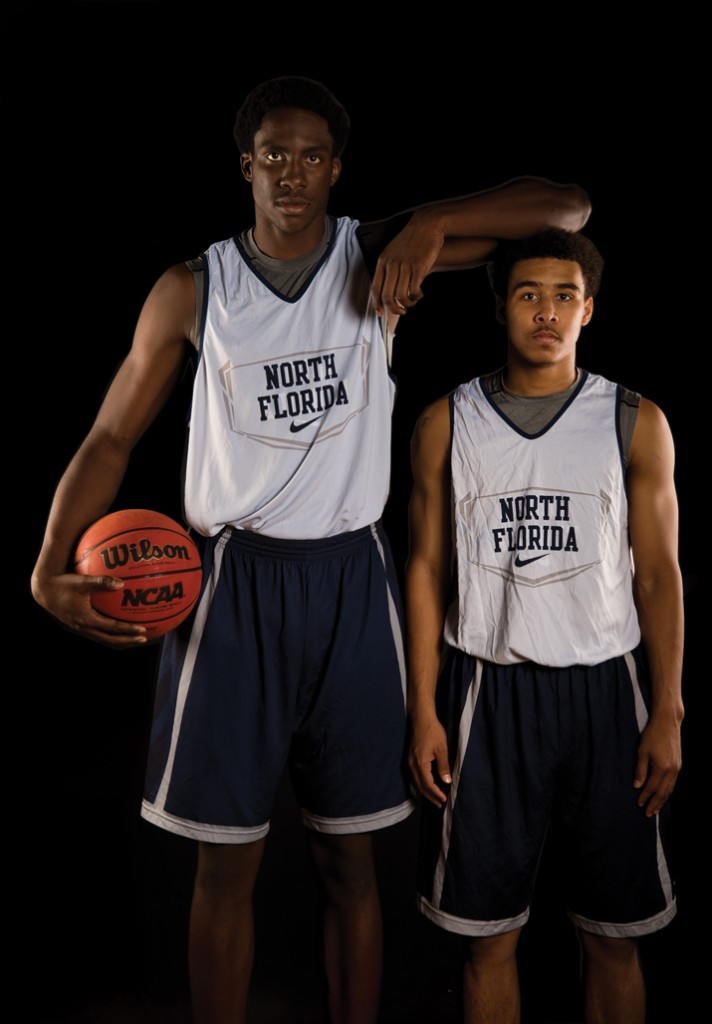 The Season's Start
With more depth, and with every starting spot still up for grabs, Driscoll might go back to a rotation seen two years ago: two different rotations of starting-worthy talent that will force teams in the conference to leave players out longer to keep UNF's advantage of depth at a minimum.
No one knows how the season will play out, but the reconstructed team is full of talent and will provide spectators unique and exciting play at the UNF Arena. With star shooter Parker Smith gone, the team will look for everyone on the roster to score.
The season begins with games that will test the team's chemistry, stamina, leaders and will. The Ospreys will square off against the University of Florida Nov. 8 to begin their season, and the rest of November will be spent on the road, coming up against Ohio State University, Alabama University, Indiana University, and others. A-sun Conference play is set to begin at the UNF Arena, Dec.30, against Kennesaw State.
The team is expected to be in the middle of the pack this season in the A-Sun, considering the lack of Division-I experience. The Ospreys were picked to finish in fifth in the A-Sun coaches' poll and sixth in the media poll.