UNF downs FGCU, continues historic run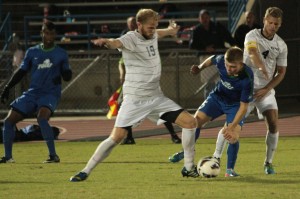 UNF continued to make history on Nov. 15 with a 1-0 win over Florida Gulf Coast, making the final of the Atlantic Sun tournament for the first time in program history.
In its final game of the regular season UNF lost to FGCU, but this time, on the Eagles home field, the Ospreys came away victorious.
The A-Sun Conference semifinal started as a chess match between the two teams. Both were patient going forward, though neither had the special finish to find the net.
Only three shots were produced in the first half, two for FCGU and one for UNF. All of them were hit over the bar.
A scare for UNF occurred in the 39th minute when Xavier Silva made a run down the right-hand side and attacked the end line.
His shot was deflected by Brad Sienkiewicz, but to the foot of another FCGU player for a goal.
But, the linesman had his flag raised for an offside call, and the goal was called off.
Combination play between FCGU had them inside the box a handful of times, but the stout defense of UNF stood their ground with big stops from Slywester Szczesniewicz and Casey Caronis.
The second half opened with much of the same stalemate, each team looking dangerous but unable to find the net.
The 53rd minute came with a goal for UNF. Luis Daniel Camejo found the net for the first time this season inside the box after receiving the ball from Alex Morrell.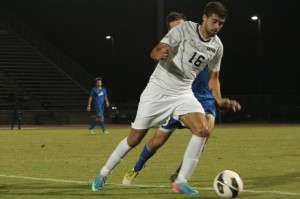 Pedro Carneiro found himself in space 20 yards out at the 81st minute mark with a pass from Drew Spragg.
Carneiro fired a shot passed an outstretched Danny George for UNF's second goal. The last ten minutes saw UNF on its heels, giving up a goal just two minutes after scoring.
Henry Penagos found the net at the 84th minute mark. UNF's defense held firm and saw the game out even though to the final whistle despite losing in the shots department.
FCGU racked up 7 shots to UNF's 5.
With the win, UNF will make its first A-Sun final in history and will face ETSU Sunday at 1 p.m.