North Florida dominates Stetson
[nicevideo link="www.youtube.com/watch?v=wpfPtoLBjos"]

North Florida (10-9, 4-2 A-Sun) had 14 offensive rebounds and 21 total in the first half alone.

Stetson (3-14, 1-4 A-Sun) head coach Corey Williams said that UNF had complete control in the first half.

"They did whatever they wanted to do on the offensive glass in the first half," Stetson coach Corey Williams said.

Charles McRoy had four offensive boards that led to seven second-chance points all before the five minute mark in the first half.

"Charles' rebounding early really helped to set the tone," UNF head coach Matthew Driscoll said.
After McRoy's 16 pts, 4-8 FG, 8-8 FT impressive start to the game, UNF's offense didn't let up.

His teammate Dallas Moore had 17 points and shot 50 percent on the night, while Beau Beech made four for eight from beyond the arc and finished with 14 points.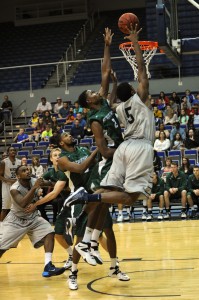 The Ospreys outscored Stetson 30-12 from three-point range. Beech explained the team's three-point strategy after the game,
"We tried to keep it moving around the arc," Beech said, "because it's tough for the defense to move side to side."
Stetson turned the ball over three fewer times than UNF, who ranks last in the A-Sun conference in turnover margin (-6) since conference play began.
Despite giving up 17 turnovers, it was UNF's season-high 18 offensive rebounds, 36 total, that propelled them to victory.
Stetson's leading scorer Kentwan Smith ended with 27 points, posterizing UNF's Charles McRoy on a dunk in the first half.
UNF now has six days in which to prepare for their matchup with crosstown rival Jacksonville University (8-9, 4-2 A-Sun) next Friday. Both teams sit a half game out of first in the conference.
When asked about looking ahead to the matchup, Driscoll didn't have much to say in terms of how they're preparing, but he did speak candidly about the magnitude of the game and its place in Jacksonville college sports.
"It's the second or third best college venue in the city every year besides the Florida-Georgia football game," Driscoll said, "I just hope that people would see that, see the growth, and continue to come out and support."
The UNF vs. JU game will take place Friday night at 7:00 pm at the UNF Arena.