Visions of Grace – a journey through South Africa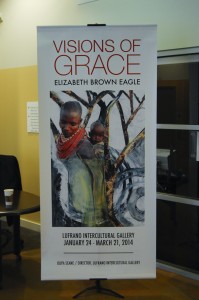 Elizabeth Brown Eagle went to Africa to teach art, and ended up documenting South African and North Eastern Kenyan communities with the protection of warrior escorts.
The resulting display of mixed media artwork that composites photography, acrylic paint and charcoal will open in UNF's Lufrano Intercultural Gallery on Jan. 24.
Eagle will attend her "Visions of Grace" exhibit opening to speak about her artwork and experiences.
Composed of 28 pieces, this collection will show encounters Eagle had in African communities throughout the five years she spent traveling and teaching students art.
Longtime family friend Louri Hitzig said Eagle developed relationships with the subjects in her images, such as the warriors who had to protect her in the wild.
"She has been invited into these places where they would never let someone like her in," Hitzig said.
Oupa J. Seane, director of the Intercultural Center for PEACE, who is from South Africa, said he is very appreciative of her work.
He said some of the neighborhoods shown in the pieces look like the ones he grew up in. Nelson Mandela's tribe of original, the Xhosa tribe, is also featured in Eagle's artwork. Seane said his wife is also from the Xhosa tribe.
"[Eagle] has completely embraced the African culture," said Seane. "One word to define Elizabeth would be grace, just like the name of the exhibit."
The "Visions of Grace" exhibit will be on display from Jan. 24- March 21, 2014.
Email Alexis McCartney at [email protected]