Get off your couch and go to MOCA: free to students
[nicevideo link=https://www.youtube.com/watch?v=tMgpjxLtBUQ]

The Facts:

What: Downtown Jacksonville's Museum of Contemporary Art

Cost: Free to UNF students with an ID.

Date: Tuesday, Wednesday, Friday or Saturday from 11 a.m. to 5 p.m., Thursday from 11 a.m. to 9 p.m. and Sunday from 12-5 p.m.

Location: 333 North Laura Street near the Jacksonville Public Library

———————————————————————————————

Think of every poor college kid's favorite word.

Free.

Now think of a place where the language spoken is art.

Through the glass doors of the Museum of Contemporary Art Jacksonville, there's a cafe on the right, a store on the left and a front desk greeter who glances at your UNF ID and gives you a fuchsia sticker to grant you free access to wander MOCA.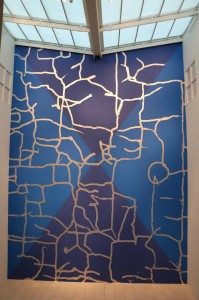 The first noticeable art, behind the front desk, is "Tarred over Cracks." It overwhelms the Haskell Atrium Gallery. The wall painting fills all of the space between the ceiling and the floor, mixing shapes with abstract.
Denise Reagan, Director of Communications, calls this piece a vantage point because it's visible from three floors.
Most college students might not think of a museum as part of a fun night, but perhaps you might reconsider.
"Start with a free Wednesday Art Walk and you'll get hooked," Reagan said.
Art Walk takes place the first Wednesday of every month and showcases downtown art. MOCA holds extended hours to be part of it.
MOCA, once just a fine arts club, is celebrating their 90th anniversary with a total of 200 works of art on display.
"You see art here that you could see in London, New York, San Francisco, or Los Angeles, but it's here," Reagan said.
MOCA has five galleries, all of which change three times a year.
"The world is a complex place," Reagan said, "Sometimes art reflects that and sometimes it helps us put all of that into perspective and put those feelings into some visceral language."
The upcoming exhibition at MOCA features materials typically thrown away used to create art. This exhibition, "Material Transformations," runs January 25-April 6.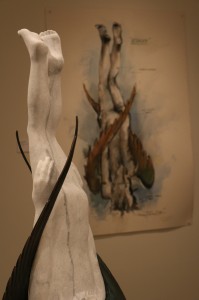 The wrapping paper you rip off a package, the masking tape you throw away after using once, the cleaning sponges that start to look old and dirty. These are some examples of things that will take on a new form in this exhibition.
"The exhibition, Materials Transformations, is all about consumerism. It's asking us to think about that," Reagan said, "We are constantly creating things to throw away. These artists find new life in them."
Even parents, kids, and students can dabble in art. Hands-on art workshops are held every weekend. Check out http://www.mocajacksonville.org/ for a list of current exhibitions and workshops.
Email Noor Ashouri at [email protected]