The Armada unveiled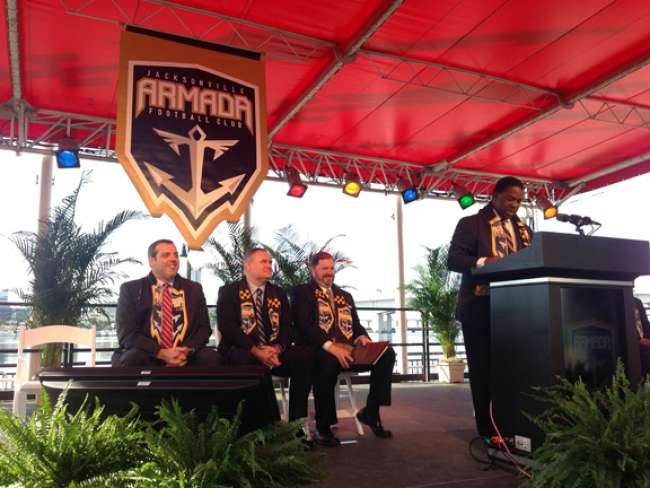 It is here. The newest addition to the North American Soccer League has arrived in Jacksonville with the release of a team logo and name.
The Jacksonville Armada, a team that was announced in July of 2013, logo was chosen from one of over 1,500 suggestions sent in from fans around the area.
The Armada will join the league in its inaugural season next year for the 2015 season.
Mayor Alvin Brown, City Council President Bill Gulliford and NASL Commissioner Bill Peterson were a part of the unveiling Tuesday.
The team is a part of the Sunshine Soccer Group, owned by co-founder and CEO Mark Frisch, as well as co-founder and president Dario Sala.
Sala is also the club's technical director and general manager, according to the team's website.
League commissioner Peterson was quoted on the site's page on his experience witnessing how passionate Jacksonville is and what it means to Florida.
"I have seen firsthand the desire the Jacksonville community has for a professional soccer team to call its own and believe this is a great move for soccer in Florida."
He added that it will create an in-state rivalry with other Florida teams, the Tampa Bay Rowdies and Fort Lauderdale Strikers.
This could possibly open up possibilities to be derby matches between the teams, drawing in big crowds from traveling fans to each venue.
The original 1980-1982 Jacksonville NASL team originated in New England was named the Tea Men, who also played in the United Soccer League (USL) from 1982-1984. The name stayed with the team when it arrived in Jacksonville.
With the addition of the team here in Jacksonville, UNF head coach Derek Marinatos said it's exciting to the possibilities that can arise for the city and his squad in particular.
"I think it all ties together really well," Marinatos said. "It's further opportunities for our players beyond college at a high level. It's great for the city of Jacksonville to have this team come in."
The NASL season begins during the summer near the conclusion of this year's World Cup, but the Armada are due to make its first appearance next season.