Ceramics artwork stolen from alumnus on campus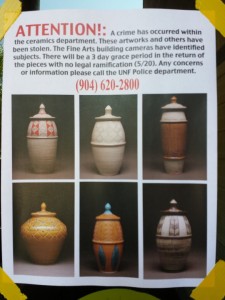 Several pieces of ceramic artwork were stolen near the Fine Arts Center. Rajiv Maraj, a Fine Arts student who graduated this Spring, had left 15 ceramic pieces outside behind the Fine Arts Center near the Photography Lab. Upon graduating, Maraj went to retrieve the items only to find them missing.
The pieces had been sitting there for about two weeks, according to Professor Stephen Heywood, Associate Professor of Ceramics. Heywood explained that due to limited space in the workshop students often leave artwork outside.
"The studio is really small and having big pieces like this take up a lot of room in there. The only way to actually store it and have it out of people's way is outside," said Maraj.
Maraj said the missing items range in value anywhere from $150 to $1000.
Neither Maraj nor Professor Heywood had previously encountered any problems with theft in the area. Heywood, who teaches classes next to the storage unit, said he hadn't noticed any suspicious people or anybody observing the artwork.
"Not a lot of people come back here, usually just Fine Arts students and faculty," said Heywood.
Maraj has posted flyers around the area detailing the incident and missing items, through which he has also offered a 3 day grace period where no legal action will take place if the pieces are returned.
"This is hindering my next step to life, which is grad school, and I really need those," said Maraj. "I just want the pieces back, I don't care who has them or where they're at."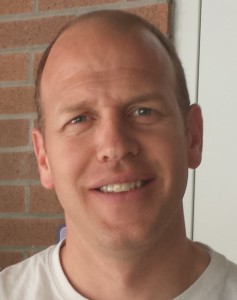 Professor Heywood noted that the crime might not have been intentional. Many students have left artwork for long amounts of time, and Heywood himself has thrown away a few pieces of art that he figured students no longer wanted.
"It could have been an innocent thing," Heywood said. "It still doesn't give someone the right to take something that's not theirs. They could have come to me if they thought no one wanted it. I just hope this has a happy ending."
UNFPD is currently going through surveillance tapes to see if they can identify any suspects.