UNF hosts fourth annual Bedford Cup
UNF hosted the fourth annual Bedford Cup Tennis tournament on Friday, Sept. 12 through Monday, Sept. 15, opening the season. UNF's Jack Findel-Hawkins won the Navy Flight Singles tournament by defeating the University of South Florida's nationally-ranked No. 19, Roberto Cid.
Ospreys' Findel-Hawkins and Lasse Muscheites reached the Doubles Finals, ultimately loosing to Cid and Sasha Gozun of USF. In a very successful showing for UNF, Zach Goldberg made the Gray Flight Finals, but lost to Stetson University's Graham Ball.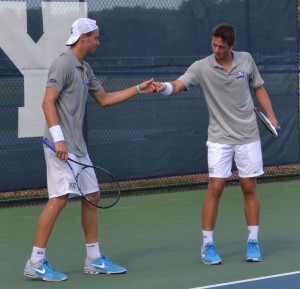 This is the first year UNF has hosted the tournament, which is a yearly competition featuring all Division I tennis programs in the state of Florida. UNF hosted 10 teams in this tournament – Bethune-Cookman University, University of Florida, Florida Agricultural & Mechanical University, Florida Atlantic University, Florida Gulf Coast University, Florida State University, University of Miami, Stetson University, University of Central Florida and University of South Florida. Two nationally-ranked players came from USF – No. 19 Cid and No. 119 Gozun.

Findel-Hawkins, a sophomore from Great Britain and recipient of Atlantic Sun Freshman of the Year honors, was named First-Team All-Conference and listed on the Atlantic Sun All-Freshman Team last season.

Findel-Hawkins defeated Gozun in the semifinals of the Navy Flight 6-4, 4-6, 6-4. He would go on to defeat Cid in the finals with identical scores, 6-4, 4-6, 6-4.

"We just kept doing the things we do in practice," Findel-Hawkins said. "We practiced a lot on how we play in different situations and we were able to execute it really well against a couple of really good ranked opponents."

Playing in front of the home crowd, he is now 2-0 against ranked opponents this year. "Just remembering the basics and really stepping it up towards the end of the weekend was why I was able to get those wins," Findel-Hawkins said.

According to Findel-Hawkins, the large crowd that came out in support on Monday really helped him play through the sweltering heat.

Findel-Hawkins and Muscheites, a freshman from Germany, cruised through their doubles matches against teams such as FSU and UM, before losing to USF's nationally-ranked doubles team, No. 12 Cid and Gozun. Findel-Hawkins and Muscheites suffered a 6-2, 6-3 loss to Cid and Gozun.

Sophomore Zack Goldberg beat Jordan Belga of UF 6-4, 6-4 to move on to the Gray Flight Finals. He then lost to Stetson's Graham Ball 6-1, 4-6, 4-6.

"The ability to beat some of the players that he [Goldberg] did this weekend was amazing," said Head Coach Mark Finnegan. "He's done nothing but great things since coming back from break."

Bethune-Cookman's Gilbert Rotich won the Blue Flight Singles bracket and Arjun Watane of UCF captured the White Flight Singles title.

The Ospreys travel to Tulsa, Okla. on Sept. 27 through Oct. 3 for the Intercollegiate Tennis Association All-American Championships.

Gallery photos courtesy of UNF Athletic Communications

[doptg id="27″]

Email Charles White at [email protected]