New Student Government vice president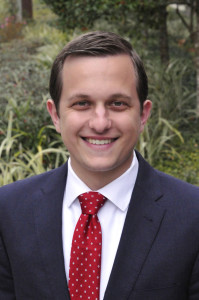 Christopher Brady was appointed to the position of Student Government (SG) vice president after former Vice President Anthony Stevens stepped down earlier this semester.
Brady first joined SG in March 2012, after being elected to the Senate for the Spring semester. He served in the Senate for two years holding a variety of positions including senate pro-tempore, budget and allocations chair and senate president.
At the end of his term as senate president, he took a one-year hiatus from high profile positions in student politics.
"I kind of had a choice on really focusing on my academics or kind of continuing with SG," Brady said. "It was a really hard decision but for that semester I really needed to focus more on academics so I decided to take a smaller role in the executive cabinet."
Brady said SG President Joe Turner chose him because of his extensive experience in SG, noting that he is currently their second longest tenured member.
"I've seen a lot of everything so Joe thought it would be a great fit," Brady said.
He said he wants to focus on revamping The Boathouse restaurant on campus, and possibly changing the atmosphere to be more school spirited.
Aaron Shellito, business sophomore, said, "I think The Boathouse is a pretty popular place on campus and making it more school spirited can only be better for it."
Brady also wants to work on SG student outreach. "I'm going to be working a lot with our student advocate to go out and just talk to students [and] survey students on a more regular basis from the executive branch side," Brady said.
A challenge Brady said he may face is that he wasn't elected to his position as is customary, so he feels he has to work and show students that he is dedicated to the job.
He said he hopes to overcome the obstacle by encouraging transparency within SG's activities and raising student awareness and involvement.
—
For more information or news tips, contact [email protected]; if you see an error in this story or have any compliments or concerns, contact [email protected].