Admittedly, I didn't know what to expect when I set foot on the giant grassy field of Memorial Park in Riverside on Jan. 11. But it was easy to spot the group from afar.
About 10 people were paired up. One partner lies flat on a yoga mat while stabilizing the other in mid-air. I noticed one pair, a man and woman, perform a sequence of gentle turns and rotations. The man supported the woman as her base while she spread her arms, simulating an airplane. Their performance is reminiscent of a familiar childhood pastime. Many would call this doing the "rocket ship," in which a mother or father lifts their child mid-air with their feet.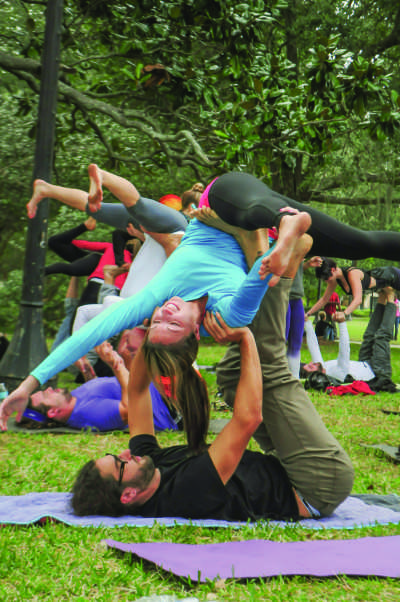 Despite the playful air of the pair's fluid routine, they performed a much more sophisticated version of "rocket ship," officially known as AcroYoga. This yoga practice is made up of three disciplines: yoga, Thai massage therapy and acrobatics. AcroYoga is known as "partner yoga" because there is a base and a flier. The base uses their feet to support the flier who changes postures in mid-air. At least that's according to James Fowler, the AcroYoga ambassador leading the jam.
He was the first person I met when I joined the group. His eyes lit up with excitement when I told him I've never participated in AcroYoga.
"Well, you have to fly first before we can talk," he said. Apparently, I had to experience this immediately, first and foremost. In a few moments, I was in the air, supported by his flattened feet. It felt liberating to be up in the air, even though it was only three feet above the ground.
After the flight, Fowler talked about his path to becoming a yogi. Fowler began taking yoga classes after sustaining a weightlifting injury. He tore his right bicep and herniated a tendon in his upper leg. Wanting to avoid surgery and medication, Fowler resorted to yoga as a way to heal his injuries. He began teaching morning classes when, one day, his friend introduced him to AcroYoga–a niche style under the yoga umbrella.
AcroYoga, according to Fowler, healed more than his physical injuries. Before his weightlifting accident, Fowler worked several jobs that had nothing to do with yoga. He had his own graphic design company and worked as a marketing associate for a furniture company. Despite his success, he said he didn't have the heart for the business.
"It was doable, but not something I enjoyed. So when I got healed with yoga and fell in love with [it], I decided that I had to teach it," Fowler said.
Currently, Fowler teaches 14 yoga classes and hosts the Sunday AcroYoga sessions at Memorial Park. He's a "JAMbassador" – an AcroYoga representative who hosts and directs AcroYoga jams. He is expecting to earn his instructor certification this November. Fowler said the AcroYoga scene is growing in Jacksonville and that it seems to be something many people are interested in. AcroYoga, according to Fowler, is a unique way to build physical strength.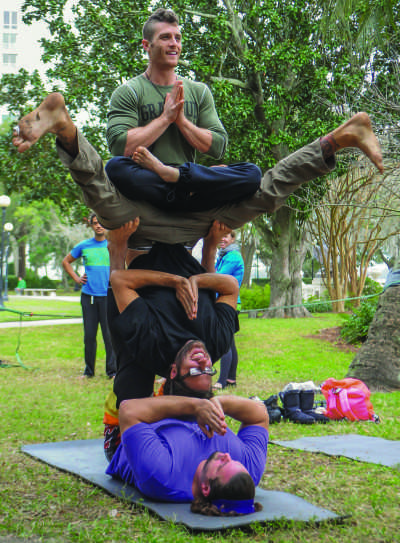 "It takes a different kind of strength to not only pick someone up, but to receive them and be soft," Fowler said. "One can't just be strong. The coordination of strength, love, balance and support bring a whole new element in fitness."
After I spoke to James, I thanked him for his time and noticed three young ladies at a slackline. One of the ladies I spoke with was Kimberley Law. She leads an AcroYoga group at The Flats at Kernan and sometimes at the Osprey Clubhouse at UNF on Thursdays. Law said she started AcroYoga two months ago to improve her flexibility and strength.
"It is an awesome community. It is an infectious activity. You learn to love it very quickly and become addicted to it," Law said. "It's something I really enjoy doing."
AcroYoga is a spiritual and physical healer, but it also boosted a UNF student's confidence to feel comfortable with others. Linda Huynh, coastal biology senior, said AcroYoga helped her to be vulnerable and trust others. She said she had to trust her partner who lifts her in the air, though she prefers to be a base. Huynh has practiced yoga for almost a year. She goes to the AcroYoga recess session at Yoga Den.
"I like seeing people's faces when they smile, especially if it's their first time doing it," Huynh said. "It's a nice feeling to be a part of that experience."
AcroYoga is young, but its popularity is growing. It alleviates stress, quiets the mind, and improves partner communication. Plus, participants can bring out their childlike spirits. AcroYoga, it's like playtime for adults.
*1/16/2015 at 2:07 p.m. – Updated with video
—
For more information or news tips, contact [email protected]; if you see an error in this story or have any compliments or concerns, contact [email protected].