The following information is according to reports from the UNF Police Department.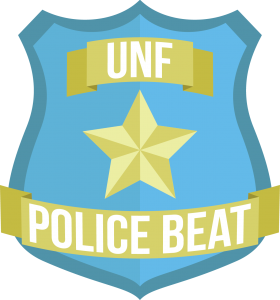 Don't park there
A student called UNFPD because his car was covered in concrete dust and concrete chips.
The student said he parked his 2014 Toyota Avalon in Garage 44a at 7 a.m. on Jan. 14. When he returned, he noticed the powder and chips on his car. The vehicle was damp, so the dust stuck to his car. The officer told the student that a contractor was working in the garage at the time. The student said he would take his car to get a full detail to see if any damage occurred.
"Pipes, but no weed."
UNFPD caught two students with marijuana paraphernalia at the Osprey Fountains.
On Jan. 15 at around 10:40 p.m., an officer was dispatched to the Fountains after an RA smelled burning marijuana outside a dorm. The student who answered the door gave the officer permission to enter the room. He admitted he had been recently smoking marijuana, but not in the dorm room.
After entering, the officer saw another student. She also admitted to recently smoking marijuana. The officer asked if he had anything illegal in the room. The first students said, "Some pipes, but no weed."
After receiving permission to search the room, the officer found three pipes with marijuana residue, two grinders with marijuana residue, one cigarette roller with marijuana residue and two packs of cigarette wrapping paper. The first student said all of the items were his. The officer also found another pipe. The other student said it was hers. The officer recommended both students be referred to Student Conduct.
—
For more information or news tips, contact [email protected]; if you see an error in this story or have any compliments or concerns, contact [email protected].