Senate to discuss 2015-2016 budget changes on Feb. 9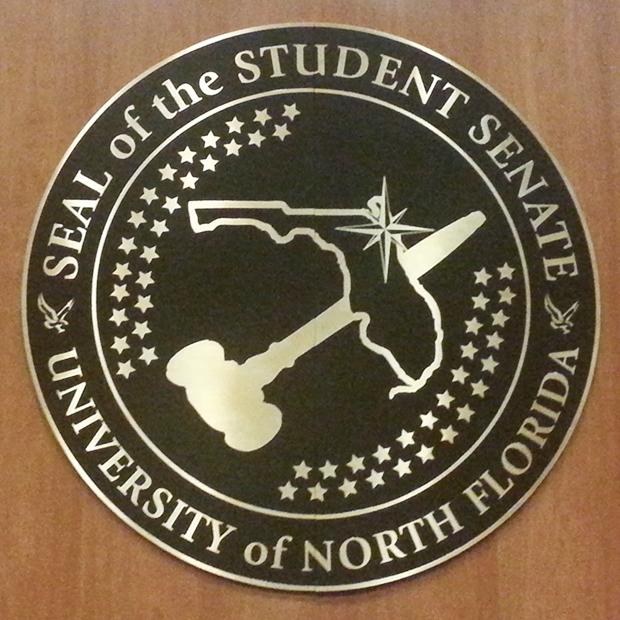 The UNF Student Government (SG) Senate will meet Feb. 9 at 6:30 p.m. to review and finalize the proposed Activities and Service (A&S) fee budget changes.
SG Treasurer Morgan Wolf previously presented her budget proposal to the Budget and Allocations Committee (BAC) Jan. 30. The budget contains any and all changes to what student money would fund through the A&S fee in our tuition.
Wolf noted several requests for budget increases made by UNF entities such as the Student Union, Club Alliance and Spinnaker. However, due to low enrollment and SG's decision to not request an increase to the A&S fee for the third year in a row, the increase to the total budget was not as large as in previous years.
"There are a lot of requests that were made that can be justified and I think would be good for our campus," Wolf said. "This was just one of the years where we had to make some cuts due to the increase in minimum wage and the decrease in enrollment."
Wolf mentioned that many of the representative indexes could ask for funds through the special request account.
Budget Increases
Wolf's proposal granted the Wellness Center's request to add an athletic equipment technician with a salary of about $30,000. SG would cover 70 percent of the new position's salary.
Recreation & Intramural Sports saw an increase in their budget with specific consideration for grounds supplies and new Eco-Adventure equipment.
Club Alliance and Club Alliance Funding received operating expense increases, adding $1,000 to Spring Bash and $250 to Club Fest.
The Special Request operating expense line increased by $75,000, the result of a proviso transfer from Osprey Productions.
Salary increases in other indexes like the Student Union, Spinnaker Media and Student Government Business & Accounting reflected increased operating expenses in the budget. SG does not have control over salary lines.
Budget Cuts
Wolf trimmed wages throughout the budget proposal, including OPS wages for the UNF Arena, SG Business and Recreation. Recreation's skate park attendant position was cut from the budget totally, which accounted for about $10,000 per year.
Wolf decided to zero-fund Homecoming's comedian line since they have no plans in place for homecoming next year, a $50,000 cut from the budget. Wolf said the Homecoming committee may put in a special request for an entertainer once it is needed.
Osprey Productions' (OP) advertising budget was proposed to decrease from $13,000 to $10,000. Wolf said this was more than enough for OP to promote its activities. OP was not available for comment.
Wolf proposed several cuts to SG's own budget, including the executive branch's travel budget and the office supply account. SG President Joseph Turner has not traveled often in his tenure, and presidents typically make three to five trips a year, Wolf said.
Both Wolf and Turner said $5,000 was sufficient for the president's travel budget.
"If I only had $5,000 to work with…I'd still be able to be just as effective," Turner said.
"So, I believe the next president will be able to operate just as well as anyone with $5,000."
Spinnaker Media was one of the last accounts on the BAC's docket. Spinnaker originally requested that all accounts and line-items be transferred into an account with a single-line item. Wolf modified the request, instead moving all funding into one account but with multiple line-items.
The Senate also heavily discussed Spinnaker Magazine's subscription funding proviso. Spinnaker was previously required to publish nine issues per year and 12,000 magazines per issue to gain full funding from SG at $0.435 per magazine copy. Spinnaker leadership's problems with the proviso prompted Wolf to modify Spinnaker Magazine's funding.
Wolf proposed to change Spinnaker Magazine's proviso to fund it based on the production of six issues per year at 8,000 magazines per issue. Wolf's proposal also included an increase in the funding per magazine copy to $0.65.
This would have decreased Spinnaker Magazine's subscription funding from $47,000 to $31,200, according to Wolf's calculations.
However, Senator Connor Akers and Senator Gustavo Ascanio pushed to lower the number of magazines produced per issue, questioning the student body's overall interest in the Spinnaker.
During motions to pass the proviso, the BAC agreed to lower the magazine count to 7,000 units per issue. This dropped funding for Spinnaker Magazine to $27,300.
The BAC moved the difference in funds taken from Spinnaker Magazine and reallocated $1,740 to Intramural Sports for equipment purchases, which came out to a total of $6,740.
Pending Senate approval, the finalized budget will then be reviewed and forwarded to Turner. If he approves the budget, it will be sent to President Delaney for approval. Delaney will have 15 business days to review the budget change and either finalize or veto the changes.
—
For more information or news tips, contact Christian Ayers at [email protected]   or Cameron Garrett at [email protected]; if you see an error in this story or have any compliments or concerns, contact [email protected].
*2/9/15 at 1:39 p.m. – Updated with information