Women's basketball defeated by USC Upstate 59-50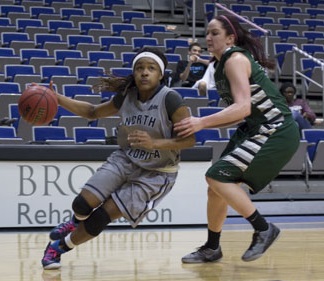 The UNF women's basketball team came within sight of a victory tonight, Feb. 12, at home in the UNF Arena, but suffered a 59-50 loss to University of South Carolina Upstate.

The Ospreys kept the score close going into halftime, only trailing by two points. Six minutes into the second half, the Ospreys took back the lead with a score of 37-36, but minutes later the advantage was taken out from under them.

The Ospreys struggled to find the momentum they needed to get back in contention and ended up trailing  the Spartans for the remainder of the game.

Next up, the Ospreys will face the Kennesaw State Owls at home this Saturday afternoon, Feb. 15. Tip-off is set for 2:00 p.m. in the UNF Arena.

[doptg id="121″]

Gallery photos by Garrett Milanovich

—

For more information, news tips, or if you see an error in this story, contact [email protected].