Senate meeting sparks reaction from professor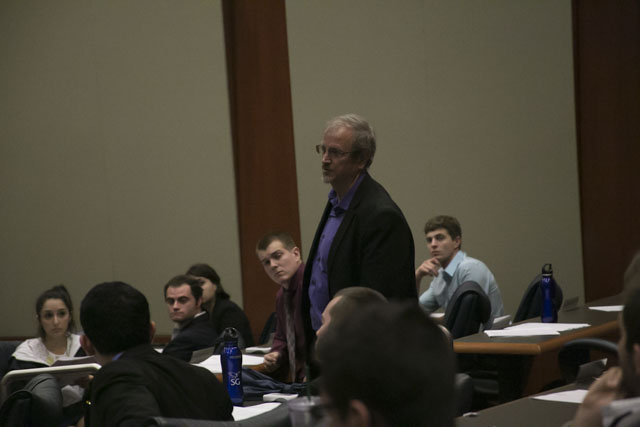 A UNF communication professor created controversy after speaking out of turn during a Student Government (SG) Senate meeting on Feb. 9.
Dr. Brian Thornton, whose focus is in multimedia reporting, was concerned by the Senate's proposed 2015-2016 Activities and Service Fee budget, which threatened to cut the print portion of Spinnaker's index from $41,000 to $27,300.
"I think what they're doing, as far as cutting the budget, is wrong. I think it's short-sighted," Thornton said in an interview with the Spinnaker.
Thornton spoke out just before the Senate was due to discuss the budget. After saying he'd like to be heard, he explained that he sent an email to SG Senate President Chase Baker requesting to be added to the agenda. Baker responded, saying the agenda was full. Thornton initially said he sent the email at 2 p.m. on Monday. However, according to a printed copy of the email exchange, Thornton sent the email at 4 p.m., two hours before the meeting.
"We had a budget, we had multiple requests coming through, we had multiple bills we were trying to pass and so it was just one more thing to the agenda that we weren't ready to have on there," Baker said.
Heated back-and-forth continued between Baker and Thornton until Senator Hailey Guerra motioned to add Thornton to the agenda. The motion passed and events escalated.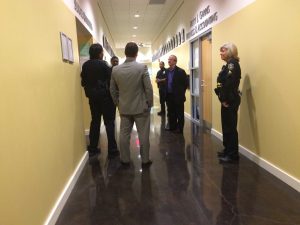 The meeting attempted to commence, but discussion between Thornton and SG Director Michael McGuire continued in the back of the room. Senator Sergeant-in-arms Jon Rader complained that he couldn't hear because of their conversation. Baker asked Thornton to leave the room, to which Thornton replied that he would, as long as he was allowed back in to speak. Baker then asked Rader to escort Thornton outside.
"I understand your concern. I understand you're a professor. But you can't wait until the last minute to tell me [to be added to the agenda] because we've been doing budget deliberations for the past few weeks," Baker said in an interview with Spinnaker.
McGuire notified campus police of the situation. After police arrived on the scene, Baker was asked to join Thornton, McGuire and the police outside of the Senate Chamber.
"[UNFPD] told me I should let him speak, which I was kind of surprised by," Baker said.
According to UNFPD officers, Baker and his senate were legally required to allow Thornton to speak because of the motion that passed to add him to the agenda.
Thornton was invited back into the Senate Chamber and given three minutes to speak. He talked about the necessity of a well-funded student newspaper on campus. He also asked the Senate to consider the budget very carefully before they voted.
"The way they're handling things doesn't seem to be in the spirit of openness, transparency, or willingness to hear. I guess what I was concerned about was what they were so afraid of me saying that they couldn't let me speak? Let's say I'm just a crackpot, well let me say my crackpot point of view and go about your business," Thornton said.
—
For more information, news tips, or if you see an error in this story, contact [email protected].