Davenport leads UNF into 67-51 victory against Kennesaw State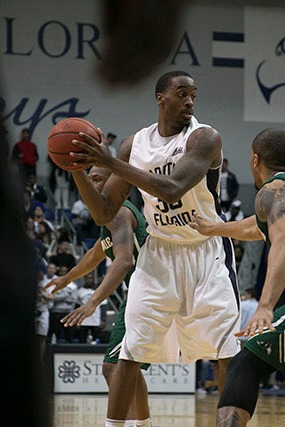 Chris Davenport led the University of North Florida Ospreys with 14 points, five assists and six boards off the glass over the Kennesaw State University Owls with a resilient 67- 51 victory.
On the road in the Convocation Center in Kennesaw, Ga., the Ospreys (16-11, 8-2) came out in the second half on an explosive run against the Owls (9-18, 3-7).  After being down two at halftime, the Ospreys' three-point shooting created a lead the Owls would not be able to overcome.
"I really thought in the first half and in the first ten minutes we were locked in, good shots and flow of offense," Head Coach Matthew Driscoll said. "We held (the Owls) scoreless for eight straight minutes (in the second half)."
Chris Davenport, UNF starting sophomore forward, was lethal at the free throw line going 9-10 on the afternoon. "He was really, really locked in the second half." Driscoll said.
Nigel Pruitt, Owls' junior forward, had a double-double with 12 points and 10 rebounds in the losing effort.
"I thought it was our best first half that we've played this year," Head Coach Jimmy Lallathin said. "Going in defensively we were hitting our assignments and doing exactly what was asked. In the second half, we lost focus and assignments."
Next on the Ospreys' schedule is a return home against the Lipscomb Bisons on Thursday, Feb. 19 with a tip-off at 7 p.m.
—
For more information or news tips, contact reporter1@unfspinnaker.com; if you see an error in this story or have any compliments or concerns, contact sports@unfspinnaker.com.