Expect Jim Gaffigan's shtick to be clean Sunday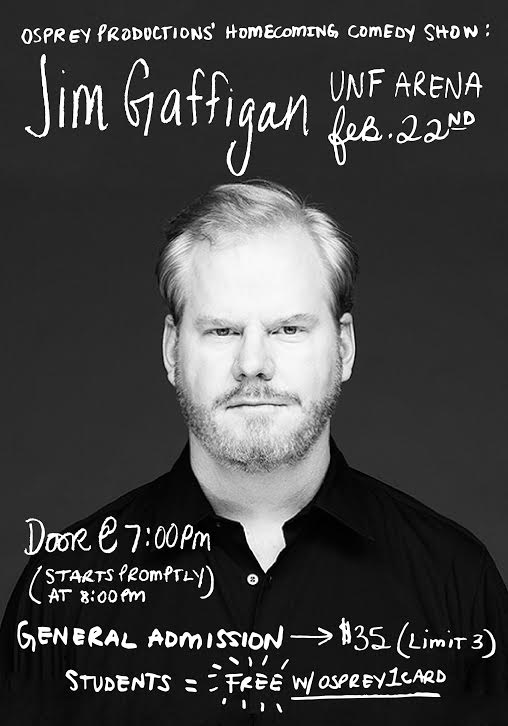 Clean humor and food related jokes scrutinizing America's poor eating habits, along with his own, are recurring comedic themes in a typical Jim Gaffigan set. More recently, Gaffigan appeared on CBS Sunday Morning complaining about material tokens of affection associated with Valentine's Day–he ties in a food angle by comparing people who are single during the holiday to "vegans in a steakhouse."
Comedian Jim Gaffigan comes to the UNF Arena on Sunday, Feb. 22 at 8 p.m. on his "Contagious" tour for Osprey Production's Homecoming Comedy Show. Tickets are free to students with an Osprey1Card and $35 at the UNF Ticket Box Office for non-students. 875 people confirmed attendance on its Facebook Page as of Feb. 19.
According to the director of  Osprey Productions, John Chwalisz, the comedian accepted an offer of $100,000 to perform at UNF and for  Tom Shillue to open for the headliner. The contract between Gaffigan and Student Government said Shillue's content must be PG clean.
This performance marks Gaffigan's second appearance at UNF. Chwalisz said part of the reason he was booked was because of the enthusiasm for him during the last event.
Trevor Johnson, 22-year-old UNF English major and local stand-up comedian, said aside from being relatable and self-deprecating, Gaffigan's humor has an "observational style [that's] always funny without much profanity and that's incredibly tough to do…what he does is hard and it seems effortless to him."
Gaffigan's most recent performance in Jacksonville was in 2012 at the Florida Theater for the "America Tour." He has since appeared numerous times on Letterman and Conan O'Brian Show as well as publishing two books, Dad Is Fat and most recently, Food: A Love Story.
"I enjoy Jim Gaffigan's humor," Emelia Hitchner, a 23-year-old UNF communications senior, said. "Maybe it's because it appeals so much to the college lifestyle. He's constantly talking about fast food or being lazy and tired, which are relatable subjects to students."
According to the contract between Gaffigan and Student Government, there will not be any alcohol served before, during or after the Jim Gaffigan show.*
Gaffigan will cover over 30 cities during his 2015 tour before the debut of his show, The Jim Gaffigan Show, on Comedy Central and TV Land later this summer.
*2/22/15 at 4:58 p.m.- Updated with corrected information concerning alcohol at the show. There will be no alcohol served.
—
For more information or news tips, contact [email protected]; if you see an error in this story or have any compliments or concerns, contact [email protected].