Turner vetoes budget, Senate overrides
UPDATE-2/2/15 at 2:06 p.m. with additional details. 
Student Body President Joseph Turner's decision to veto the proposed 2015-2016 Activity and Service fee budget was overridden by the Senate Monday night, Feb. 23.
The senate meeting on Feb. 23 followed two emergency committee meetings that were dismissed due to the lack of an appropriate number of members present. The senate meeting was able to meet quorum with 25 voting members.
The agenda for the meeting proceeded normally with remarks from students and guests, reports from the legislative and executive branches, and new and unfinished business voted on. Though the meeting proceeded normally, the night was largely concerned with the abnormal – Turner's veto.
Budget vetoed, then overridden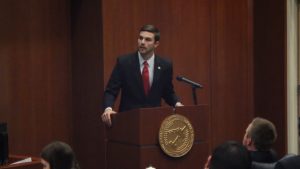 Turner vetoed the budget after waiting the full five days he was allotted to review it. The primary reason for Turner's veto was to give the Senate the opportunity to reassess Spinnaker's proposed budget.
Leaders from Spinnaker were added to the agenda and given 10 minutes to speak on potential changes to the budget. Specifically, they advocated removing proviso-language in Spinnaker's budget, and substituting it instead for a lump sum.
Matthew Harris, Club Alliance assistant director, expressed disappointment that the budget was being delayed by the President's veto. He urged the Senate to consider the integrity of the process that was necessary to formulate the budget, and thus override the veto.
Budget and Allocations Committee (BAC) Chair Blake Kennedy expressed disappointment in Turner's decision to veto the budget during his committee report.
"I do not agree with the veto and I would like to ask you guys to be very careful in consideration of what we're being asked to do with this budget," Kennedy said.  "It's a big change that's going to be coming in front of us and I want you all to be on your A-game."
Discussion concerning overriding Turner's veto was heated and polarized. Senators that supported changes to the budget argued that Spinnaker should have the right to allocate its money freely and without provisionary language.  Senators against revising the budget's proviso-language often argued that Spinnaker squandered its opportunity to make changes to the budget when it missed a meeting dedicated to concerns over the budget.  Senate President Chase Baker had to remind his senators to address the topic and not one another.
Senator Matthew Silberstein argued that the provisionary language in Spinnaker's budget keeps it accountable. He said that all businesses have to work with checks and balances, and the provisionary language functions as such.  He also took the opportunity to warn Spinnaker of its perceived dissent from the process of the budget.
"Don't bite the hand that feeds you.  You had your chances, and you didn't take advantage of it," Silberstein said.
Turner never spoke during discussion of the budget.
Turner's veto was overridden by the Senate with a vote of 19 – 5 – 0.
Normal business
The meeting began with a student remark from Gurgen Petrosyan, international studies major, who urged a greater consideration for the Academic Center for Excellence (ACE) from SG.
"The budget [for ACE] compared to athletics and SG is almost nothing.  It's a 1:10 ratio, $1 for the tutoring center, $10 for athletics and $5 for SG," Petrosyan said.
He offered that SG could aid ACE through more space, more tutors and longer hours with consideration for non-traditional students.
Senator Caitlin Brown said SG is currently working on expanding ACE into the library. University and Student Affairs Chair Leah Melquist, also reported on a recent Osprey Voice survey question that addressed the issue of expanding ACE into the library.
Doreen Perez, director of Student Health Services, updated the Senate on the workings and status of Student Health Services. She said the health center will most likely soon need more space.
Brad Johnson, elections commissioner, announced that the presidential debate on Mar. 3 will be condensed. The debate was originally scheduled to last until 7:30 p.m. but will end half an hour earlier as the men's basketball quarterfinal game starts at 7:30 p.m on the same day.
"We're going to trim some fat so that you guys can come [to the debate], support, and then go straight to the basketball game," Johnson said.
Katie Jackson, director of Club Alliance, spoke on behalf of Osprey Productions Director John Chwalisz and gave the Club Alliance report. She announced all of OP's upcoming events for Homecoming week. She also reminded the senators that they are able to appeal all absentee points by volunteering for an OP or Club Alliance event.
SG Treasurer Morgan Wolf reported that SG's scholarships for senators will transition from automatically earned scholarships to competitive scholarships. In order to earn a scholarship, senators are now required to fulfill a certain amount of volunteer hours and write a short essay.
Turner announced that 1,000 students should be able to get into the UNF Arena for free for the men's basketball team's first Atlantic Sun Conference Championship game. Turner said A-Sun tournament games are subject to A-Sun rules, meaning students would have to pay $5 to attend the game.  Therefore,  Turner, on behalf of SG, will make a special request of $5000 at the next BAC meeting in order to cover the costs for the first 1,000 students at the game.
Turner concluded the meeting by discussing the legislative priorities UNF will represent on the state level.  Notably, according to the legislative priorities, UNF rejects tuition increases, supports Governor Rick Scott's proposals to exempt textbooks from state sales taxes and extend Bright Futures funding to the summer semester, and encourages need-based scholarships.
—
For more information or news tips, contact Cameron Garrett at [email protected]; if you see an error in this story or have any compliments or concerns, contact [email protected].