UNF's Jack Findel-Hawkins set to serve at NCAA Singles Championship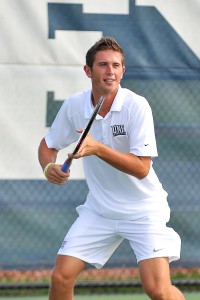 Jack Findel-Hawkins of the UNF men's tennis team was selected as one of the 15 automatic single qualifiers for the NCAA Singles Championship at the Hurd Tennis Center in Waco, Texas. Baylor University will be hosting this event.
This is the first time an Osprey has qualified for the singles championship. Findel-Hawkins is set to play University of Southern California's Roberto Quiroz at 11:30 a.m. on May. 20. Quiroz is currently ranked at No. 25 according to the most recent Intercollegiate Tennis Association rankings.
During the 2014-15 season, Findel-Hawkins went 13-6 overall before he was sidelined for a majority of the spring with an injury.  Findel-Hawkins has played against ten nationally ranked opponents this season. During the Bedford Cup Singles Championship, Findel-Hawkins defeated both of University of South Florida's ranked contenders, Sasha Gozun and Roberto Cid, to win the championship.
Last season, Findel-Hawkins competed alongside Norbert Nemcsek in the NCAA Doubles Championships, where they defeated Southern California's Yannick Hanfmann and Ray Sarmiento who were top-ranked.
—
For more information or news tips, contact [email protected]; if you see an error in this story, contact [email protected].