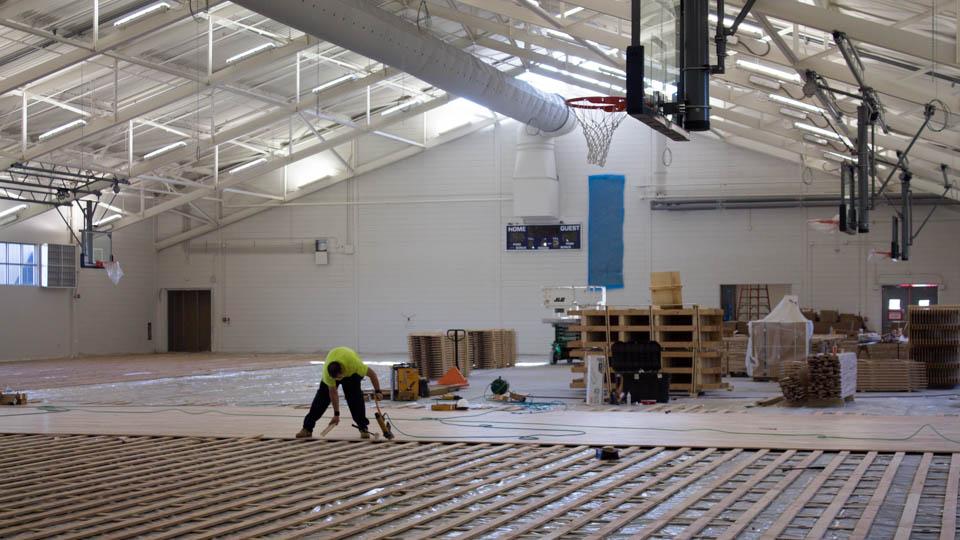 UPDATE – 8/26/15 at 11:25 p.m.
According to Campus Recreation, the field house is scheduled to open in September, but may open later in October.
* * *
Construction on UNF's new Field House, the former Aquatics Center, will be finished in September.
Replacing UNF's competition pool, the facility has been renovated to have multiple courts for volleyball, basketball and badminton, as well as a center court.
The process to turn an Olympic-sized pool into a recreational gym was not an easy one, according to project manager Matt Treadwell.
"The first part is that you have to tear it down," Treadwell said. "Tear up all the bad pieces."
The next step was to fix the building's roof. The new blue roof doesn't just give the structure a face-lift. It also satisfies updated safety codes, such as increased hurricane-wind resistance.
The old roof had leaks, but Treadwell said this was not a major issue before the construction began. The leaks would just drip into the pool.
The building will also have several classrooms and a newly renovated locker room.
Before the renovations began, the locker room was not up to code. The locker room area was completely gutted during the demolition phase.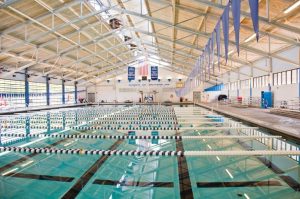 "It has a new layout. It's no longer a metal stud wall, there's gypsum mineral board instead," Treadwell said.
In addition to the freshly varnished courts and meeting safety codes, the Field House is a green building, according to Treadwell.
"We're going to be a LEED certified project, which is a goal for all state-funded projects," Treadwell said.
Leadership in Energy & Environmental Design (LEED) certified buildings meet certain criteria based on how effectively green a building is, according to the U.S. Green Building Council.
"It's basically a high efficiency building so it saves energy, reduces impacts on the environment," Treadwell said. "So that requires us to use a certain amount of recycled materials, use low VOC's [Volatile Organic Compounds]."
Before converting the facility, the Aquatic Center required an estimated $3 million in repairs. According to a press release from June 3, 2013, the university announced it would build a new pool complex instead, which led to the Field House conversion in 2014.
—
For more information or news tips, or if you see an error in this story or have any compliments or concerns, contact [email protected].