Einstein Bros. Bagels fits right in at UNF's Student Union
Watch Video by Michael Herrera
Einstein Bros. Bagels at UNF's Student Union held its grand opening on Sept. 15, and it is the real deal.
Associate Vice President of Administration and Finance Vince Smyth and Student Government (SG) worked to get the gourmet bagel-makers on campus.
Einstein Bros. Bagels' contemporary business model provides students with relatively unique food options. They don't serve the same bagels sold elsewhere on campus.
"All of our food service venues are run by Chartwells," Smyth said. "So we actually deal just with Chartwells."
The new food vendor was the second most desired by UNF students behind Chipotle, according to SG's Osprey Voice survey results. Since Chipotle typically doesn't franchise at universities, Einstein Bros. was a no-brainer.
"The Student Union food venues have always been less than we would have desired, even since we opened up," Smyth said. He said adding other vendors outside of the Student Union, like Pita Pit, has driven down the Student Union's numbers and shifted where the money goes.
"There was a desire to see what we could do to enhance that," Smyth said.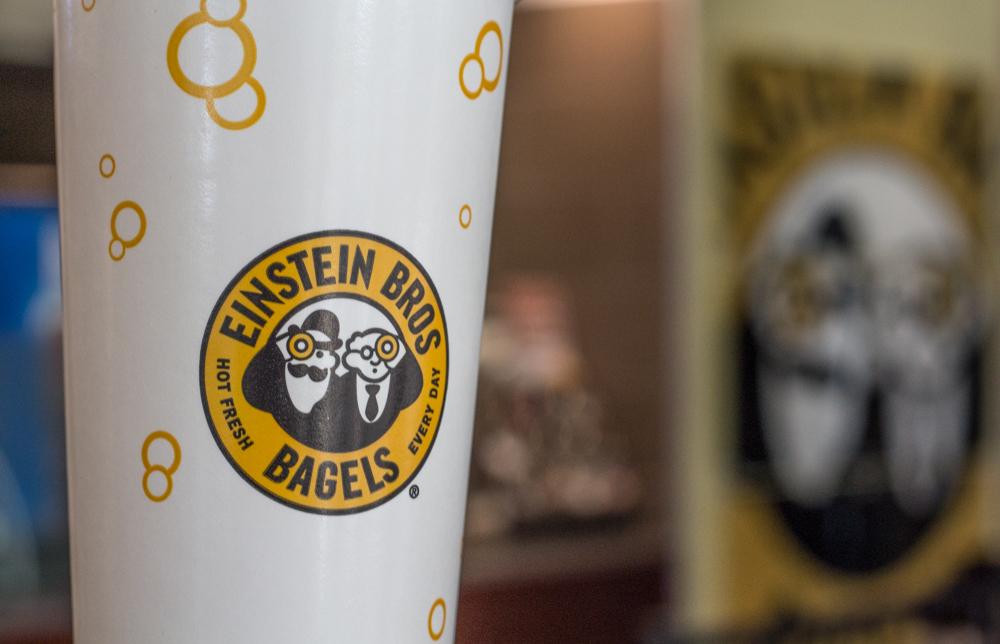 Student Government suggested Einstein Bros. Bagels as a venue.
"It wasn't quite the same push that there was with Chik-fil-A or Pita Pit," Smyth said. "[Einstein Bros. Bagels] started with their suggestion, which we then looked into."
Smyth said the restaurant has changed since it first opened on Aug. 24 and offers food for the whole day instead of just breakfast, making it a better fit.
"With that in mind, we really pursued what would it take," Smyth said. "We got Einstein's in, they did a quick conceptual of it."
Given the floor space Einstein Bros. Bagels needed for its kitchen appliances, it became apparent that the store had to take over two venues, not just one space.
Coyote Jack's had the lowest revenue on UNF's campus for 2014-15 and Papa John's had the second lowest revenue, but they had to choose a space next to Coyote Jack's.
"If you need two units, you can't use one here and one here with something in the middle so I think that's the thing that made the most sense," Smith said. The other two vendors were Chik-N-Grill and Quiznos.
Smyth said, because Chik-N-Grill was the most popular venue in that area and Quiznos was an older concept that similar to other campus dining options, replacing Quiznos was the better option.
"I think it was time to update," Smyth said. "Student Government came up with the Einstein's, we did a little bit of checking on it and it did appear to be a really good fit for that area."
Smyth said that the Einstein Bros. store on campus sells the same food and drinks sold at any Einstein Bros. Bagels, even within Chartwell's contractual limitations.
—
For more information or news tips, or if you see an error in this story, contact [email protected].