Take Back the Night empowers survivors of domestic violence and abuse
Video by Kayla Cumner and Michael Herrera

Laura Klimek walks to the stage. She goes swiftly while keeping her eyes to the ground, trying not to lose her nerve. She wears white, her hair pulled back from her face. Taking a deep breath, she addresses the crowd.

"I didn't really prepare anything," Klimek said. "I just wanted to share my story."

Laura Klimek's story is not a happy one.

She shares that when she was 7 years old, an older boy in her neighborhood molested her for two months in a backyard treehouse. He threatened her with a BB gun she didn't know wasn't a shotgun. She didn't know to say no. She didn't know to tell anyone.

When he moved away, she kept the secret for several years. She struggled with depression, with bullying, and eventually with another predator.

At the age of 16, Klimek met a 32-year-old man who seemed to be the only one who cared about her. He told her that she was useless, and that no one else could ever care about her. For a while, she believed it.

He started assaulting her and kept her from speaking to her parents about him. He made her get a passport and planned to move out of the country with her.

When Klimek was 16, she attempted suicide.

While in the hospital, her mother found out she was speaking to this man, and the police got involved. Upon further investigation, the family discovered he was a pedophile who previously impregnated several minors.

Klimek's abuser was tried for rape and sentenced to six months in jail.

"I felt like it was just my fault—I ruined somebody else's life," Klimek said. "But I realized it wasn't me that ruined his life, and it also wasn't him that ruined my life. I'm not allowing him to take anything from me," she said. The crowd cheered.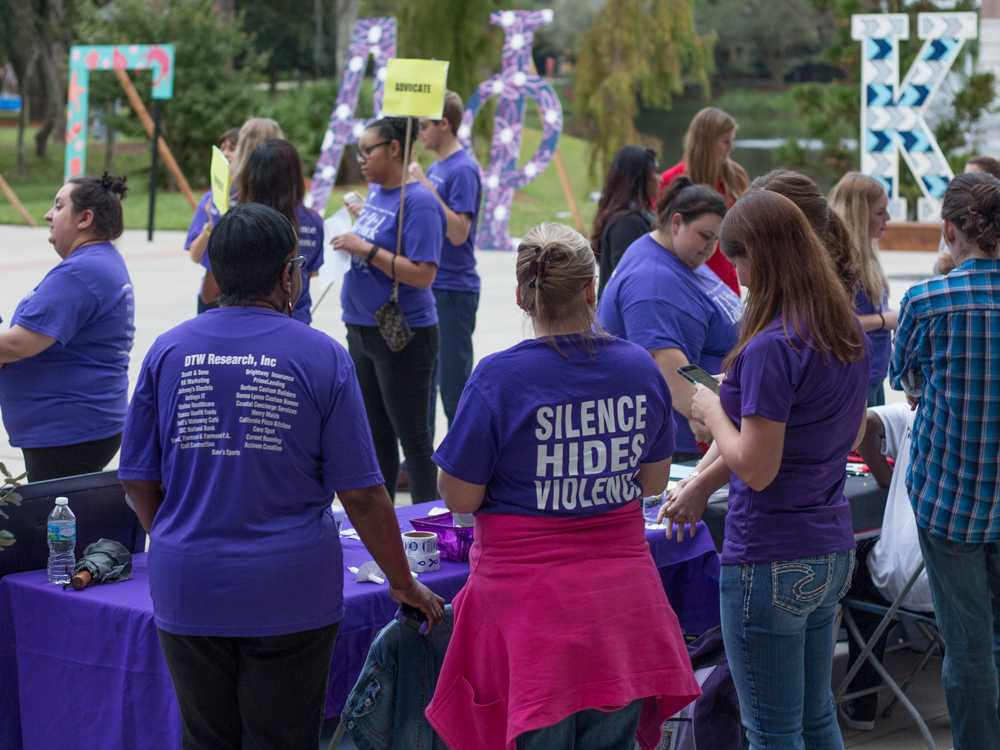 Klimek was one of several speakers at Take Back the Night, an annual event hosted by the Women's Center and Alpha Chi Omega to raise awareness about interpersonal abuse and violence, and to show support for survivors.
The atmosphere of survivors and supporters alike opened students' eyes to a broader understanding of domestic violence.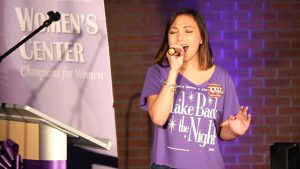 "Domestic violence is not a woman's issue, that it's a human's issue that impacts all of us," said Sheila Spivey, director of the Women's Center.
Take Back the Night began with a resource fair, showing students what kind of help they could find on campus and in the community if they found themselves in an abusive relationship.
The walk began after at Osprey Crossings, where students gathered by the dozens to march across campus. Students made their way to the Student Union, led by the UNF Drum Corps, chanting "No more silence, no more violence!"
Lieutenant Dwayne Howard represented the UNF Police Department during the walk, saying it grows each time he attends.
"We certainly support Take Back the Night," Howard said of UNFPD. "We don't condone violence against women or violence of any kind."
Attendees began speaking out when the crowd reached the Student Union. A couple speakers planned to be in the spotlight, but a brave handful like Klimek felt empowered to come up to the stage and share their stories.
"What were you doing when you were 13?" one speaker asked. "You were doing math homework. I was throwing up in a toilet because my boyfriend decided to text me that I was fat. I was pretending to be asleep so that my boyfriend would stop trying to assault me. I was trying to fight him off with my bare hands because he was trying to take my clothes off in a public setting."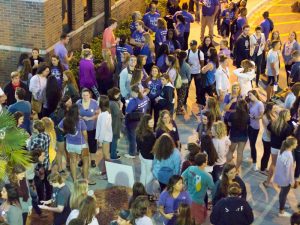 Another woman spoke about her struggle to identify the abuse she was facing.
"My mom has gone through it, my grandmother has gone through it, every woman in my family has gone through it," she said. "And every day I think 'it has to stop.'"
The next woman to speak about how abuse affects every aspect of a victim's life. In her case, the situation her mother was in made a negative impact on their relationship.
"I had no intention of speaking tonight," said the woman. "I'm kind of shaking in my boots, but I feel like it's important to bring light to other things. I blamed her for everything that was going on, and I just wanted to get out. But it wasn't her fault, at all."
Students in the crowd met these stories with quiet support. When those speaking wavered, the crowd's soft cheers encouraged them to go on, and their roaring approval at the end showed their thanks.
Survivors of abuse were asked to come forward at the end, and they were presented with a rose. Soft, glowing candles united every member of the crowd, and students' quiet faces illuminated in the darkness. Those present shared a moment of silence. In that moment, the night became theirs.
Some speakers' identities have been made anonymous out of respect.
—
For more information or news tips, or if you see an error in this story or have any compliments or concerns, contact features@unfspinnaker.com.