Big Sean delivers a thunderous performance at UNF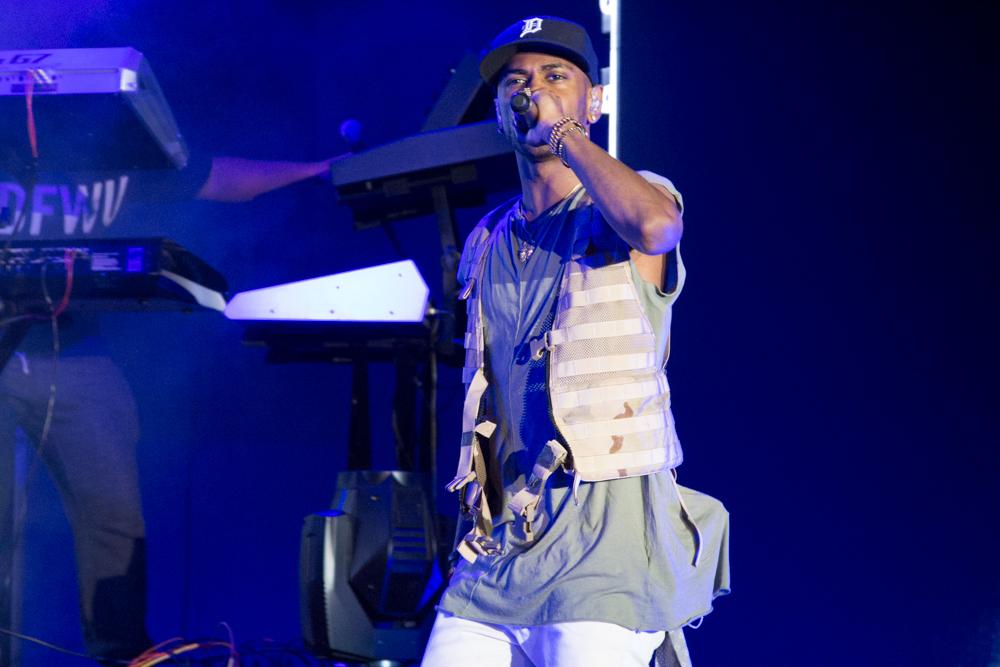 Big name rapper Big Sean delivered "blessings on blessings" in front of a full crowd on Thursday, Oct. 8 at the Coxwell Amphitheater at a concert produced by Osprey Productions. UNF students and other audience members jammed out to the MC's singles and throwback tunes from his first mixtape.
Big Sean opened his show with "Paradise," a single off of his newest album. He rapped on top of the DJ platform surrounded by panels with a swirling thunderstorm projected on them, themed after his 2014 album Dark Sky Paradise. The crowd exclaimed with excitement and the smell of puffed marijuana began filling the air. The performer popped out from behind the DJ booth clad in an army vest over a camouflage green shirt.
As Big Sean hammered out "Paradise," the three-paneled light show of thunderstorms immersed partiers in the stormy mood.
The Detroit rapper powered through other singles from his previous albums like "Mula" from his fourth mixtape. Green lights splashed the panels as Big Sean sang "ain't nothing more important than the mula."
The singer also performed notable features from tracks like "Clique" and "Mercy." Many show-goers swayed their arms to the beat of "Dance (A$$)," a classic party tune for the crowd to experience first-hand.
The mood changed from bombastic hype to a more sentimental feeling when Big Sean dedicated "One Man Can Change the World" to his recently deceased grandmother. Big Sean said his grandmother encouraged him to chase his dreams, and he paid it forward by encouraging the young crowd to follow their dreams as well.
"Where are my dreamers at? Where are my future millionaires at?" he asked the crowd, who responded with a mass of shouts.
After a few throwbacks that filled up the set, Big Sean concluded his performance with "I Don't F–k With You," his most popular single. The crowd responded with a thunderous sing-along. The event was successful, the crowd was happy and the thunderous sounds of the crowd simmered to a low hum as the show-goers made their exit.
Photos by Michael Herrera
—
For more information or news tips, or if you see an error in this story or have any compliments or concerns, contact [email protected].