UNF Osprey men's basketball schedule preview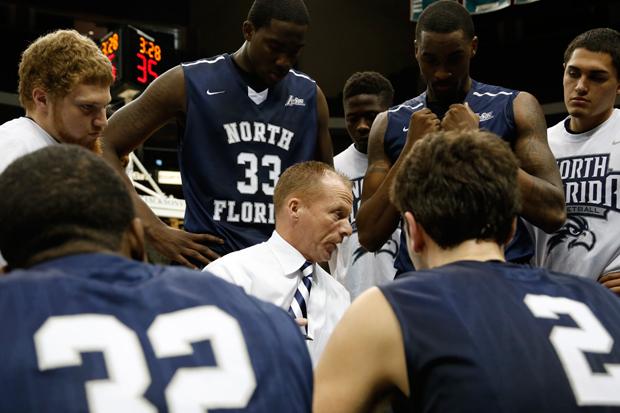 note: NCAA basketball preseason rankings are subject to change. The official AP poll is released Oct. 31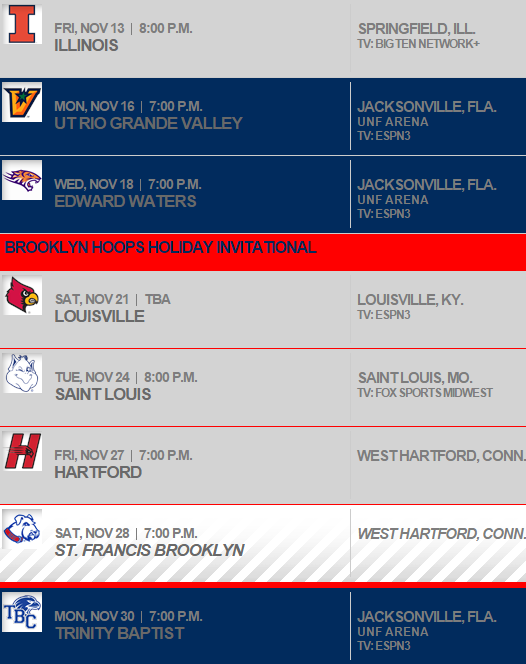 UNF
2014-15 Record: 22-11 overall (12-2 A-Sun)
Tournament Finish, NCAA First Round (defeated by Robert Morris University)
Key Players: Beau Beech (12.9 ppg, 5.7 rpg) | Dallas Moore (15.8 ppg, 3.7 apg)
The Ospreys come off of their first ever NCAA Tournament appearance at the First Four where Matthew Driscoll's squad lost to Robert Morris 81-77. The Ospreys are near-unanimous picks to retain the A-Sun Championship from the coaches and media polls. Four Ospreys were named to the A-Sun preseason team. Beau Beech was named the preseason A-Sun Player of the Year and Demarcus Daniels is expected to repeat as Defensive Player of the Year. Although forward Romelo Banks' ankle surgery will delay his season 6 weeks, point guard Dallas Moore and power forward Chris Davenport pack a formidable punch. Last year's team was the best ever, and the expectations for the upcoming season are enormous.
---
Nov. 13 @ Illinois
2014-15 Record: 19-14 overall, 9-9 Big 10
Tournament Finish – NIT First Round (defeated by Alabama)
Key Players: Malcolm Hill (14.4 ppg, .443 FG%) | Kendrick Nunn (11.1, 1.9 apg)
The Ospreys basketball team kick-off their season in Champaign, Illinois against a patchwork Illinois Fighting Illini squad. The Illini will miss 6-11 center Nnanna Egwu and leading scorer Rayvonte Rice (16.5 ppg). Add to that, guard Tracey Adams will miss the entire season to a knee  injury and junior power forward Darius Paul was suspended indefinitely after getting arrested on a team trip to France. Playing a smaller lineup, guards Hill and Nunn, as well as four-star recruit Jalen Coleman-Lands will have to shoulder the load as the pressure builds on fourth-year head coach John Groce.
---
Nov. 26 @ Louisville
2014-15 Record: 27-9 overall, 12-6 ACC
Tournament Finish – Elite Eight
Key Players: Damion Lee (21.4 ppg, 6.1 rpg, .385 3P%) (13-14 Drexel stats) | Deng Adel (15.3 ppg,6.5 rpg) (Victory Rock Prep stats) | Mangok Mathiang (2.6 ppg, 4.7 rpg)
We really don't know what the Ospreys are going to get with Louisville, as the Cardinals enter the season in a shroud of uncertainty. Coach Rick Pitino has yet to answer allegations that school aides provided strippers for players and recruits. The 2013 NCAA Champions lost four starters- 58.1 points per game worth of starters. Point guard Terry Rozier (16th overall, Celtics) and power forward Montrezl Harrell (32nd overall, Rockets) left for the NBA. Senior guard Chris Jones was dismissed from the team because of rape charges and small forward Wayne Blackshear graduated. But Pitino's got to be optimistic with Drexel transfer Damion Lee (who sat out last season) and prized recruit Deng Adel. 6-10 centers Chinanu Onuaku and Mangok Mathiang will have to carry the frontcourt .
---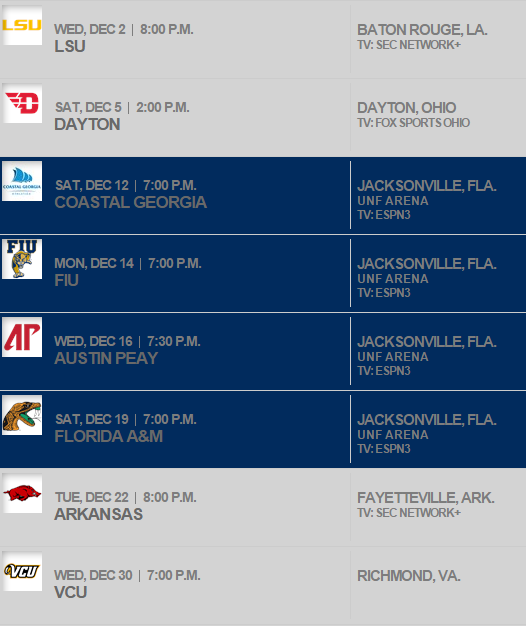 Dec. 2 @ LSU 
2014-15 Record: 22-11 overall, 11-7 SEC
Tournament Finish – NCAA Second Round
Key Players: G Keith Hornsby Sr. (13.4 ppg 4.2 rpg) | G Tim Quarterman Jr. (11.5 ppg, 4.0 apg) | F. Ben Simmons Fr. 28.0 ppg, 11.9 rpg (Montverde Academy stats)
LSU is another team that lost talent to the NBA: forwards Jarell Martin (25th, Grizzlies) Jordan Mickey (33rd, Celtics) but hopes are high in Baton Rouge after last year's early Tournament exit. Fourth-year coach Johnny Jones' team is guard heavy, returning stalwarts like Keith Hornsby and Tim Quarterman.The Tigers are bolstered by the 3rd-best recruit class (ESPN) with five-star guards Antonio Blankeney and Brandon Sampson (Louisiana's Mr. Basketball). Jones also secured the best recruit in the nation in Australian power forward Ben Simmons (touted by some as the 2016 NBA no.1 overall pick).
---
Dec. 5 @ Dayton
2014-15 Record: 27-9 overall, 13-5 Atlantic 10
Tournament Finish – NCAA Round of 32
Key Players: Dyshawn Pierre (12.7 ppg, 8.1 rpg) | Kendall Pollard (12.7 ppg, .552 FG%)
The Ospreys return to UD Arena where they lost to Robert Morris 81-77. The crowd won't be so neutral this time. The Flyers notably started last season with 6 eligible players and a whopping zero players taller than 6'6. And they didn't do so bad, winning a First Four game against Boise State at home and knocking off 6th-seeded Providence. Senior Dyshawn Pierre will likely miss the tilt with the Ospreys due to a pending sexual assault charge.
---
Dec. 30 @ Viginia Commonwealth University
2014-15 Record: 26-10 overall, 12-6 Atlantic 10 
Tournament Finish – NCAA Second Round
Key Players: Mo Alie-Cox (7.4 ppg, 5.7 rpg) | Melvin Johnson (12.4 ppg, .363 3P%)
And so begins the post-Shaka Smart era (he's off to Texas) for Virginia Commonwealth. Longtime assistant Will Wade takes over for the coach whose "havoc" style came to define the school during their memorable 2011 Final Four run. Gone are catalysts shooting guard Treveon Graham and guard Briante Weber who helped the squad win the Atlantic 10 tournament last season.
---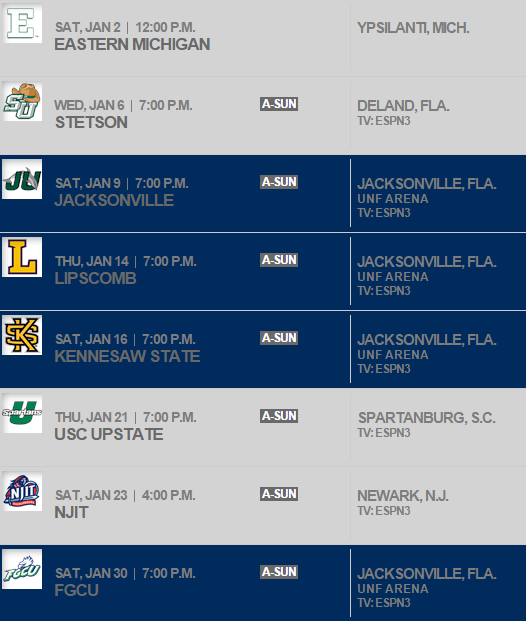 Jan. 6, Feb. 1 @ Stetson
2014-15 Record: 9-22 overall, 3-11 A-Sun
Tournament Finish – A-Sun Quarterfinal (defeated by UNF)
Key Players: Divine Myles (11.1 ppg, 3.4 apg) | Brian Pegg (9.8 ppg 5.4 rpg)
UNF's open conference play against one of their weaker Atlantic Sun opponents. Although the Hatters were picked to finish last in the conference, they sport two players on the A-sun all-freshman team Divine Myles and Grant Lozoya.
---
Jan. 9, Feb. 25 – Jacksonville University
2014-2015 Record: 10-22 overall, 4-10 A-Sun
Tournament Finish – A-Sun Quarterfinal (defeated by FGCU)
Key Players: Kori Babineaux (14.8 ppg, 4.0 apg) | J.R. Holder (9.0 ppg, 4.2 rpg)
Tony Jasick's team will have a chip on their shoulder after the Ospreys put the Dolphins to the sword twice (86-63, 77-50) last season. Led by Newcomer of the Year and A-Sun second teamer Kori Babineaux, the Dolphins will be up to the challenge. The Dolphins may have fallen off a bit in recent years, but the River City Rumble remains the most important rivalry for either team. The Dolphins still lead the all-time series 15-8.
---
Jan. 14, Feb.13 – Lipscomb
2014-15 Record: 14-17 (7-7 A-Sun)
Tournament Finish – A-Sun Semifinal (defeated by UNF)
Key Players: Josh Williams (16.9 ppg, 4.9 rpg) | J.C. Hampton (7.5 ppg, 3.1 apg)
2014-15 first team All-Conference Selection Josh Williams will lead the Nashville-based team expected to finish middle of the pack. Lipscomb will face a ridiculously easy schedule and enter the season as the third best A-Sun team. The Bisons are still searching for their first NCAA bid.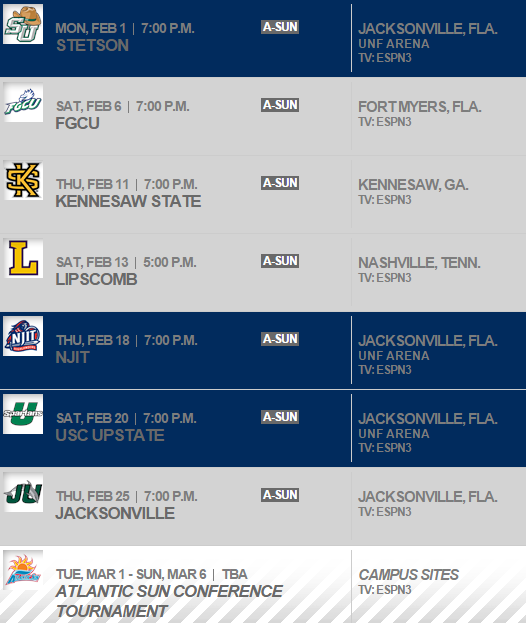 ---
Jan. 16, Feb. 11 – Kennesaw State
2014-15 Record: 10-22 overall, 4-10 A-Sun
Tournament Finish – A-Sun Quarterfinal (defeated by USC Upstate)
Key Players: Yonel Brown (14.2 ppg 2.8 apg) | Nigel Pruitt (12.2 ppg, 4.0 rpg)
New head coach Al Skinner, the third coach in four seasons, enters a dreary situation in Kennesaw. The Owls lost Damien Wilson (10.6 ppg) Orlando Coleman (6.3 ppg, 5.1 rpg) and defensive leader Willy Kouassi and have to replace 10 players in total. A-Sun preseason selection Yonel Brown is needs to come up with something special in order for the Owls to contend this season.
---
Jan. 23, Feb. 18 – New Jersey Institute of Technology
2014-15 Record: 18-11 overall (no A-Sun record – first year in conference)
Tournament Finish – College Insider.com Postseason Tournament Semifinals
Key Players: Damon Lynn (17.5 ppg 3.7 apg) | Winfield Willis (12.2 ppg 5.1 rpg)
The New Jersey Institute of Technology Highlanders are the newest members of the Atlantic Sun. Based in Newark, NJIT were the last independent school in Division I until they chose the A-sun in March. They shocked then-no.17 Michigan in Ann Arbor last season and they'll need that confidence when they open at no.1 Kentucky Nov. 14. Thanks to guard Damon Lynn, the Highlanders are serious contenders for the A-Sun championship. Lynn was an AP honorable mention last season and he shot the second most three-pointers in the country (112).
---
Jan. 21, Feb. 20 – USC Upstate
2014-15 Record: 24-12 overall, 8-6 A-Sun
Tournament Finish – A-Sun Finals (defeated by UNF)
Key Players: ShunQuez Stephens (7.0 ppg, 6.1 rpg) | Josh Cuthbertson (7.1 ppg, 4.2 rpg)
The Spartans were rather unfortunate to beat the Ospreys twice during conference play but drop the championship game. They lost Atlantic Sun Player of the Year Ty Greene (20.3 ppg), which is partly a reason the media (5th) and coaches (6th) picked the Spartans to finish low. USC Upstate went out in the second round of the College Insider.com Postseason Tournament.
---
Jan. 30, Feb. 6 – FGCU
2014-15 Record: 21-9 overall, 11-3 A-Sun
Tournament Finish – A-Sun Semifinals (defeated by USC Upstate)
Key Players: Julian Debose (11.6 ppg 3.9 rpg) | Marc Eddy-Norelia (8.3 ppg 5.2 rpg)
Well it seemed Dunk City would have to crash back to earth sometime since reaching the Sweet Sixteen in 2013, but the Eagles remain in the Atlantic Sun upper rung with UNF. Third-year coach Joe Dooley smoothly handled the transition from (now USC) coach Andy Enfield with back-to-back 20-win seasons. Although they lost key guards Bernard Thompson and Brett Comer, the Fort Myers, Fl-based team present the most significant test to the Ospreys (they were voted second in the preseason A-Sun Coaches and Media polls).
—
For more information or news tips, or if you see an error in this story or have any compliments or concerns, contact [email protected].