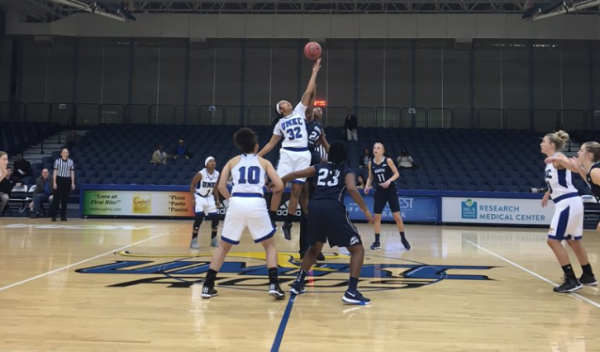 The UNF women's basketball team (1-0) won their first game of the season at the University of Missouri Kansas City by a score of 62-55 in Kansas City on Nov. 13.
To open the game, the Ospreys outscored the UMKC Kangaroos 18-11 in the first quarter and were able to maintain their lead at halftime. UNF Women's Basketball Coach Darrick Gibbs singled out sophomore guard Sierra Shepherd for getting momentum building for the Ospreys.
"It was a good, hard fought game. You know one of the big keys was us getting off to a good start," Gibbs said. "I thought Sierra, she was really, really focused, really in tuned and kind of got us going on offense on the offensive end."
Shepherd would go on to total 12 points in the game, but still didn't lead the team in points. Junior point guard Claire Ioannidis put up 29 points to earn that title. Ioannidis's 29 marks the highest point total in UNF women's basketball's D-1 history.
The Ospreys struggled to start the second half. The 'Roos outscored them 15-10 in the third quarter which cut the Ospreys lead to 3 points to open the final quarter of play.
"Went into halftime with lead and came out weren't as sharp as we wanted to be coming out of halftime," Gibbs said. "But with all that being said, we were still up three going into the fourth quarter. Did not play a good third but went into the fourth still ahead."
In the end, UNF pulled out a 62-55 victory to open their season on a positive note. The Ospreys play their next game at Nebraska on Nov 16.
—
For more information or news tips, or if you see an error in this story or have any compliments or concerns, contact [email protected].