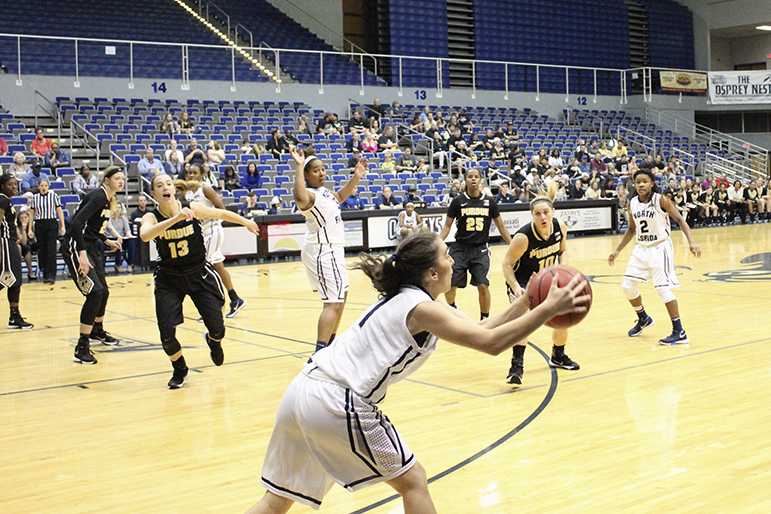 The UNF women's basketball team lost their third consecutive game of the season to Purdue by a score of 70-47 on Nov 21 at UNF Arena.
The Ospreys (1-3) entered the game hoping to rebound from a 72-60 home loss to Webber International on Nov 19, but Purdue made it a tough task from the tip off.
The Boilermakers got off to a hot start as they dominated the Ospreys in the first quarter 22-6. A majority of the points came from Purdue junior guard Bridget Perry, who scored a game-high 18 points.
The Boilermakers increased their lead to 40-19 heading into halftime. UNF head coach Darrick Gibbs emphasized the importance of starting fast.
"We've got to get off to a better start," Gibbs said. "You can't dig a hole that early in the game."
Thanks to the performance of sophomore guard Sierra Shepherd with 14 points and junior point guard Claire Ioannidis scoring 11 points for the game, the Ospreys managed to outscore Purdue in the third quarter 17-16. However, Purdue maintained a steady lead the entire contest, winning 70-47.
After the game, Shepherd said the team is looking to learn from the loss.
"[There's] a lot of encouraging," Shepherd said, "It's not a negative energy, it's pretty positive I think. The goal is to get better, especially on defense."
The Ospreys play their next game against Florida State in Tallahassee on Nov 24.
—
For more information or news tips, or if you see an error in this story or have any compliments or concerns, contact [email protected].