Students express heritage through ceramics in "Community: Different Together"
Video by Rachel Cazares and Michael Herrera

Two ceramics students got the spotlight on Dec. 1, when their senior art show was featured in the Lufrano Intercultural Gallery in a reception showcasing the product of different art styles coexisting as one.

"Community: Different Together" is only the second body of artwork done by current students in an individual exhibition at the gallery, the first being Eric Tanner with "The Camp" in 2011.

Seniors in the ceramics major are required to have a solo art show at the end of their pottery tenure at UNF, but Eman Abdulhalim and Nick Abrami exhibited their artwork together because it contrasted and complimented each other in a way.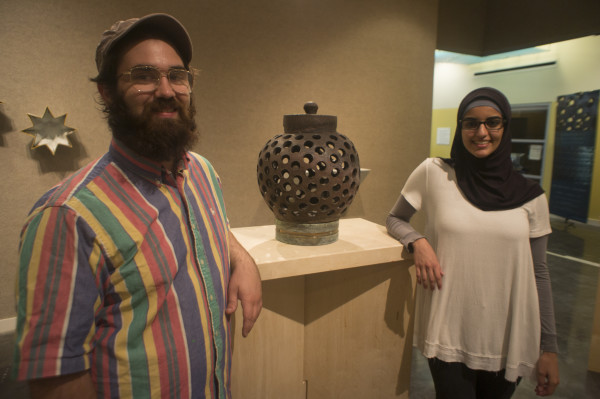 "All of our work is made in the same studio, but we definitely have our own work," Abrami said. "By looking at the work you can tell all the differences—the variety that happens when two people work together but in their own space.
The pair submitted their work together to the committee of artists who decide the content of the gallery. In a big victory for Abdulhalim and Abrami, they approved it to be curated.
"We showed them images of our work and the committee decided they would like to display our work here," Abdulhalim said. "We were really excited."
Like all exhibitions displayed in the Lufrano gallery, the artwork created for "Community: Different Together" has influence from cultural aspects of the artists lives and their personal experiences with them.
For Abdulhalim, her artwork is a reflection of her Middle Eastern heritage.
"I am inspired more by my own culture and faith," Abdulhalim said. "I incorporate motifs and patterns from the Middle East and Islamic art, so there's a lot of geometric patterns and influences from that side of the world. I think it's important to share the beauty of my culture and my faith with the world."
Abdulhalim is also excited that through ceramics, she can bring her other passion for henna tattoo art to life.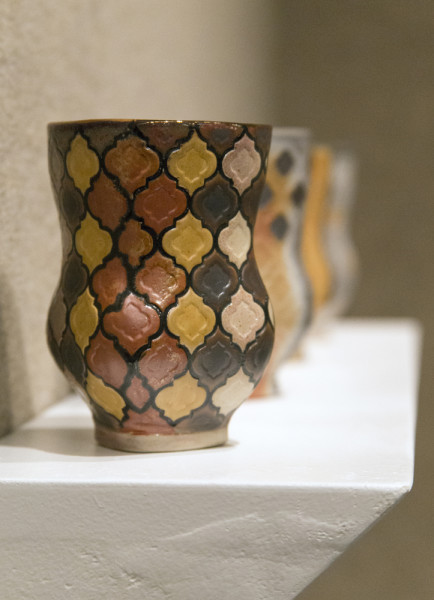 "I can do my paintings in a 3D way I wanted to," Abdulhalim said. "I'm able to use the henna decoration technique on my ceramic work so that's what made me even more excited about ceramics is that I could incorporate the henna and clay together."
The inspiration for Abrami's work comes from the Far East, and how their food-serving and storing vessels are something people come together over.
"For my work in particular, there's been a lot of more cultural references from more historical forms," Abrami said. "I can say that I look at contemporary artists, a lot of people look at and do appreciate their work. It influenced some of my decision-making, but I think for this particular body of work it was ceremonial vessels from China. They have these very specific food vessels. The idea of people gathering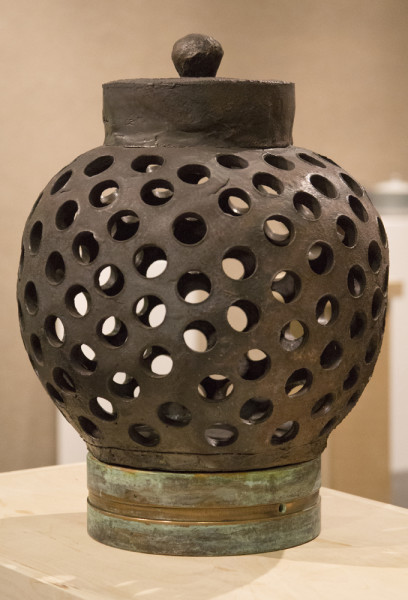 together around food is often something that brings people together, so taking different food vessels, whether it's storage or serving vessels and recreating those and talking about my own personal experience with them."
According to the artists, creating this artwork is a task not easily put on one person. When it comes to firing the works and tending to the kiln, a whole team of support for the artists make the process do-able.
Abrami's "Perforated Storage Jar" comes from 60 hours of firing, "soft cheese", and a little bit of science.
After he places coils of clay atop each other until the right shape comes about, the clay is left alone to dry to a "soft cheese" texture and thickness. The next step was to drill the perforations, and fire it until it became a permanent object.
That's what takes 60 hours. Abrami said it's a long process to stoke the kiln, while also considering air flow and fuel. When these two-and-a-half days of tending are up, Abrami deprived the kiln of all oxygen to chemically manipulate the clay.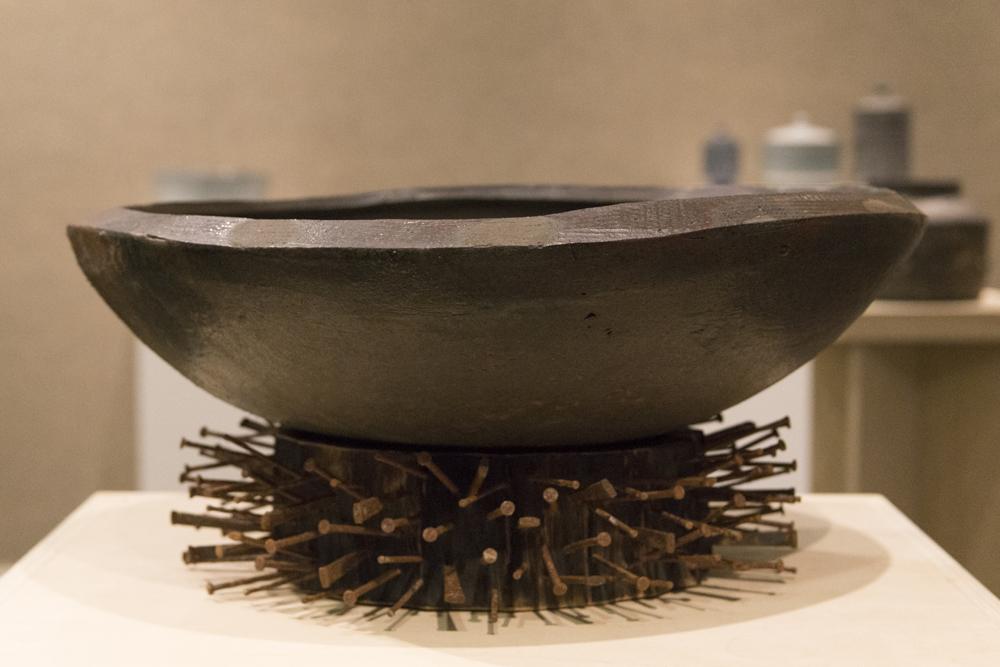 "This is where it gets nerdy," Abrami said.
To achieve the reds, burgundies and blacks he wanted, Abramis used clay containing red iron oxide that breaks down into black iron.
"Most of my work doesn't have an applied surface, this is the clay itself," Abrami said. "If it does have an applied surface it's in another clay that goes on top. It's not formulated to be this color, I make it this color."
These techniques, however, were not learned overnight. Abdulhalim said that over the years, the professors in the ceramics department have taught them much of what they know.
"We have critiques throughout our semester as art students, and we have individual critiques and group critiques with the professors," Abdulhalim said. "So toward the end of each semester they give us input on if we could change things or just make certain things better. And I think throughout the years it has helped with the work you see today."
At the exhibition's reception on Dec. 1, Abdulhalim and Abrami both sold more of their artwork than expected. Abdulhalim estimates she brought in around 35 or 40 pieces, and has only ten left. Although Abrami sold more than he thought he would, three of his artworks were purchased, and he said he had many requests to create more.
Correction: an earlier version of this story misspelled Nick Abrami's name as Abram. We regret the error. 
—
For more information or news tips, or if you see an error in this story or have any compliments or concerns, contact [email protected].