Men's basketball wins a 82-76 thriller over FGCU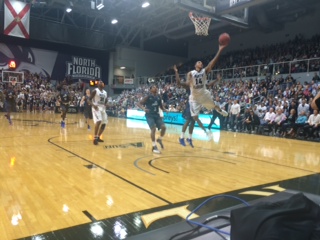 Men's basketball (18-6 overall,7-0 A-Sun) defeated the Florida Gulf Coast Eagles(13-10 overall,4-3 A-Sun) 82-76 in a thriller on Jan.30 in the UNF Arena. The Ospreys are undefeated in the conference, holding the top spot.
UNF men's basketball head coach Matthew Driscoll said this is a different group of guys.
" To be 7-0 right now , 29-3 against teams of our level last count of 2015-2016, " Driscoll said."It is an incredible honor, it's an incredible ride. "
In the first half, the Eagles opened the game for an early lead over the Ospreys. UNF forward Chris Davenport responded to tie the ballgame up 2-2.Throughout the first half, the teams exchanged buckets.
UNF sharp-shooting guard Trent Mackey hit back-to-back treys middle way through the half for a 25-24 advantage.
With time expiring before the break, UNF guard Dallas Moore (18 points) dropped a trey over the Eagles for a 38-35 lead.
For the second half, the Bird of Trey caught fire from downtown. UNF forward Beau Beech connected key threes to extend the lead. Points from the free throw line came into play down the stretch with 27 made between both teams. UNF forward Demarcus Daniels (13 points) hit free throws, completed a follow through with the kiss off the glass and a monstrous block to seal the victory.
In the paint, the Eagles had 56 points compared to UNF's 24. Both benches contributed evenly with 20 for the Eagles and 21 for the Ospreys.
This is the first time, Florida Gulf Coast lost three straight Atlantic Sun games since their 2011-2012 season.
Florida Gulf Coast men's basketball head coach Joe Dooley credits UNF's efficiency from three-point range as the difference maker.
" We had a couple of stretches where we put ourselves in harm's way," Dooley said."and they took advantage of every time."
Eagles' forward Marc-Eddy Norelia tallied 25 points and 7 rebounds during the late rally.
Beech dropped 27 points and reeled in 8 rebounds to be the leading scorer of the night. Beech described the change of play between the halves.
" I thought the first half we played a little slow which played into their advantage a little bit and then we had a good spurt by the end of the half to get up by three,"Beech said."Dallas [Moore] hit a big time three and then the second half, I thought defensively we made a few adjustments that really helped us."
Next the Ospreys will face the Stetson Hatters (8-15 overall, 2-5 A-Sun) on Feb.1 at the UNF Arena.
—
For more information or news tips, or if you see an error in this story or have any compliments or concerns, contact [email protected].