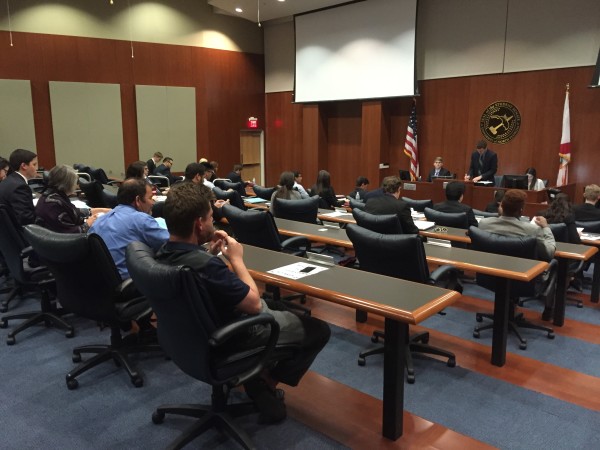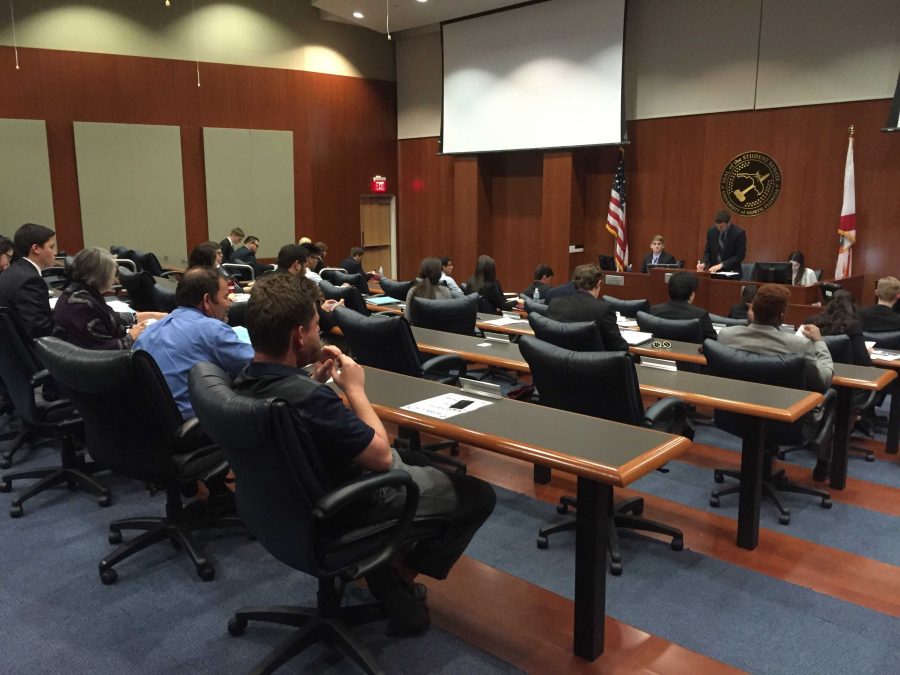 Correction: Due to an editor's error, Senator Beaucham was misquoted in the original posting of the story. His quote has been corrected and clarified below. The Spinnaker takes accuracy and clarity very seriously and apologizes for this error.
Department Funding
The 2016-17 budget passed through the Student Government by a vote of 23-0-6, with six Senators absent.
Student Government funds student-run operations such as Osprey Productions, Club Alliance, and now Lend-A-Wing Pantry through the $4,480,620 million Activity & Services (A&S) fee.
Lend-A-Wing Pantry funding increased by $9,373, bringing its total allocation to $16,113. This includes funding two student coordinator positions. The Budget and Allocations Committee removed funds from the SG rewards and SG retreat to increase this budget.
Student Union maintenance funds were cut by 42 percent and transferred to the Student Union fund balance, which Senate Treasurer Cameron Duffy said was specifically for repairing the Student Union.
He said the Student Union fund balance had around $500,000.
Osprey Productions (OP) was not allocated money for the annual Homecoming Comedy show, in the budget.
Duffy said OP could find the money elsewhere such as using their own ticket revenue, which is close to hitting their $100,000 ticket revenue cap.
"It's time for them to use the ticket revenue for the comedian. They still have the opportunity to do half ticket revenue and half special request."
UNF Arena wages were removed from the budget entirely. The $7,000 was transferred to the field-house operations.
Money was not allocated towards a free print lab next year. Duffy said the new Student Body President could still fund it as an initiative.
The Big Debate
The biggest debate of the night was over funding for Spinnaker Media.
Treasurer Cameron Duffy proposed allocating $239,616 to Spinnaker Media. He used a formula multiplying the total number of student body credit hours by six percent.
The Spinnaker lump sum funding can go no lower than $235,000 and no higher than $245,000 and will be locked in until 2018-2019.
Senator Kyle McKnight, who voted in opposition to the budget during the emergency Budget and Allocations committee meeting Feb. 5, disagreed with the decision to fund Spinnaker.
"I think there is an elephant in the room and that is Spinnaker Media. It's the consensus of many people I talked to that they don't wish to fund this media outlet."
Senator Christopher Jordan, referring to Title XLVIII of Florida State Statutes (1009.24.10.b), said "Florida Statutes, in describing what a Student government does, actually entails that funding media outlets is a part of the A&S index."
Senator Shawn Adamson said the most important thing when deciding on Spinnaker funding is whether or not the people want it.
"From my personal interactions, I haven't seen a lot of support for it and, in fact, I've seen a lot of opposition to it."
Adamson said he plans to add a question regarding student opinions on the Spinnaker in the next Osprey Voice.
Senator Thomas Beaucham said he was concerned with recent discussion of Spinnaker Media. "If a person wants access to news or access to what's going on on-campus, [Spinnaker] makes it easier for them to go to the source where the news is happening," he said. "We need to think about the opportunities provided and not what the majority may say."
Spinnaker Business Manager Justin Belichis said the Spinnaker gives students the opportunity to work in a professional environment through radio, TV, print and digital platforms.
"Funding leads to more reporters, which adds more content, giving us a chance to produce better, more hyper-focused content for students."
Laptops Approved
Elections Commissioner Bradley Johnson's $12,772 special request or new voting laptops was approved by a 26-0-3 vote.
"I know it's sticker-shock," Johnson said.
"I want our election system to stay up-to-date, I want it to stay relevant and I want people to get interested in it."
Senator Christopher Jordan referred to the old laptops as "Mesopotamian relics."
The laptops would also be used for committees and presentations said Senator Janrei Villavicencio, the bill's sponsor.
Other
Paige Kaplan was appointed to the last vacant Associate Justice seat.
—
For more information or news tips, or if you see an error in this story or have any compliments or concerns, contact [email protected].